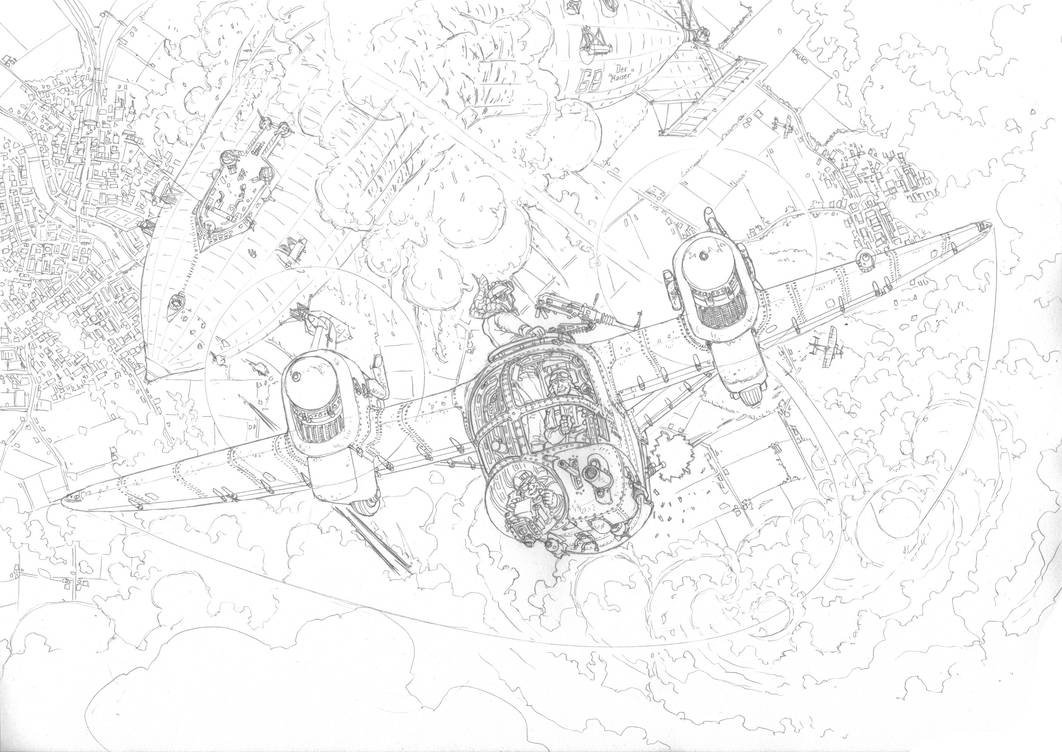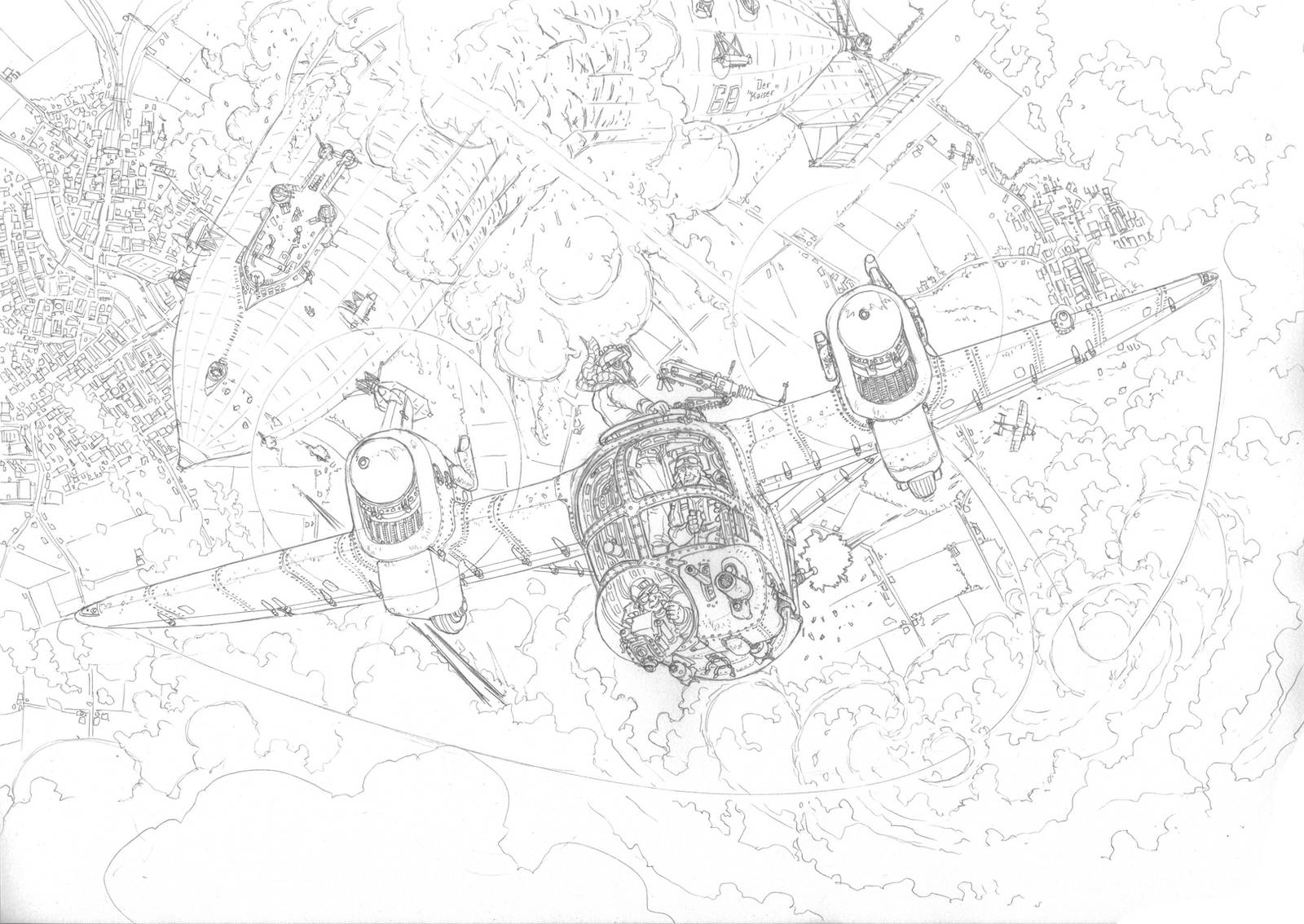 Watch
"The Red Arrows were the best at what they did. The best, I tell you. They would dive towards the enemy from on high, revving their twin engines through the heavy flak cover to get that one shot home from their short seventy-five. Sometimes the enemy couldn't even get half of their firepower to bear on the Arrows' plane before their flying battleship went up in flames." - Second Flight Officer Horton.
Hellooo!
So, I had this idea of a plane design that I really had to draw- a twin-engine attack aircraft/light bomber in the kind of inter-war/WWII style to it. Propellers, big engines, MG's, lots of rivets and excessive armament for such a small plane! Although, this one wouldn't really fit any actual historical period, so it's kind of a pseudo-historical thing like what if WWI had gone on for five or ten years longer or something and employed heavily armed battle-zeppelins.

In any case, the plane has an attack armament consisting of one 20mm cannon, one 75mm short-barreled cannon and a few light bombs(2x10 kg, 1x50 kg). All of these are aimed/shot/hand-cycled by the gunner lying down at the front of the plane in his little cupola. The cupola has an integrated targeting and bombing sight. Defensive armament is pretty heavy too, with one backward facing turret at the rear of the fuselage with twin 8mm MG's, and one omni-directional MG on top. The top gunner hasn't even got a cupola to sit in, so he should really hold on to his scarf! The plane also has two pretty big liquid-cooled engines to get all those bombs and cannons in the air, though I suspect the climb rate of this thing is less than stellar even when empty. It would probably slowly gain altitude and then conduct a dive attack before quickly flying away. The recoil of the 75mm would probably be significant, and it has very little ammo too- being cycled by hand it is far too slow to get more than one or two shots off before having to retreat.
That's about it for the specs... Enjoy!

I'll probably ink and color this one later.
Original A3, 0.3mm pencil(HB).

OMG this is awesome. So much deatil but in the same time it gibes an impresion of speed and chaos

I think you should try to digitally inprove the contrast of the scans. It should take minutes and would make them more eye-catcying.
Reply

Reply

beautiful linework! Nice, solid and believable desing on the aircraft and interesting composition of the whole scene.
In addition to your scifi comic, this kind of retro-futuristic adventure would also be interesting.
Reply

Damn.. You're starting to be too good.
Reply

Aw yis, dat action/details :3
Great sketch so far PenUser

Reply

This concept is amazing! I think it would work wonders for a pseudo-historical setting.
Reply

Maybe I'll one day make a short comic on that sort of subject, since drawing these kinds of planes is kinda fun. Thanks!

Reply

Reply

Dear sweet Mike, you cram a lot of detail into your work.
Reply

I do try to improve on the level on detail constantly, but I have to keep in mind to retain a good balance with detailed areas and "empty" areas in pics- I think in this piece I succeeded pretty well.
Thanks!

Reply

This is excellent. Very reminiscent of the anime 'Porco Rosso'
I can't wait to see this in color.
Reply

I was actually thinking of the movie while drawing this!

The plane isn't quite as old-looking technically as most of the planes in Porco, but I think it has the same spirit of stylistic excess with the cannon and all.
Thanks!

Reply