To all
#pencil
-artists members.
The group rules have been updated, please review them on the group front page when you get the opportunity.
There are no major changes to the rules although we have introduced a new rule. Most artwork submitted to the group is captured well and with care. We do see some submissions however that have not been captured well at all. Some submissions have been photographed or scanned extremely badly, are difficult to see and are poorly cropped.
It is you, the artist's responsibility to make the effort to create a good capture of your artwork before submitting. You have taken time and effort to create some art, now take a little more to ensure it looks good on a computer. This way your art will be presented to the DeviantArt audience and it will receive the acclaim it deserves.
From immediate effect any artwork that is not captured to a reasonable quality will be rejected.
Try and take pictures in good light, crop the artwork to cut out the edges before submitting and try to get the contrast and levels right. The following tutorial describes how to take a good picture.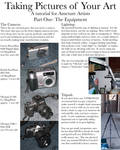 Artwork that has been deliberately captured at an angle or captured to emphasize a 3D aspect will still be accepted.
Thank you,
Jon.