I've had confirmation that I will be having a further 2 'solo' exhibitions' this year that's on top of the one that I'm having in August(20-22 drawings per show). Plus a smaller group exhibition in March this year which is great news. Although this is great, i will be very busy preparing. The details are below:
'Solo' Exhibitions
'Winns Gallery' in Walthamstow - solo show exhibiting all of my artwork. The 1-5 April 2014
'Stone Space gallery' in Leytonstone - Solo show on 'emotions' artwork. August 2014 for 4 weeks
'Winns Gallery' in Walthamstow - Solo show exhibiting my 'Sikh' artwork only. The 2-16 November 2014
As you can see 2 of my shows have very specific themes, with the first being on emotions in august and the other on my 'Sikh' artwork in November. So that means all of my drawings from now until then will be dealing exclusively with these subject matters.
The issue I'm having (as you may know) is the titles for my drawings which are now becoming much more important. Portraits, fanart and my Sikh artwork are pretty self explanatory but some of my other drawings are not. So I would really appreciate if you could give me ideas on names for the drawings below.
Just right in the comments your ideas, labeling them in accordance to the numbers 1-6. And even if you have an idea for just one drawing just give the number and your idea as any idea is appreciated.
1) Original title ' Astronaught'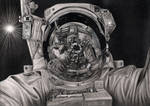 2) Original title 'Old man'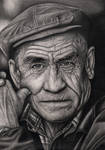 3) Original title 'Shell shock'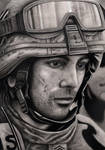 4) Original title 'Thirsty boy'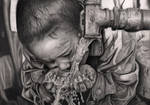 5) Original title 'Tears'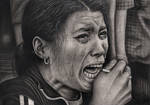 6) Original title 'Abandoned'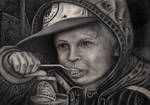 Thanks allot.