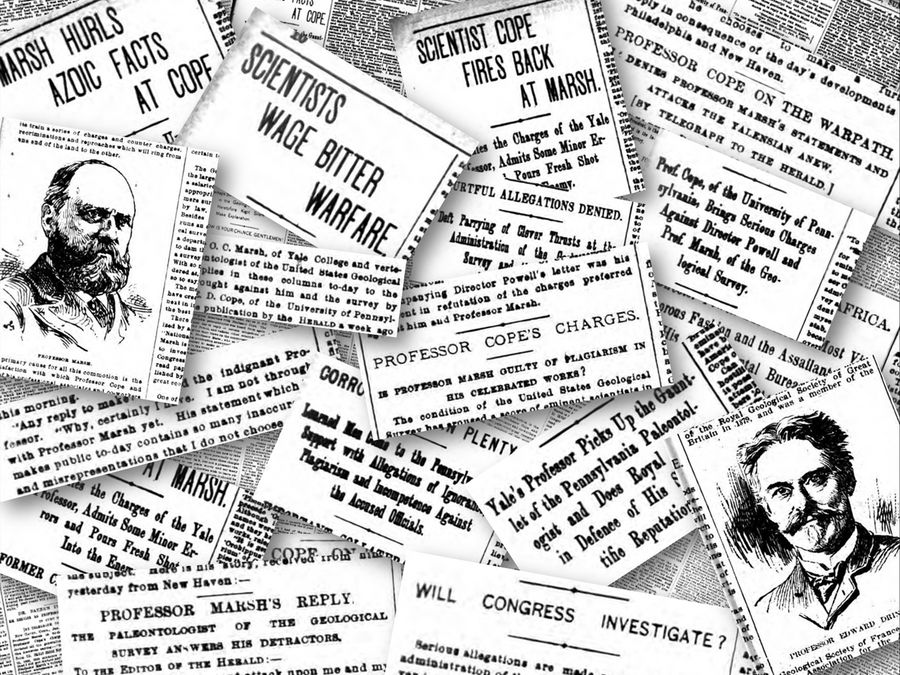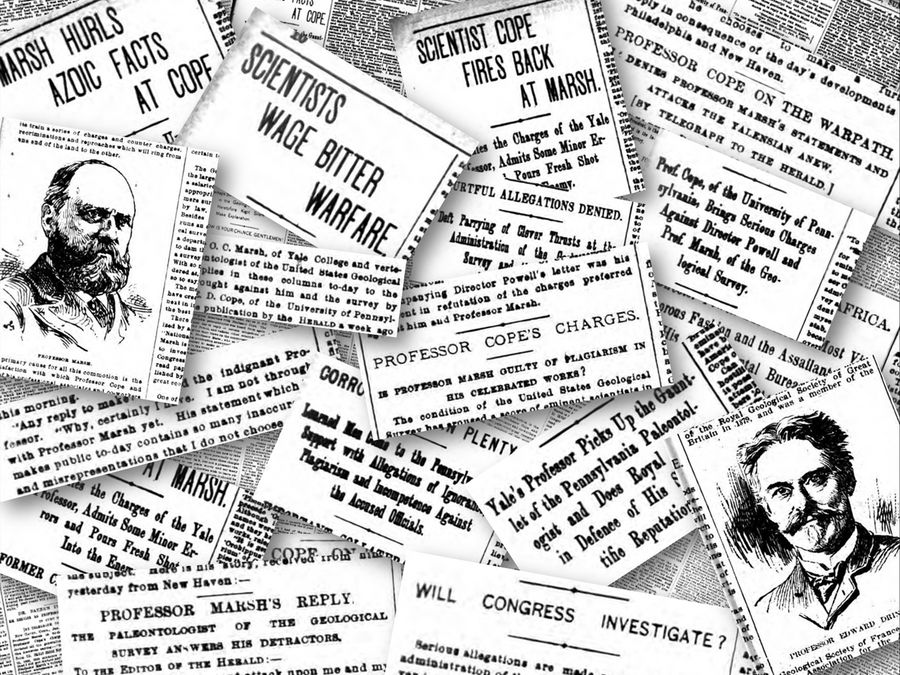 All the Newspaper Articles from Copes and Marsh's Dinosaur Battle.

(I had to search an awful long time trough the New York Herald Archives to find them...)

Hi, I'm working in a text about the Bone Wars.

Could you send me these articles? They're really very hard to find!

Thank you very much!
Reply

You should be able to download it here!

Reply

Sure! I will send you a link

Reply

Hi! I'm doing a project on the Bone Wars. Would you be able to send me the links to these articles?
Reply

Hi there,

This is amazing! I'm a photo researcher working on a children's book entitled "Bone Wars" and am wondering if we could use this image in the book. The Cope/Marsh feud is discussed but we've had trouble finding images to go along with that piece of it - until now!

Kudos to you for finding the articles in the NY Herald archives. Given what I do, I too have spent many hours going through archival material looking for the proverbial needle in a haystack.

P Joiner
Toronto, Canada
Reply

Hi There!
I am very glad to hear you like my works - of course you may use it - do you want the original articles as well?
And should you need any drawings, let me know - I have some Bone Wars realted as well

Best regards,
Katharina, Austria
Reply

I'd like to use this image in a video for a traveling fossil exhibit. The video features a cast of the Elasmosaurus originally mounted with the head on the tail and mentions the "Bone Wars". It will be part of a touch screen kiosk on the exhibit floor. May I use it, please? Thanks!
Reply

Hello!
Of Course you may use it! If you need the full newspaper articles I can also send them to you.
Shall I contact you on LinkedIn, so that you know my real Name for the reference? Or shall I send you an email. I will send you a Note with my email adress.
Reply

This rivalry's so intense, it also brings violence between camps, Marsh's men even got GUNS!!
Reply

Dear Pelycosaur24,

I found your clipping re. the bone wars. As I am writing a chapter in a book on explorers on the bone wars I am keen to know if your clipping (high res) can be used for inclusion in the book?

sincerely thanking you in advance, kind regards,

Marc Argeloo
Amsterdam
Reply

Dear Mr. Argeloo,
You are welcome to use this Picture, if you need the complete Newspaper Articles, I could send them to you, since they are very difficult to find in the New York Herald Archives. Also if you need any cartoon illustrations on the bone wars (like the one of Gideon Mantell on my Profile) simply ask for them.
Is this your Linkedin Profile?
www.linkedin.com/profile/view?…
Kind regards
Katharina
Austria
Reply

I have a book about this famous paleantologist rivalry - I have to read it (I started to do so three years ago).
Reply