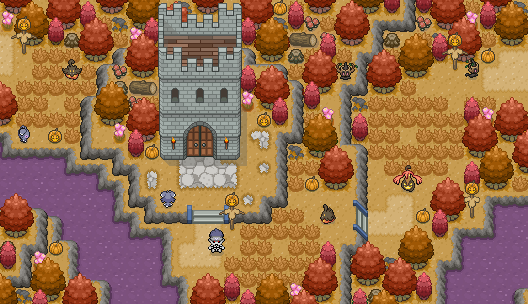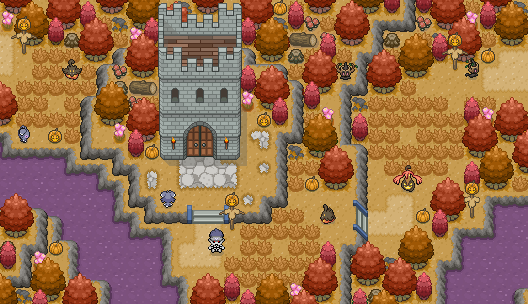 Watch
This was originally the tenth map I made for Neo Monsters, but I was inspired by
SimplyPixelizing
's Halloween map so spent a couple of hours fitting it to the theme. You should go check out his map as well, it's really good! I might upload the original map at some point, but it's mostly the same without Autumn colours or the Haloween theme.
I remember someone a while ago (maybe
PixelMister
?) said that they wanted to see me do a European style castle, so I guess finally this is something like that xD
Happy Halloween!

Credits:






That is Awesome!Im New here,so did u already made a tileset for the inside of the castle?
Reply

Really amazing work

do you create all of your sprites yourself or use a base program? Really new myself to mapping, and have done some spriting, but use a really awful base program id like to get away from,
Reply

Thank you! I create quite a lot of them myself and mostly use PhotoShop to edit them and make up the map. There are a few different options for making maps like Tiled and RPG Maker XP but I find just using one program for making tiles and maps makes it easier. I could link you to some tilesets and stuff if you want to get started out?
Reply

Wow that would be really great

I have been using tiled a bit, but just not very good with it

I see some amazing beautiful maps and just so jealous i wish i could do that XD yours has to be by far my favourite, all the detail is so great. And the tilesets/color palettes you choose are so perfect

My harddrive crashed on me a few months ago and I lost everything, including all of my custom sprites and really crappy maps I created u_u
Reply

Hey! Really sorry I didn't reply to this sooner. I was actually abroad in Japan for the last couple of weeks so I didn't go on dA much and this just slipped my mind.
I haven't used Tiled myself so I can't say how intuitive it is compared to the other options, but I know a lot of people use it so it can't be that bad. I'm sure there are tutorials and stuff you could follow if you wanted to use it. It's probably your best option if you're on a budget and don't already own a copy of PhotoShop.
But thank you again! All I can say is that it takes lots of practice and a keen eye for detail. A lot of new mappers start out making very basic maps and then slowly progress to more advanced ones, so it's definitely a skill you can learn if you're a creative kind of person.
I actually started (but never finished... xD) a tutorial series on mapping which you can find here:
www.youtube.com/watch?v=SLwcPJ…
I'm not too proud of the tutorial itself but in the description there's a bunch of links to some really good mappers that have inspired me, and also a bunch of extremely useful tilesets to take from.
Fell free to send me another message if you want any other advice. I'll respond a lot quicker as well.. xD
Reply

Wow thank you so much! sorry on the late reply as well lol i havent been on much. I finished a super personalized map for myself with more characters than necessary lol but i havent finished the recolour yet so havent posted but will be done soon

Reply

Reply

Castle is a great tile, good job.
Reply

Beautiful your maps are some of the best maps I've seen really vibrant and colorful
nice color choices
Reply

Thank you! Choosing the right palettes is actually one of the hardest parts of making a map, but it really makes a difference when done right.
Reply

It looks awesome!

Reply

That castle/tower ruin tho
Could you upload the color pallet you used in this one ? It's breath taking
Reply

Out of everything in the map that took the longest xD And thank you! I actually only used five base hues for this one and then used PhotoShop's Color Replacement tool to change the standard tiles into the Autumn colours. After that I just messed about a bit with saturation and lightness until it looked good.

I could still send you them but really any colour should do as a base since you only need the hue.
Reply

Ah! So that's how you did it.
I was wondering how you got that synergy going.

If it's not too much trouble I would love to have the pallet.
But there is no rush. Also will you make that castle tile public ? It really looks great.
Reply

It's really the easiest way by far to do it, and I think you actually get better results in the end than by doing it manually.
And sure, that's no problem. You can use it with credit, and I've included the palette as well:
orig11.deviantart.net/7e10/f/2…
Reply