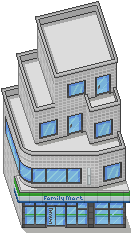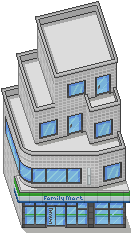 Watch
I made this at the same time as the other Family Mart building that I ended up submitting, and forgot this as a failed project until now. Despite me relegating it as a failure, in hindsight I actually think it looks quite interesting, even if I don't really know what I was going for at the time xD
What do you think?
Original:

The penthouse is kinda out of perspective when compared to the base building other than that its looking pretty good.
Reply

The bottom half being at 90 degrees and the top half at an angle really messes with my perception. I'm sure it wouldn't look out of place if it were part of a larger piece though.
Reply

It was actually based off a real Family Mart I saw, which had a street going off to the side of it at the diagonal angle you can see here. It doesn't work too well in pixel art form, but it worked in-person a lot better... xD
Reply

Actually, I really enjoy the design of this building. Maybe only the perspective is not agreeing with other pokémon-styled tilesets? Anyway, pokémon or not, in my opinion this is still a great piece of pixel work, good job!
Reply

Thank you, I'm glad you like it. I actually considered making this into a small area using this perspective, although I ended up losing interest in it.
Reply