Małe ogłoszenie

Przy okazji dzisiejszych Targów Dizajnu vol. 3 w Krakowie udało mi się zająć II miejsce w fotokonkursie "LOWE ROWER" z czego jestem dość dumny, więc postanowiłem się pochwalić.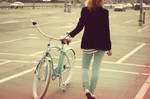 Koniec ogłoszenia, można spocząć

---
And for my non-polish friends

Today I was awarded second prize in photo contest about cycling "LOWE ROWER", which took place during the designers fair in Cracow . And I'm so proud of myself

---
Jak zwykle szukać mnie można również
tu (facebook)
i
tu (flickr)
.