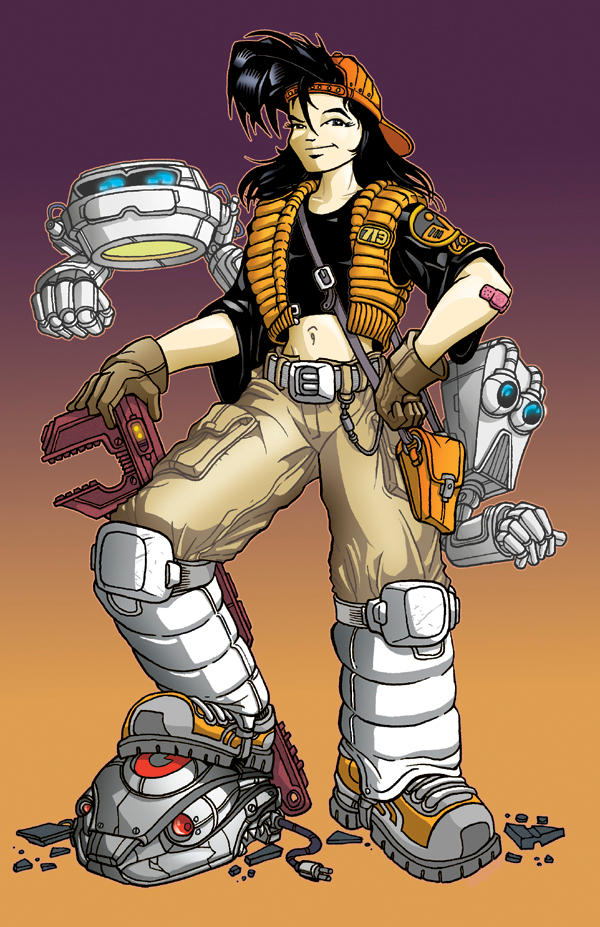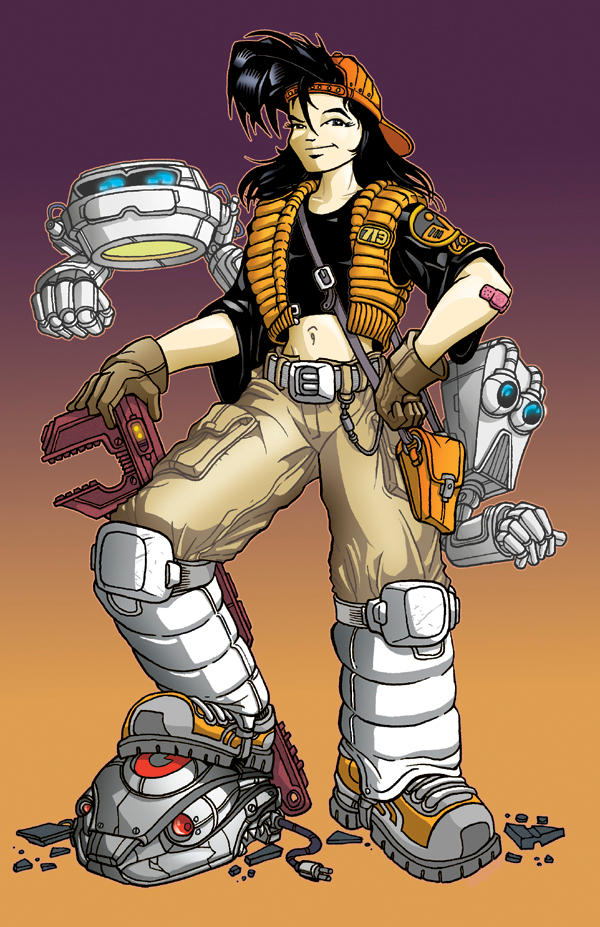 Watch
This is the new cover art for the LITTLE WHITE MOUSE "OMNIBUS EDITION" that I will be publishing this summer from my own CAFE DIGITAL COMICS imprint. It will be 448 pages and include the entire LITTLE WHITE MOUSE in one volume for the first time. I am doing the design for the cover right now, and will be adding the typographic elements as the book cover comes together.
For this pose, I really wanted to strip things down and show the very basic character of Loo, the lead of LITTLE WHITE MOUSE. This picture is an attempt to show the main attributes of her character throughout the entire series; tough, smart, tomboyish, confident... all these are aspects of Loo, and while they didn't all happen at once, they are the character she did become as the series played out. For those of you not familiar with the series, the two robots in the picture are (left to right) Boris and Deiter. For more information on LITTLE WHITE MOUSE, you can check out my home site at
[link]
and click on the LITTLE WHITE MOUSE section.

Ooh. I like this picture!! What resolution do you use? I met you at a library for Japanese Art (manga). I have to look at the rest of your pictures!
*starts looking in your gallery for pictures imidiatly*
You have a good sense of light. I sometimes shade too much, or add too much light on the face...
Reply

I always scan my line art at 1200 dpi, rez it down to 300 dpi after I've cleaned it up as a bitmap, and color at 300 dpi. THEN I save it down to 72 dpi for web versions.
Reply

Great stuff! I really like the two tone colouring with airbrushing on the pants.
Reply

That picture is so Loo. I love how she's stepping on the robot dog's head. That thing freaked me out. I also love Boris and especially Deiter. Loo is my hero and I think favorite comic book character. She's so strong. She's really everything I want to be. Except stranded on an abandoned mining satellite. That I don't really want.
Reply

Cool. I like her expression.
Reply