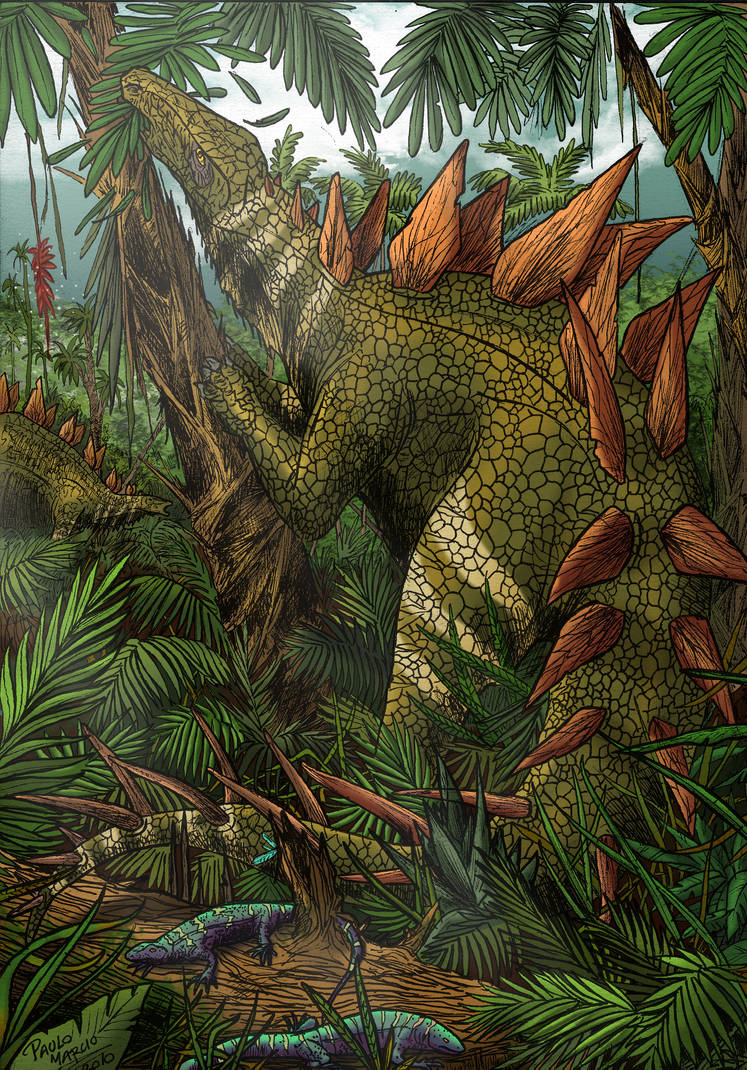 Watch
An old drawing that I decided to paint this week.

The Dacentrurus (Dacentrurus armatus) was a herbivorous dinosaur family Estegosauridae
who lived at the end of the Jurassic period. It was about 4.6 meters long and 1.8 meters high. The dacentrurus lived in France, Britain, Spain and Portugal.

...............................................................................................

Um desenho antigo que resolvi pintar essa semana.

O Dacentrurus (Dacentrurus armatus) foi uma espécie de dinossauro herbívoro da familia Estegosauridae
que viveu no fim do período Jurássico. Media em torno de 4,6 metros de comprimento e 1,8 metros de altura. O dacentrurus viveu na França, Inglaterra, Espanha e Portugal.

Reply

Dacentrurus was 10 meters long, not 4.6 meters.
Reply

Well their is actual proof of Dacentrurus having shoulder blades, the pictures you saw on the internet were probably other Stegosaurids.
Reply

Yes I must say that texture and design is of the background and animals a superb, but a slight miscalculation is in this picture. The state is that the Dacentrurus are missing their shoulder blades.
Reply

Well at some pictures of the references Daecentrurus he had no shoulder blades as seen in other species of Stegosaurus.
Reply

This is excellent

Reply

Sorry for not commenting earlier... Although your style is closer to comic book-style than realism, your colours make these illustrations very vivid!
Keep up the good work! BTW, what you got in store for us next?
Reply

No probelmv

......Wow is a great honor to have your comment on one of my art, I am very glad you enjoyed that. I really am a big fan of his designs

.... Well I'm currently working on many projects and, the next will be the paleoartist Baurusuchus brazilian primitive crocodile. Actually many people commented on my style is very comic book, and I like working with comics but want to look for new techniques. Thanks for the comment my friend!!
Reply

yay, finally something new from you !!!

it's magnificent.
Reply

Nossa tá MUITO perfeito!!!!!! *.*
Reply