So... it's all about me and my problem with society.
In 2003 I moved with my family (back then there was only me and my parents) to some housing next to army. Nothing said I'll be so fucked up during the most needed part of life when it goes to society.
In 2004 I started walking to preschool. Back then it was only some fun stuff. But then here came 2006. And the worst 3 years of my life. Firstly I was bullied by one guy that was one class higher, but he stopped after a while when I said to girls (or teacher, I don't remember now) about him.
Later after... OH FUCKING BOY.
Jeremi Kozioł. After those years, I still remember his fucking name. He was the main one, he told EVERYFUCKINGONE to not even touch me. I've got bullied, no matter how hard I tried to be just like them. I was set to be an alien, the outcomer. I've got no friends howsoever and not even a single girl ever tried to be a good pal of mine. I had to do everything by my fucking own. Times when I need to be the most social around - they're lost by lots of faggots that bullied me during those three years. This happened to make my social life so fucked up even to this day.
Results of those 3 years:
-total shyness when it goes to girls
-me being sad when NO ONE notices me
-liking being alone with my phone that plays music
-having only a few of good pals in my current school
-and without that I wouldn't even be on youtube, deviantart and soundcloud or anywhere where I can get some friends.
I almost cried when I wrote that wall of text

and that's why earlier today (or yesterday) I said that I love getting no emotions from anyone.

image that fits: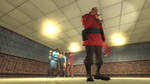 a note because not everyone understand that story: it can be good, right. but they're all my memories, so that's not a fiction. that actually happened.