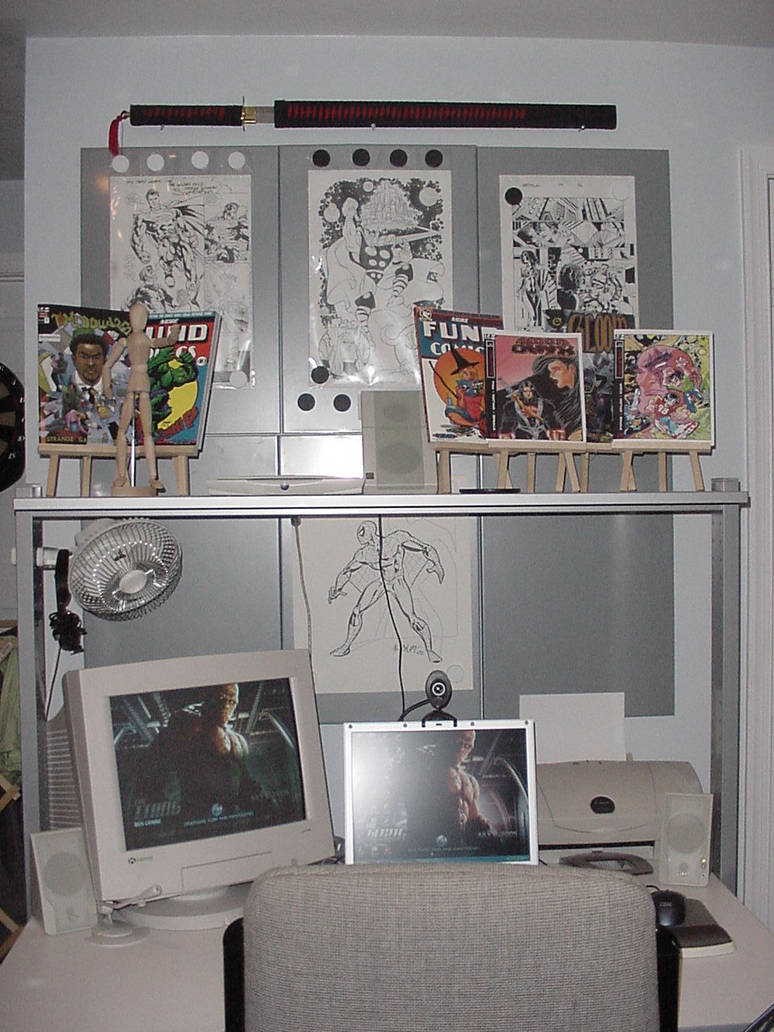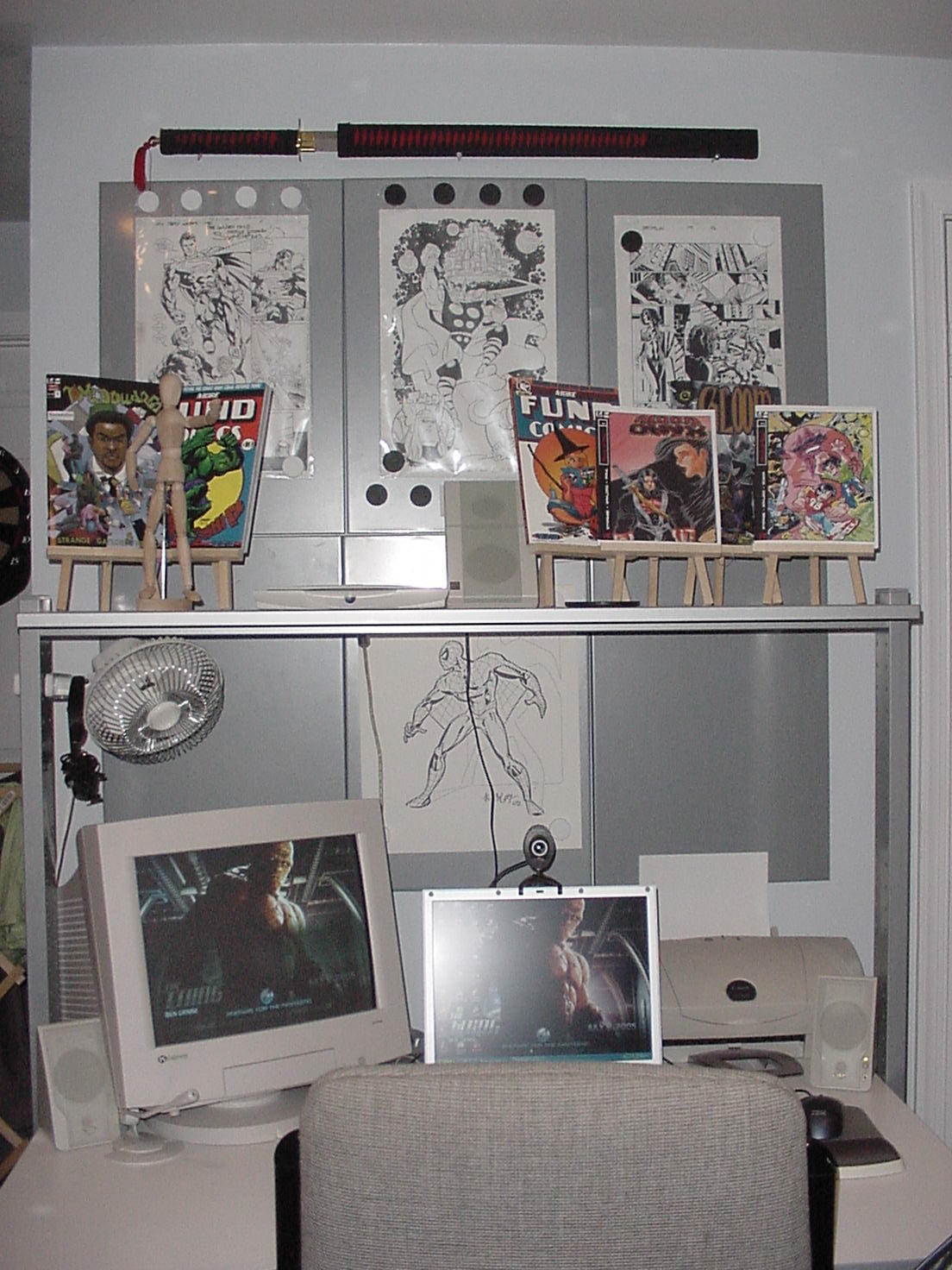 Watch
Okay... my DAs... here's the PG rated version of where I put the work down... as for the X rated version of where I lay it down aka my bed - that's not for your viewing you damn deviants! haha...
The Golden Child's Desk Pt 1 - First pic... as of Tuesday April 26th 2005 aka pre-work chaos... you can see my past published comics on the top shelf... original art on my rotating work metal boards... I got the dual monitors going - monitor connected to the laptop... scanner... printer... speakers... and a sword for any and all challengers...
Check out where my desk is located in my infamous Temple Studios... pics here:
[link]

I love your desk setup. You must shop at Ikea... I have the same boards behind my desk to pin up my artwork.

Reply

haha... yeah I do... i love my desk and those boards rock... they come in very handy...
Reply

Those boards are awesome, but hanging them was a pain (at least for me...). I love them, though. Now I just have to find some cool magnets. I found a company that had "Ransom Notes" magnets where it was different letters but they were out of them.

I love that we have an Ikea here. I bought my desk and shelves there when I set up my office because I didn't have my own work space before (bigger place now).
So you do professional comic work? I was checking out some of your gallery and your stuff looks really amazing.
Reply

LMAO... oh my god... I had the hardest problem puttin' them up as well... I had to have my father who is basically a carpenter in disguise to fix it when he came up to visit my wife & I... "ransom notes" magnets? sounds cool... I just ended up pickin up the ones they had at Ikea... Ikea really rocks, you'll find yourself goin' there for almost everything... my wife & I got addicted to it... furniture and frames!!! for me... as for comics, I do comics professionally among other things on the side... thank you for checkin' out my stuff (big grin)... I appreciate it... here's some info about me from a project proposal if you want to learn a little more about me...

Designer - The proposed designer is Patrick Strange, who has successfully designed, developed and produced comics and visual art for educational and commercial purposes. Mr. Strange's last project recognized by the Rockefeller Foundation in which he wrote, lettered and co-published with the Time Dollar Institute was made available worldwide thru the Time Dollar Institute and Youth Courts and was featured in the Washington DC area schools as well through the Department of Health. Mr. Strange has exhibited at several comic/pop culture conventions and has given speeches at local area shows, schools and businesses.

Displaying an array of talents, Mr. Strange earned the nickname "The Golden Child" as by day, he is an ex-military (US Navy) government contractor working in IT computer security (stopping hackers worldwide!) for the US Department of State. By night and weekends, he has completed work in independent and feature film (Immortal Fists, Ace Ventura II: When Nature Calls, Scarlet, Die Hard 3: Die Harder, etc.), commercials (US State Dept, Howard University Hospital, local affiliate TV, Ikoya, etc.) and in music videos (Roy Jones Jr. - "U Damn Right").

Mr. Strange is currently working as creative designer for an independent film, Immortal Fists, providing (DVD box art, logo, promo, etc) with director, Benjamin Brown, for Lost Valley Productions; working as letterer/graphic designer on the comic, Gloom with David Newbold for Newbold Creations; and is the letterer on the "A-Z of Horror" ongoing story featured in the Carnopolis - comics anthology with Kurt Belcher, etc.

Mr. Strange's is a published writer/letterer/designer in both mainstream and independent comics & poetry having self-published and provided work for various companies (including Howard University Hospital, The Time Dollar Institute, Dental Kids, Sky Dog Press, US Navy, US Department of State, etc.); he has written and produce hip hop and has worked in graphic design for various companies, etc.

Mr. Strange is the founder & CEO of Temple Far East Entertainment compromised of his art/photography studio, Temple Studios, and film company, Far East Productions. He is the founder of the AMERICON comics convention in Washington DC, former Director of Guests/Art Show/Artists Alley for the Anime USA convention in Washington DC and has provided guest relations help with bi-monthy Tysons Corner Comics Show for Capicons.
Reply

You know I don't even know how I do... but I do... I'd have to say its the strong and loving woman I have in my corner... she supports me in all endeavors...

Checked out the magnets... wickedly cool... too bad their out...
Reply