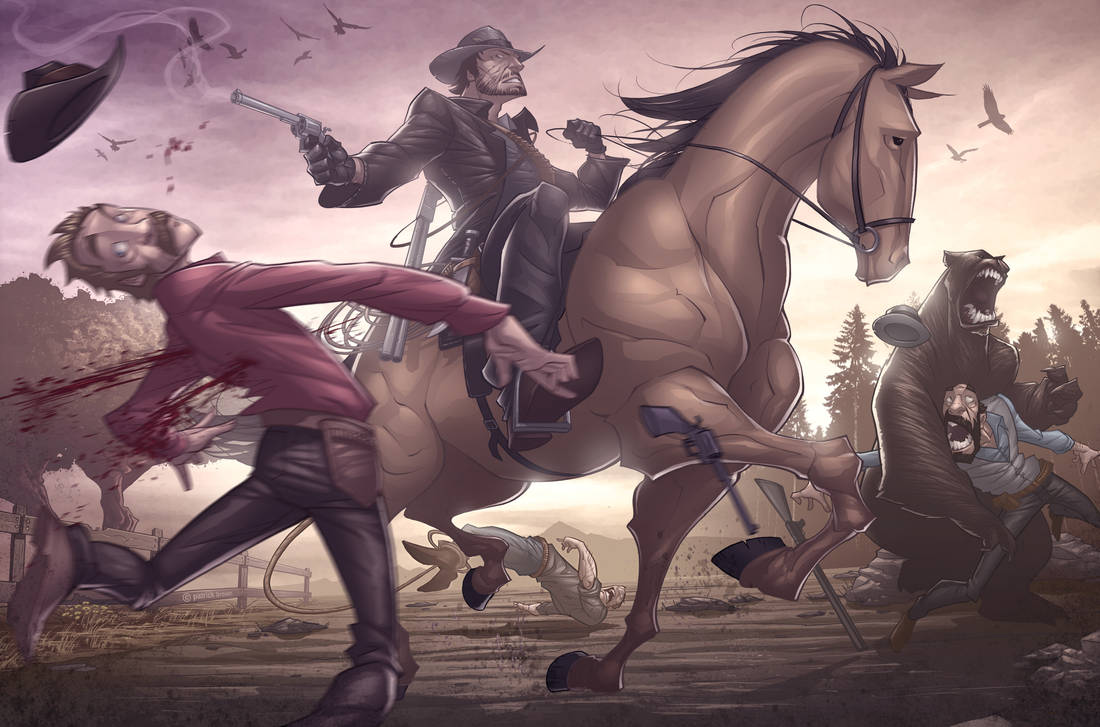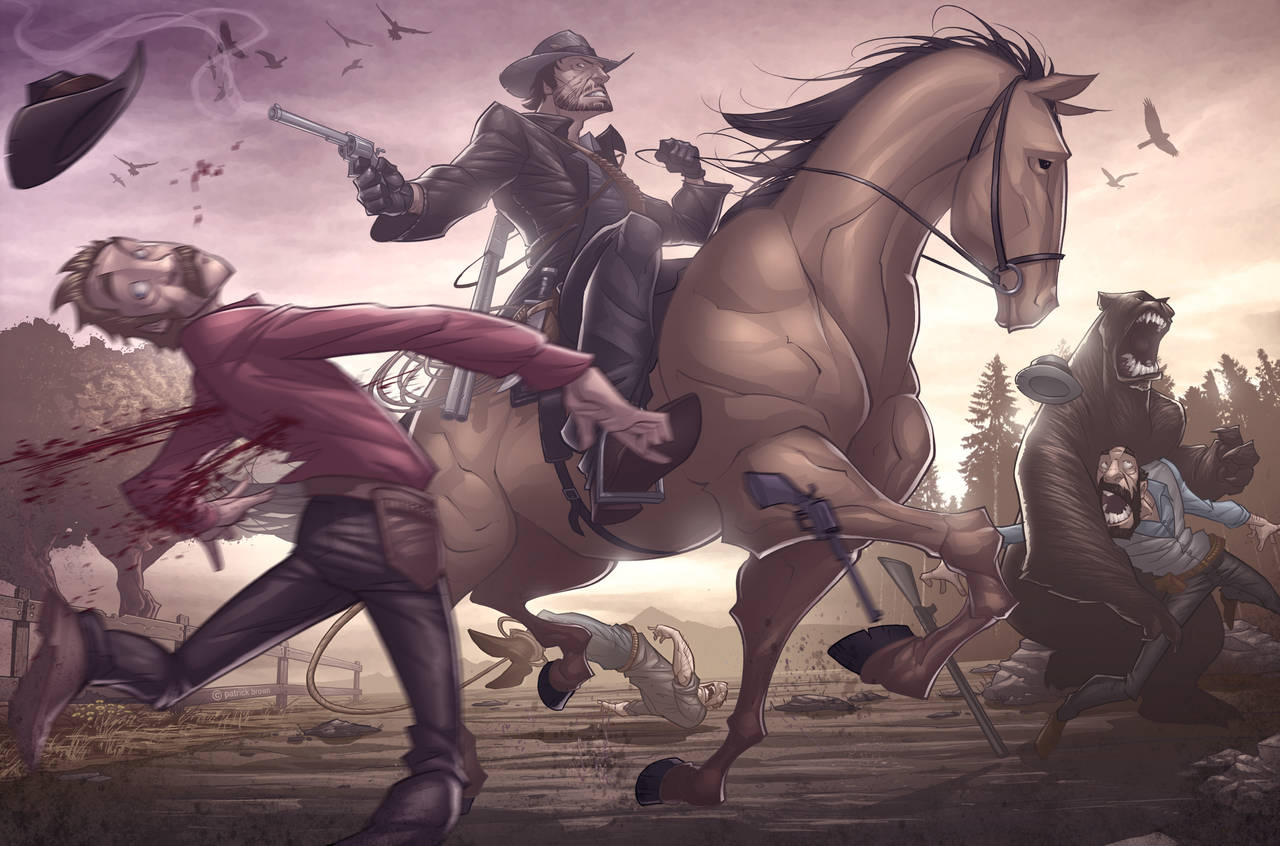 Watch
Damn It's been a while since my last piece, I've been so flat out busy with work lately!
I LOVE THIS GAME!!! Rockstar have really nailed it, AGAIN! Even if you're not a western/shooter fan you'll still love this game!
I really wanted to do another piece for RDR, you might remember my last:
But with this one I really wanted to show a lot of action, and show off some cool things from the game! For instance:
- The feature to lasso a guy and do what you want with him, like dragging him from a horse LOL!
- Deadeye, the ability to slow down time to focus on your shot, like here, speeding on a horse but still able to drill a guy with ease

- The bear attacks, well it's not really a feature, just freaking cool!
Anyway I hope you all enjoy this!
Please let me know what you think..
Thanx
-Pat
Daily Deviation
Given 2010-08-29
Red Dead Redemption v2 by *patrickbrown
From the suggester:
"The detail and depth of this artwork really blew me away. The more you look, the more detail you find and love."
The rest of Patrick's gallery is a MUST see as well! (
Suggested by iiipod and Featured by rydi1689
)
I have never played this game, and don't have the foggiest notion what it's like, but by god, do you manage to put a lot of personality into it here. The muted colors almost make it look dignified until you really see how many crazy things are happening in one picture.

The exaggerated, cartoony expressions of the men having terrible things done to them are balanced very well with the badass stony expression on the central character's face. I love the fact that they're spread out across the image, too, in a variety of different perspectives, which is what really makes me want to take in the whole thing.

I don't know if this bears mentioning, but the artist's comments really clarify the whole thing very well (even though I really would have no choice but to assume that, even if the gameplay didn't allow you to do these things, they must be in the game if they merit being depicted here).

Nicely done!
The Artist thought this was FAIR
130 out of 137 deviants thought this was fair.
I looked at this picture with no extensive knowledge of the game. However, I can tell right away that you wanted to emphasize the action of the game above all else. The sheer amount of action on one canvas is what makes this picture near perfect.

The most notable aspect of this picture is that it is almost completely devoid of negative space. Practically every edge of the picture is covered by some unique action. In fact, that is what makes the picture succeed as a whole. You managed to establish the main character in the center of the canvas, while managing to show three separate events that all link back to him simultaneously (though the bear might not count). You also manage to show each of these occurrences in detail.

Somewhat more subtle but equally as effective are the details you put into the characters. Each of the characters has a unique design to them, whether it be facial features or even the general body shape. I applaud that you even gave the man in the very back being dragged by the rope detail, despite his position in the background. Their expressions also accurately portray whatever emotion they are feeling at the moment. Even the horse and the bear look believable.

Rounding out the picture is a masterful use of shading and lighting that manages to strike a balance between cartoon and realism. Having the sun shine behind the character further emphasizes his role as what I can assume to be the protagonist, while the lack of bright, showy colors prevents the whole arrangement from distancing itself from reality.

My only minor gripe is the man being gunned down. I know you were going for a motion blur effect with him, but it does look a tad out of place when the rest of the picture is running in real time.

Overall, this is a job well done, and more than an honor for the video game you are paying tribute to.
The Artist thought this was FAIR
14 out of 14 deviants thought this was fair.