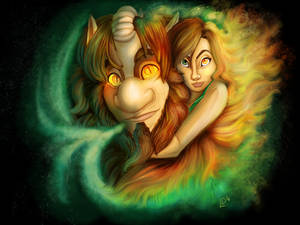 Comic Tier
Burnt out folklorist hides from the world and her antagonist who plumber the outside of her home. Upon receiving a random invite to a cabin from a fan. Mel escapes the drudgery of her life only to find another annoying neighbor who turns out to be fey. Can she survive the encounter or can Mel give him an offer he can't refuse? This tier has all of Shurale season 1 and 2 Shurale fairytales! Updated every month.
---

Description
You can find all already published pages on our website!

Runa on official website (with translations EN and DE)
www.runacomic.com

Support our Webcomic , become a Patreon at this Runa Patreon page:
www.patreon.com/runacomic

Support our Webcomic , become a Ko-fi supporter:
www.ko-fi.com/runacomic

FOLLOW ME ON TWITTER
twitter.com/runacomic

FOLLOW ME ON FACEBOOK
facebook.com/runathecomic
Somewhere between the multiverses lies planet Jard
- a weird and dangerous place.
Runa, a girl with special powers, travels this world searching for her parents
- and her past…
Runa is a fantasy-webcomic, produced by Patricia Pamula, Dane Rahlmeyer and NoahWhyler
Lettering by Marc Schmitz


Updates every monday.
Image size
1000x1500px 1.92 MB