welcome!
(some of)my favorite songs
.broadcast illusion by GHOST ----
.solstice from the oneshot ost ----
.our generation by a-one ----
.FC field from the yume nikki ost ----
.smw game over alt. remix by phillip schlosser ----
.castle in the sky by dj sharpnel----
.winds of time from PODD----
.night of fire from initial D----


information about me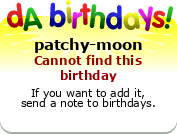 commission info
you can commission me whatever you want using the widget i have
it will be non shaded with whatever pose you request and whatever character you request, i you dont say what pose ill just do whatever i feel like
cs babies
Pet's name:
Kennith
Pet's name:
ami
Pet's name:
patchy
Pet's name:
Hyper
flag counter
social media
gud friends




deactivated watchers, rip

thiscrush
Get your own CrushTag!
www.thiscrush.com/~patchymoon
stamps
music box code by

, pfp base by