Hello everyone! I'm mainly just drawing fanarts, but I make some stamps, original artwork and drawings about old fashions like Victorian fashion

I love videogames and making pastries.









:thumb336851544:

:thumb176082965:






:thumb359528749:


:thumb329973574: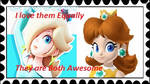 :thumb329972808:

:thumb335224013:









I'm sorry but...




for the moment

I'm not comfortable enough with drawing to draw something for people.