Community Week
Introduction
Education is a process that spans a person's entire life, broadcasting a wide range of knowledge, values (which allow us to develop our conscience and sensibility), customs, and ways to act. This is also linked to cultural conscience (education leads us to appreciate the culture of the society in which we live) and to the view that each person has about the world around them. It also has a social approach as it allows people be part of the socialization process. It generally has a humanistic approach that trains students to be good people, to have good values and implement them, which are expressed according to the person's potential. Educated persons can contribute significantly to the world.
Art and

Education
Artistic Education is an area that focuses on teaching various art forms (Visual arts, Music, Theater, Dance, Photography, etc.) and also helps develop skills, abilities and habits in such areas. However, the arts do not get a lot of attention in Education and they are not usually included in school curricula. Art education in schools is very minor and children are less involved in the culture of the society in which they live.
There is a movement called
Education through Art
by Herbert Read. It goes beyond artistic knowledge, which is also very important in art education, since its purpose is to help us develop our hidden talents. Those talents with which we are born, but are not yet defined, through mediums within the Arts as a form of expression.
"The
purpose of art
in education,
should be identical
to the purpose
of education itself"
Art allows us to exploit our creativity and imagination, and express our feelings and emotions. Through an artistic work, we can convey a message of utmost importance to others. Art is a great promoter of moral education as it provides us with the necessary tools for our comprehensive training. It allows us to know other communities and allows us to explore and understand a variety of cultures. I also think it is a very important means of knowing ourselves because in the arts, for example, we like to capture something that identifies us. Through them, we can say something we that we cannot say with words but that is perfectly explained through an artistic design.
The Potential that Can Develop Through Art
Creative Thinking: Creativity is defined as the power to create. Creative thinking is the ability of the person to generate new ideas, original forms of action. Creativity is one of the most important aspects in the arts, because the job of an artist is to create. The artist is a creative being and he will always find a way to creatively express through his works, of the artistic expression that he dominates.


Critical Thinking: Critique is our way of expressing ourselves about a situation, it is our opinion or judgment about something, either in a positive or negative way (it is the thought of many that criticism is negative; however, there are positive or constructive critiques). Therefore Critical Thinking refers to the ability of human beings to act, to think, to argue and to generate their own conclusions. Critical Thinking is present largely in art, because sometimes we are asked to reflect on the meaning of a specific work of an artist and we must use that ability to show our own conception from this work. Every artist, regardless of their artistic area, should develop their critical thinking allowing you to appreciate the various expressions of art, know them and to give an opinion on them.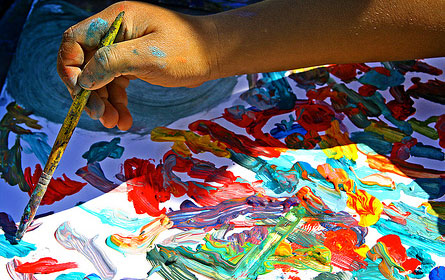 Troubleshooting: A person who has developed this ability can always find alternatives, answers or solutions to the various situations that are presented, many of them are conflicts.

Decision Making: Every person and every artist must develop that ability that lets you choose among several alternatives, it considers the most appropriate, according to the risks and implications of each option. Sometimes it's easy to make a decision but other times it is not. To choose is important. To make use of our ability to analyze, to study each option or alternative we have, and determine which is best. One that will benefit us and poses no risk to people with whom we work (if the person is in a group and is a leader, they must make a decision) or for ourselves.
And How are these related leadership and the arts? The different potentials mentioned above are also present in leadership. There are many types of leaders, but one in particular can describe to the artist and what it does in society:
The Transformation Leader
. You can consider an artist to be this way, as they can generate a Social and Cultural transformation in the Society where they live when working on alternatives and solutions (through community projects) for current problems, approached from their artistic perspective.
An artist and a leader uses his ethics, his ability to deal with people, the potentialities described above, and their willingness, to create a common space with people where members of the Society are motivated to participate in the process of social and cultural change, enjoying all that the artist offers.
Creativity
Today there are very few people who develop creative talent, possibly due to the lack of importance given to the arts in schools. It is typical that in pre-school and primary school, children do all kinds of crafts, which of course helps them tp develop motor skills and allows them to learn about the various, essential elements (lines, shapes, colors, etc.) and develop some degree of sensitivity to the arts. However, as children grow, all these activities disappear to make way for theory, leaving aside the practical. Therefore, the creative capacity of the child is diminished and when it is not reinforced, the teenager is then unable to use that capability in its entirety.
Therefore it is important that school curriculum recognizes the importance of the arts, because art is essential in the process of developing people from childhood to adulthood. In fact, there is a thesis by Plato, mentioned by Herbert Read (Author of the book "Education through Art), which reads: Art should be the basis of education.
Teachers need apply the arts to the training of their students, to teach them several important things to keep in mind as both an artist and a person:
Cultural appreciation
Ethics
Creative Talent
Approach to the Fine Arts
Expressive Capacity
Perception
Creativity has several characteristics:
Fluency
Flexibility
Originality
Elaboration
The stages of the creative process are:
Intelligence
Knowledge
Styles of Thinking
Personality
Motivation
Environmental medium Context
In Closing
From a very young age, children desire to learn about the world through their senses and there comes a stage of interpretative and imitative knowledge. As they grow, they are looking for ways to express themselves and communicate with others. They do this by using elements of artistic form, projecting experiences to express their social, family, and school relationships. Children begin to use their own symbols as a means to interpret the world according to them. They use their imagination and creativity to generate fantasies transformed into artistic elements as a symbolic demonstration of the knowledge they acquire, showing their development in the creative process.
Some teachers do not feel interest in promoting their skills, and won't help them develop their hidden potential, as they focus more on the theoretical and not in the practical. This causes children to develop more withdrawn and less expressive language. Not able to express themselves freely, they may become shy and lose their creativity. They may become people who makes schemes, which have no proposals or initiatives, losing their enthusiasm to study. That is why today there is much disinterest in the know and that is a serious problem in education. Children do not have the opportunity to give their own views about their learning and therefore cannot build their own knowledge. It is said that while the political and economic problems of a society may be resolved, the social, cultural and educational problems will not be solved as they need to be treated differently during the educational process.
I recommend reading Herbert Read's works related to education, especially
Education through Art
, as well as any other material about Art and Education that you can find. Allow yourself to see education from a different perspective and be aware of the critical situation of education today.

I hope you liked this article

============================
Sources: