Community Week
Any account on any page whether it be deviantART or an external website is subject to being invaded by hackers. On DeviantART this is very common and usually happens because of the following:
Your account is not protected by a good password.
You revealed your personal data, and/or any other data related to the access of your account.
Because of the many traps that hackers place in various parts of the site in our reach, seeking to steal the login details to our account.
But do not panic. I will show you the many ways to avoid this, and protect yourself from hackers and other unwanted malware. If you are interested in this information, I invite you to read my instructions below.
To better protect your account

To better protect you account you must use passwords that are difficult to decipher but you can remember easily. The most secure passwords are those that combine numbers, letters and symbols. The password option on dA has a bar that measures the password security that you want to use. The aim is to combine different characters that prevent anyone from accessing your account easily. Otherwise, if the password is not very good, a hacker will not have many problems to decipher and enter your account, pretending to be you with your watchers.

Change your password
regularly
and follow the
recommendations above.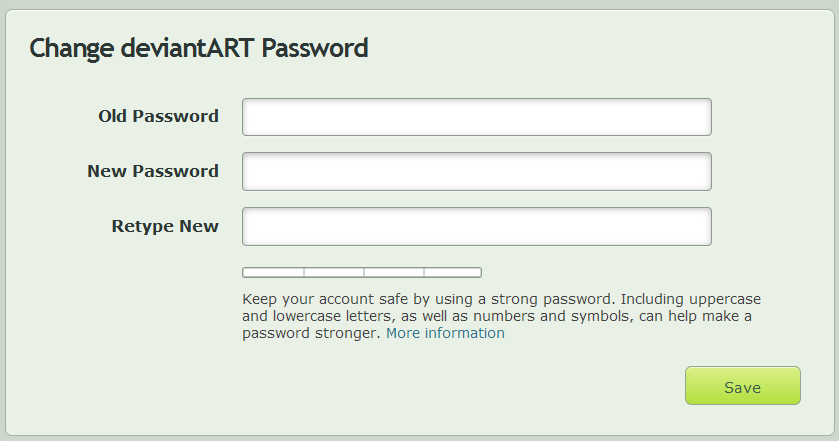 Never put personal information in your profile that can be linked with your account information, such as your e-mail.

Remember that a dA account can be accessed using your username but also by using your email. Your dA profile is visible to everyone, even to those who are not members. The same applies if you have accounts on other websites. Never display personal details publicly.

Do not give your account details to people that you do not completely trust. You never know who might take advantage of that information.



If you receive a suspicious link, do not open it immediately. First, hover your mouse on the link and the complete address will appear at the bottom of your browser if you use Mozilla Firefox and/or Google Chrome. If you use Internet Explorer you must click on the link with the right mouse button and then click "Properties". The window that appears will show the full address of the page. By doing this you will not need to open the link without knowing what it is. This is important because the link could be a virus that attacks automatically once the link is opened. In other cases it may be an unsuitable external advertising page, in which case you should assume it is spam and ignore it.



There are cases in which hackers create a fake DeviantART account in order to get other users' account information. If you are logged into a DeviantART account and you receive a suspicious link that takes you out of DeviantART and suddenly returns to it, making it appear that you are not logged in, please do not put your data there and/or try to log into that page. It is the fake DeviantART created by hackers. If it is a DeviantART site that promises to give you points, you should not put your data there either. It is a fake page created by hackers to obtain your account information, and steal the points you have.
The key to identifying the fake DeviantART website is by looking at its web address. The real DeviantART address is:

deviantart.com/users/login

You can see that there is nothing between "deviantart" and "com", just a period. But if you find something has been added between those, that means the website is fake.

deviantart.blogspot.com/users/login -> Example of a fake DeviantART website.

If you already know you have logged into your account and upon entering DeviantART you seem to be logged out, you should not try to log in there as it is a Phishing page, ie, it is a fake page that imitates the real one to try and steal your data.
Note: If you are logged into your account and while browsing DeviantART you suddenly see a box asking you to log in, do not enter your data there, as it is fake, and a hacker is trying to get your information to access your account.
This is not very
common
, but it is
important to look out for.


Beware of accounts that give points to users. I know most of them do it for a good cause, but you never know if any of these accounts might have a link to a page used to steal points from users. Before asking for points in a points account, you must read and revise its rules to ensure you that there is nothing wrong with it. If everything is in order you can order your points smoothly.



If when visiting a deviants' profile page your browser gives you notice of a possible virus on that page, it is because that user, perhaps unknowingly, has an image or link that is linked to a page with virus on their profile. In such cases you must leave that profile and not re-enter it. If it is a friend, try to contact them without using your profile, you can do so by sending a private note.


If you can, report spammers and potential hackers to DeviantART staff. They will be able to help you in whatever you need. You can make the report through the Help Desk. You must select the "spamming report" category and explain the situation. Provide all the information you have on this person, including comments where they left advertising pages or anything else that falls under the "spam" definition.



If you suspect that someone has hacked your account, contact the DeviantART staff via the following email address: violations@deviantart.com.


Potentially dangerous websites

Not all websites are safe so you should be careful before you enter a page. Some browsers such as Google Chrome include a detector to potentially dangerous pages. If you try to enter any page that the browser considers as not secure, it will give you a notice that says that page may contain viruses, and it recommends you not enter.

There are several criteria to determine if the pages that you are trying to visit are secure. For example, if the page has https:// (and a padlock in front) it is safe, because the "s" stands for "Security". If you have the classic extension http://, it is a normal website which has no indication that it is safe. Although there are http pages that are safe, there may also be pages that contain viruses.

-deviantart.com is an http page, this being the reason why hackers can access your database and use that information to create the fake server (as explained above).

-Outlook.com Is a page with https extension, it has the padlock next to the address.

-Facebook.com, is also a site with the https extension.



Antivirus software also has the ability to detect a virus when you are trying to enter a web. For example, Avast antivirus blocks access to that site and tells you what kind of virus exists within it. On the official website of your antivirus you can find information about how to provide complete protection to your computer.


What to do in your Email Address

Hackers often create email addresses that appear to belong to DeviantART when in fact they do not. The official mailing address for DeviantART will always have the suffix "deviantart.com". Example: ejemplo@deviantart.com. If you receive an email from DeviantART that has another suffix such as gmail, hotmail or yahoo you should not do what they ask because it is an address made ​​by hackers. No administrator or volunteer of DeviantART will ask for your data or access to your account as this is private user information. DeviantART never will ask you information to confirm your subscription as it is received automatically when you pay. The same also applies if you receive one as gift.


The same applies if you receive suspicious messages from other web sites that request your personal information. No website would do that unless you request it, for example to reclaim your account on that page in case you lost it. There are false messages, for example of Google or other pages where you are not registered, that ask you for the details of your credit card. Other pages that appear to be from your bank asking you for your bank account information. And even banks where you do not have an account. Your bank will NEVER ask you for the details of your bank account via email.



You should also be wary of strange emails you receive from people you do not know. You should not open these emails. Some come with a virus that appears automatically when you open the message. On other occasions when you open the message nothing happens but you should pay close attention to the content of the message. The majority have links from unknown websites. Never open these links as they may be sites with virus.

In some emails, for example Outlook (Hotmail), there is an option to not receive future messages from those strangers. In Outlook, select the message and click on "Sweep". In the next window select the "Delete all from Inbox and block future email" option and press the button "Sweep".


Beware of the chains that you receive in your email. You should never believe what they say. Nor should you send them to your friends as they may contain a virus. Besides being spam, these messages gather large amounts of email addresses from people who forwarded them. Most of these chains can be created by hackers and can go back to them with a great list of emails that they can hack and thus have access to our personal information. They can even get our contact list and send messages pretending to be us.



If you want to send an important message to your contacts, I would recommend not putting your entire contact list in the space of recipients. If you want to save time and send an email to several friends you can use the Bcc space. With this option you can send a copy of this message to your friends. Whoever receives one will see your email address, but will not know to who else you sent the message. This option is recommended as you help protect the privacy of all your contacts.



Also keep in mind that you should not give anyone access to data of your email address unless you really trust them. Change your password regularly and also try to combine different characters to protect your email.

More about Phishing: en.wikipedia.org/wiki/Phishing


What to do on your PC

Whatever your antivirus is you must verify each day that their protection is still active. If it is close to its expiration date, you need to update your antivirus as soon as possible. Never wait until the last minute because your computer is unprotected and is vulnerable.



Start an analysis of your PC regularly to check that you have not caught a virus while surfing the internet. If you find any virus use the options of your antivirus to remove it. For more information on this please see the official website of your antivirus.



CCleaner and TuneUp Utilities are good choices if you need a program to regularly clean your PC and its browsers.



Remember if you want to download a cleaner for your PC or update your antivirus, you should do it in trusted sites like the official pages of these programs or Softonic. If you find any download link in strange or unknown pages, you should not open them or download them. They may be some virus hidden and disguised as a known program.



These are all recommendations. If you know other important tips that deserve to be discussed in this article, please do not hesitate to tell me. I hope this material is very instructive and useful for everyone.


Sources
Information

News to know: beware of phishing scams!-hq

Wikipedia.org-Phishing

help.deviantart.com/660/

Defiendete del PHISHING-noticias
(Only Spanish.
All information

about

of

Phishing

on

dA

and other

sites

, such as

Outlook

, comes from

this

tutorial.)

Images



firstutahbank.com- www.firstutahbank.com/wp-conte… (Image 1)



The Image 2 is a screenshot made ​​by me



4.bp.Blogspot.com- 4.bp.blogspot.com/-MO3V6c0Hsl4… (Image 3)



alpz.files.wordpress.com- alpz.files.wordpress.com/2010/… (Image 4)



media02.hongkiat.com- media02.hongkiat.com/guide-to-… (Image 5)



blog.capacityacademy.com- blog.capacityacademy.com/wp-co… (Image 6)



synaq-cms.s3.amazonaws.com- synaq-cms.s3.amazonaws.com/sit… (Image 7)



1.bp.blogspot.com- 1.bp.blogspot.com/-z8Z5BWCbGBI… (Image 8)



upload.wikimedia.org- upload.wikimedia.org/wikipedia…



uploead.wikimedia.org-
upload.wikimedia.org/wikipedia…