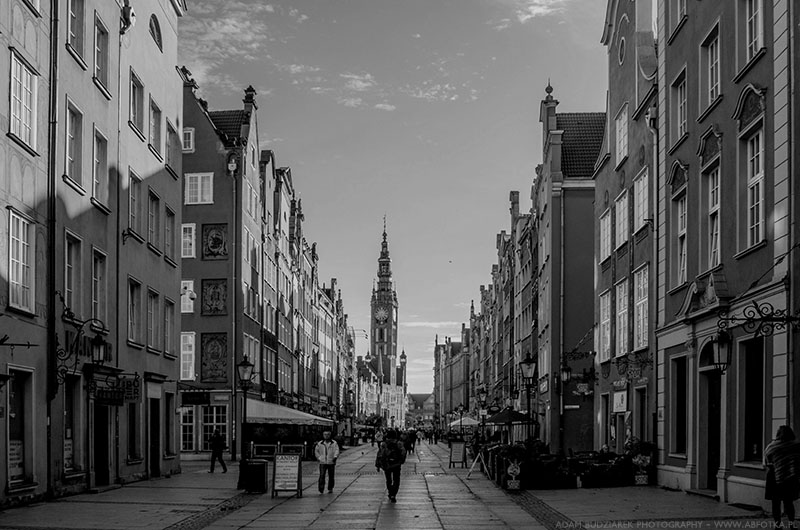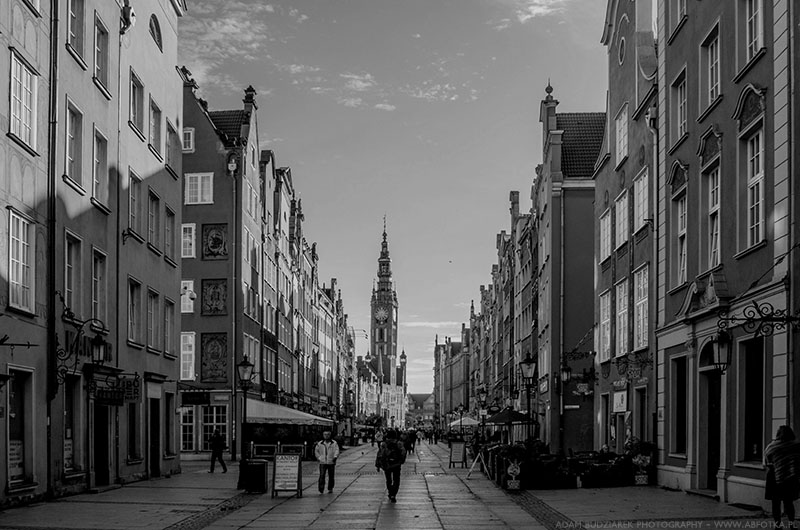 The Long Lane (Polish: Ulica Długa, German: Langgasse ) in Gdańsk, Poland, is one of the most notable tourist attractions of the city.
It leads from Golden Gate (Złota Brama, Langgasser Tor) to Long Market (Długi Targ, Langer Markt) and Green Gate (Brama Zielona, Koggentor).
Ulica Długa – reprezentacyjna ulica Gdańska, biegnąca przez Główne Miasto w dzielnicy Śródmieście. Jej przedłużeniem jest Długi Targ, z którym stanowi tzw. Drogę Królewską.
W XIII wieku pełniła funkcję traktu kupieckiego, z przedłużeniem w postaci owalnego placu targowego. Był to wtedy prawdopodobnie główny ciąg drożny Gdańska.
Po zajęciu Gdańska przez Zakon krzyżacki, trakt ten stał się najważniejszy na całym Głównym Mieście. Od 1331 roku bywa określana w dokumentach miejskich jako Longa Platea. W średniowieczu cały odcinek od ówczesnej Bramy Długoulicznej (dziś Brama Złota) aż do Bramy Kogi (dzisiejsza Brama Zielona) był uznawany jako jedna ulica.
Od zawsze Długa i Długi Targ były częścią miasta zamieszkiwaną przez najzamożniejszych. Kamienice należały do najzacniejszych patrycjuszy, kupców i ludzi piastujących wysokie urzędy. Z powodu uroczystych parad, przeprowadzanych nią w latach 1457-1552, wzięła się jej nazwa Droga Królewska. Tu właśnie wynajmowano królom polskim obszerne kwatery, a z okazji świąt rodziny królewskiej wyprawiano huczne fajerwerki.
Wygląd ulicy zmieniał się przez wieki. W XIX w. zaczęły z niej znikać przedproża (ostatnie usunięto w roku 1872). Sama ulica i Targ zostały wybrukowane w 1882 roku kostkami importowanymi ze Skandynawii (wcześniej była pokryta kamieniami polnymi). W okresie późniejszym przez ulicę poprowadzono linię tramwajową. Przed 1945 ulica nosiła nazwę Langgasse.
Ulica Długa została całkowicie zniszczona, a dziś, po odbudowie, stanowi atrakcją turystyczną. Usunięto szyny tramwajów, a na miejscu starych kostek brukowych pojawił się szlifowany granit. Obecnie na ulicy odbywa się wyłącznie ruch pieszy.

see color version: Long Lane in Gdansk