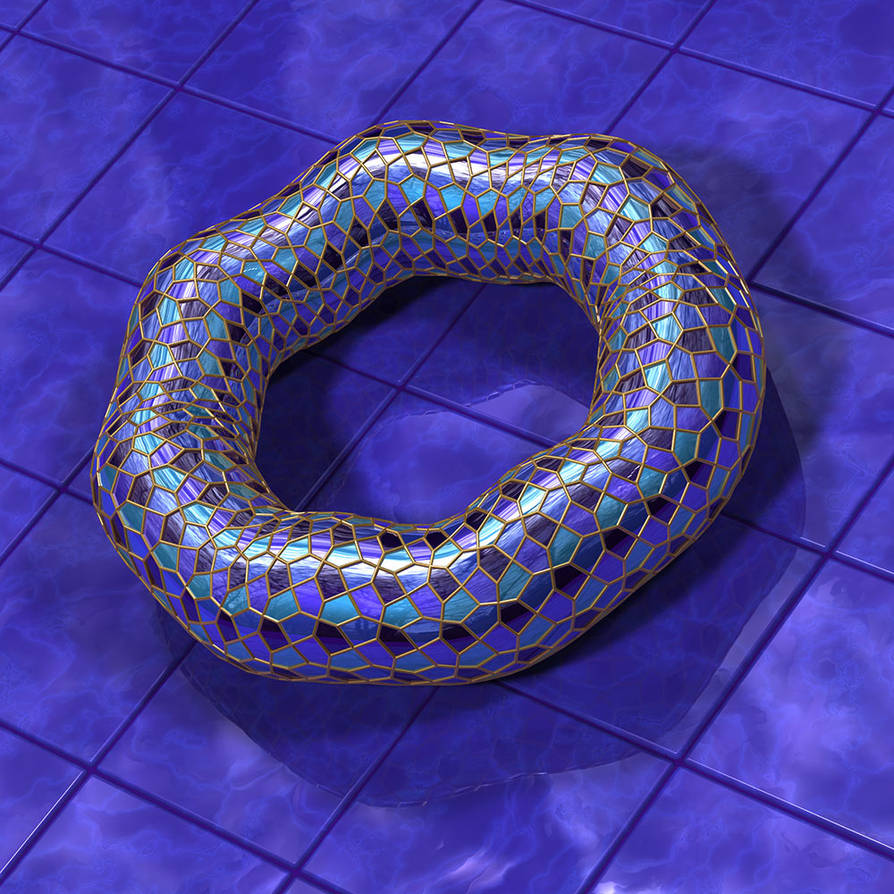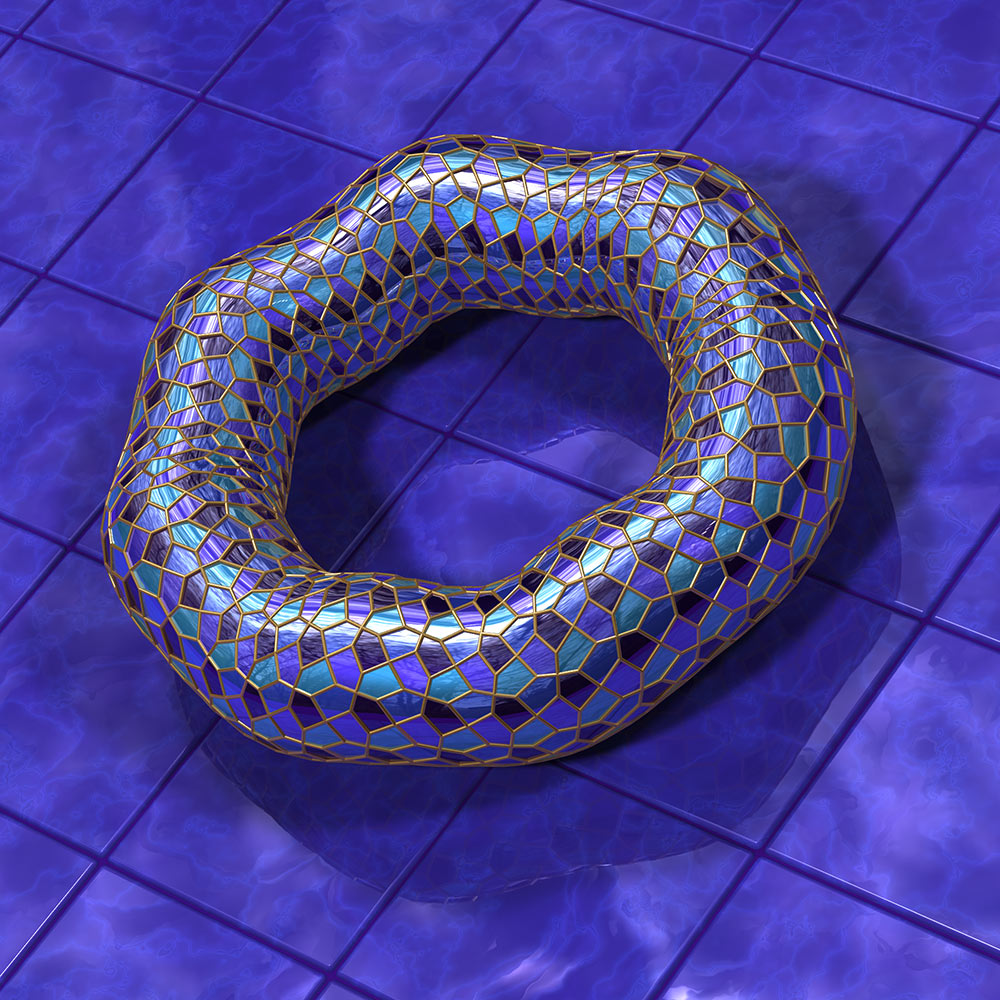 Watch
Another render using a POV-Ray macro which the creator calls "The Bastard Torus from Hell".
The macro is here:
[link]

Like a stream of water caught in some kind of net.

Reply

Is more complicated than the previous one.
I like. Is a jewel that I would have.
Reply

woha, nice blue...and beautiful tiles too

Reply

Beautiful. And mind-blowing.


I gotta ask... There's a certain type of ceramic artwork, characterized by the use of gold wire or dams to divide up the surface into small patches, each containing a ceramic glaze of a color different from its neighbors. It looks just like this picture.

But I can't think of the name of that technique. It's driving me crazy. Do you happen to know?
Reply

Dang. The name is cloisonné.

The brain is a wonderful device. All I had to do was ask the question, and the answer popped up from nowhere, clear as day. Last time I heard it pronounced must be 10 or 15 years ago, and I never knew how it was spelled. Some years ago I searched websites about ceramics for a few hours looking for that word.
Reply

Another blast from the past. Now I remember why I wanted to know. Twenty years ago, within a few months, my boss returned from Russia and gave me a gift he'd brought from Russia, a small plaque or pendant made by the cloisonné technique, which still adorns my office wall. He'd been working with some Russian scientists developing techniques for a collaborative experiment involving Russian spaceships and American computers, software I wrote, and monkeys from who knows where. What made it traumatic, and therefore memorable, was that in the next breath I had to tell him I had decided to quit my job. That set me upon a crash programming project for him that I had to finish by date certain so I could leave for the other job, but it was delayed by Hurricane Gilbert, "the second most intense hurricane ever observed in the Atlantic basin". My life has been mostly deadly dull, but I've had my moments...
Reply

Well, we all gotta have a little excitement, whether we want it or not.

I wonder what the monkeys are doing?
Reply


As somebody said, excitement is suffering seen from a distance...
Well, they were being experimented upon, as you might guess, but a gentler experiment you could hardly imagine. The idea was to shake them, and measure the neural response of the vestibular system, before and after they'd spent time in orbit, to see what if any difference it made to have experienced "weightlessness". It was a highly controlled kind of shaking, a slow sinusoid, with an amplitude envelope designed to make sure they never experienced anything remotely like an abrupt jerk. That wasn't just to be kind, it was to generate analyzable data. My software calculated the waveforms and presented a friendly GUI to the experimenter-- no small trick, given that MS Windows scarcely existed yet. I was told they still used my stuff up to around 2000, when MS Windows was finally good enough to use, so they converted the software to that.
Reply

Maybe use the torus to set off a background inside of searching for a background to set off the torus.
Reply

inside? or instead? I think my brain hurts.

Reply

Love the colors

The gold is the right little touch that sets off everything else!

Reply