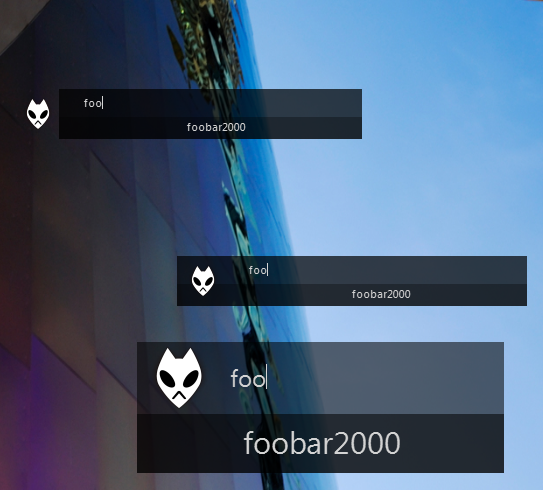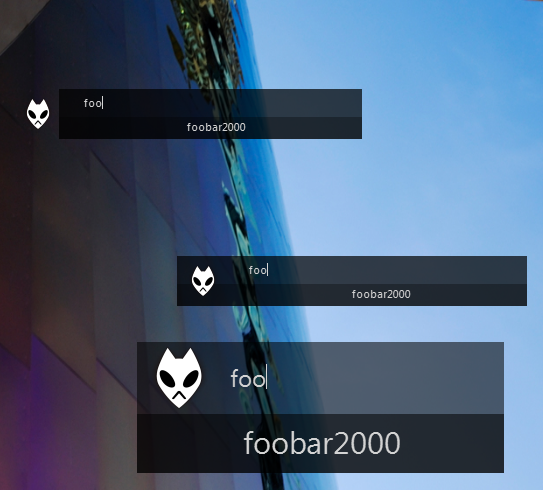 A translucid bicomponent skin for launchy...
featuring three styles (normal, big, transparent icon background)

I really hope you enjoy this!

cheers!


Update: input caption for the "big" variation is now fixed.
Thank you!

Great skin.

Wish I could find one that displayed the date/time. Anyone know of a Launchy clock skin?
Reply

Beautiful. The suggestions popup ruins it unfortunately. I wish the scrollbar was skinnable.
Reply

Thank You;
I Usually disable the suggestion popup or set up a retard of >10 sec; thus if you press down It appears when needed.
Reply

Sweet, thanks for the trick! Also realised I could set the number of simultaneously visible suggestions equal to the number of suggestions. It doesn't look half bad without the scrollbar!
Reply

Awesome. Good job, ~parasus.
Reply

Nice one, very tiny file size

However, I had a problem using it with Launchy 2.5.0 version: the propositions in the lower part were black with default font and size.
I fixed it by removing expression "QLineEdit" in
style.qss
.
Reply

Nice; I wouldn't have known how to fix it. Anyway, I recommend using last beta version (2.6 beta 2), It works fine!!!
Reply

...and also since the path name exceed the windows border, I changed the font size to 9.
But I repeat myself: this skin is awesome, quite simple but so efficient

Reply

I'm glad you found it useful;
in fact, I started making Launchy skins for myself because I wanted a more integrated skin for the VS I was using.

Thank you for the feedback!
Reply

just stopped by to say thanks for the large font. also very east skin to make changes to. I now have a 500 px background and 80 px tall which is just fine to me. was about to stop using Launchy but now I'm back.
Reply

For (atleast) the "Big" variation, could you fix it so that letters that have a lower bit (g, p, q, etc) don't get cut off?
Reply

Nice skin. Going to use it. Too bad launchy is no longer updated
Reply

Thank you!

I agree, launchy is a very good program.
One thing is OK, Launchy is open source: someone with enough programming knowledge could continue its development.
Reply