Happy Halloween Paranormal-Artists!
It's nearly one a.m. here in Wisconsin so it's time to announce the winners of this year's DARK FAIRY TALES HALLOWEEN CONTEST!
1st Place 25

:

for her submission: Wrong Side of Heaven
2nd Place 15

:

for his submission: A Hairy Fairy Tale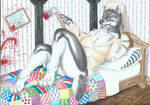 Congratulations! Thank you both for entering, your points will be awarded shortly! I thought both of your entries were fantastic!
Happy Halloween everyone! Have an enchanted day!