Honorable Mentions
so close it hurts
When I first saw this entry, it took me by surprise. The thumb looked like it may look good, but I didn't really see how great it was until I full viewed it. This entry is just charming, full of great details, and overall, a pleasing piece to look at. I love the waterfall, the detail in the fox's eyes, her freckles… It was so close to winning it hurt to have to choose. I think I spent an hour debating, and in the end, I deferred to my judges, and this one was eventually… reluctantly given up, but I feel I have to mention it here nonetheless. Special thanks to
Lillyfrost
for submitting this delightful entry.
:thumb323739218:
traditional beauty
Very well done colored pencil art is a rare thing to see on deviantArt. Perhaps this is why this one was a favorite of so many in the popular voting, and I can clearly see why.
artbybluedaisy
uses excellent technique, with cross hatching, shading, and strong colors, and honestly, as the lines were done traditionally, it only seems to fit that it be colored using a traditional method. I loved this entry from the first moment I saw it, and it I still one of my personal favorites, so I would like to give special thanks to
artbybluedaisy
for submitting this lovely entry.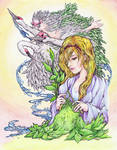 simple perfection
Sometimes I come across an entry where I find myself wishing I did not use a rubric to guide my judging. Sometimes I find an entry that, although it is not chalk full of outstanding details in the background, delightful little extras that show both technique and dedication to the entry, it still speaks to me. It is no small accomplishment to create a piece that uses simplicity to create beauty. It is not easy to put just enough in just the right place without adding just a little more. I've tried many times to take the simple-yet-still-perfect rout, and I still haven't figured it out, but if you take a moment to look at this entry by
ChainsOfFreedom
you will see that this is not a problem for this entry. This picture is perfect just as it is. Thank you for your charming entry.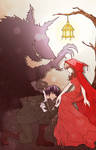 excellent technique
What can I say about this entry? I love it. The technique is just outstanding. The fabric has a texture to it that is very real looking, the lighting on their faces is rich, and I particularly like the way the 'beast's' face is done. You can almost touch the scales on his cheek. The darkness in the piece creates a mysterious mood that fits the expressions on the characters well, and the leaves in the foreground are full of detail. It almost has the feeling of an old masterpiece, and I can almost see the brush strokes on it… not an easy thing to do with a digital medium. So I would like to give special recognition to
Kajiblade
for this rich entry.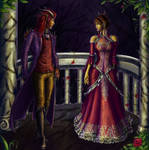 Young Artist Winner
Yes, I know what you are thinking: the artist who did this is only 14? What? Wow. That sums it up pretty well. This piece held its own pretty well against all the other entries, and stood out when compared with the young artist entries. Of particular note are the shading on her face and the use of lighting. This is really the only entry that captured the shape of her cheekbone, her lips look so full and inviting, and her eyes really pop out with that vibrant green, which adds an almost supernatural quality to her. The lights in the background have an enchanting glow to them, and one can easily see their impact on the figures in the foreground. All in all, a solid entry, and well deserving of recognition. Congrats to
Vollatina
for winning the young artist prize with this beautiful entry.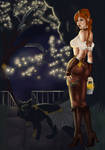 Popular Vote Winner
It is easy to see why this entry won the popular vote. It is very well done, and as one of my judges put it, 'I have to give special props to
CAHess
for details.' Just look at the fur on the fox. Look at the textures on her clothes. Look at the detail in her face. I am particularly fond of the blue lights, and the dark tones used in the whole piece, and on her skin. The detail in the foreground contrasts well with the obscurity of the background as it disappears into blackness, which gives the impression that the characters are deep underground. Everything about this picture seems to be telling a story: from the golden light coming from behind her, which indicates that perhaps a person is following her with a lantern, to the matching green in the fox's mechanical eye and her eyes, which opens the question about why or how that might be. Congratulations to
CAHess
for winning the popular vote with this excellent entry.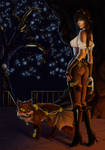 Best Little Red and Wolf Entry
I liked this one from the first moment I saw it, and knew that it would be the bar that all other entries for this line art would have to try to reach for. It is perfectly shaded, the colors chosen for it are delightful, the detail is just right, the lighting is strong, and the mood is mysterious and magical. It was almost as if this set of lines was drawn with
Sylfaenn
in mind to color them from the beginning. The styles match perfectly, which is why it is my pleasure t congratulate
Sylfaenn
for winning 'Best Wolf' with this rather perfect entry.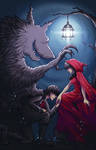 Best Beauty and the Beast Entry
This was a very difficult set of lines to judge for. There were so many great entries, and if it was not for the help of my judges, I may not have been able to choose a winner, but in the end, it seemed so obvious. It is funny, but the first thing I noticed about this entry was the grass in the background. Yeah, it may seem silly, but consider this: how many people pay as much attention to the background as they do the foreground? More often than not, a coloring falls apart as soon as you look beyond the lines. The quality and care goes down. But take a look at this entry. Wow. The next thing that I noticed was the detail in the floor, the reflection, the flowers, and eventually, I realized that this one was a clear winner. The characters are well colored, and the scenery is just as well cared for, so congratulations to
SoleWorker
for winning 'Best Beauty' with this thoughtfully colored entry.
Best The Six Swans Entry
I would like to give special thanks to Alyssa for drawing my attention back to this entry. I had gotten to the point that I was so overwhelmed by judging all the entries that when it came time to look at the Six Swans that I started to overlook some of the treasures submitted there, and this entry certainly is a treasure. It is dark, but not lost in shadow, it has subdued colors, yet it still has richness, and it is subtle but detailed, and it is overall a balanced piece. The mood is quiet, soft, mysterious, sad, and yet hopeful, just like the story it is telling. I am enchanted by this piece, and so I would like to congratulate
MOONBTCH
for winning 'Best Swans' with this sweet entry.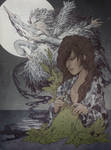 Best Cyber Works Entry
The lighting and the color scheme in this entry stands out from all other entries in the contest, and for that reason, it became an instant favorite of mine, as well as one of the other judges. It becomes clear very quickly that
Who-Died
is a master at coloring, and it shows in this entry. Just look at the shading in the folds of her clothes, both natural and soft looking. Look at the fur on the fox, textured and detailed, but not over the top. Coloring animals well is a challenge for many people, but not for this artist. The tree in the background has a lovely texture to it as well, which matches with the girl and the fox, and the warm atmosphere just radiates off the image. Another thing that caught my eye was the detail in the light bulbs. Most people just blotted them out with light, but here, you can see the inner wiring. It is little details like this that helped this image to claim the prize of 'Best Cyber.' Congratulations to
Who-Died
for winning with this warm entry.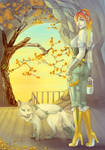 Best Butterfly Dragonfly Entry
The funny thing about this one is that I usually hate pink. But I LOVE this entry. Imagine how I would have been fawning over it if
linnil
had used blue as the primary color focus instead. (blue is my favorite color in case you were wondering.) This entry has everything: lovely shading, excellent use of white, an energetic background which frames the image perfectly, great lighting, perfect use of lines, balance, movement, charm… the works. The style matches the lines, both having a detailed anime charm, and I could even see this as a poster. (I'd buy it.) All the judges were in agreement with this one, and so it brings be great joy to congratulate
linnil
for winning 'Best Butterfly' with his very pink yet satisfying entry.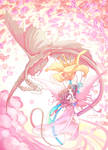 Best Elegant Entry
'Ooh. I like it.' That was the first thing I said when I saw this entry, and I am still saying it. I am so pleased with how
Dark-Arya
colored this piece. I love the blue sky, the poofy clouds, the spirit gate, the flower petals, the grass, the sparkles, the colors used for her dress, the shading, and especially her eyes. Sometimes I try my hand at coloring in this style, but I never really do quite get it right, so one can imagine how happy I am that this artist did it for me.

Anyway, this entry has a very bright and joyful feeling to it. Congrats to
Dark-Arya
for winning 'Best Elegant' with this stunning entry.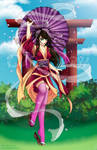 and the Grand Prize Winner is… *Drum Roll! Wait for it… wait for it…*
I will be honest here. This was, by far, the hardest contest I had ever judged. When I first crunched the numbers, I had five entries with a top score of 27. Yep. Five grand prize winners. As I'm sure you can imagine, that was not going to work, so I relied very heavily on my judges to help me rescore my entries to create a disparity. This was not one that I had initially thought of as a winner in comparison with the others. Words I used to describe it are 'sparkly' 'shiny' 'otherworldly' 'magical' and 'enchanting.' But I didn't give it the word, 'Winner.' So when I consulted my judges, I was surprised when this was the one that they latched onto… don't get me wrong, the judges were actually fairly well split as well. But then I reevaluated this one, and saw that it does indeed stand out. As one judge put it, 'this entry comes out of left field. It is entirely different from all the others,' and I have to agree. Because it is so shining and unique, and because of the detail, lighting, care, and mood, it really is the clear winner. And so I am very pleased to announce the grand prize winner. Congratulations to
Darya87
for winning this contest with this enchanting entry.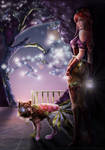 you can see all the final scores for every entry here: manic-goose.deviantart.com/art…