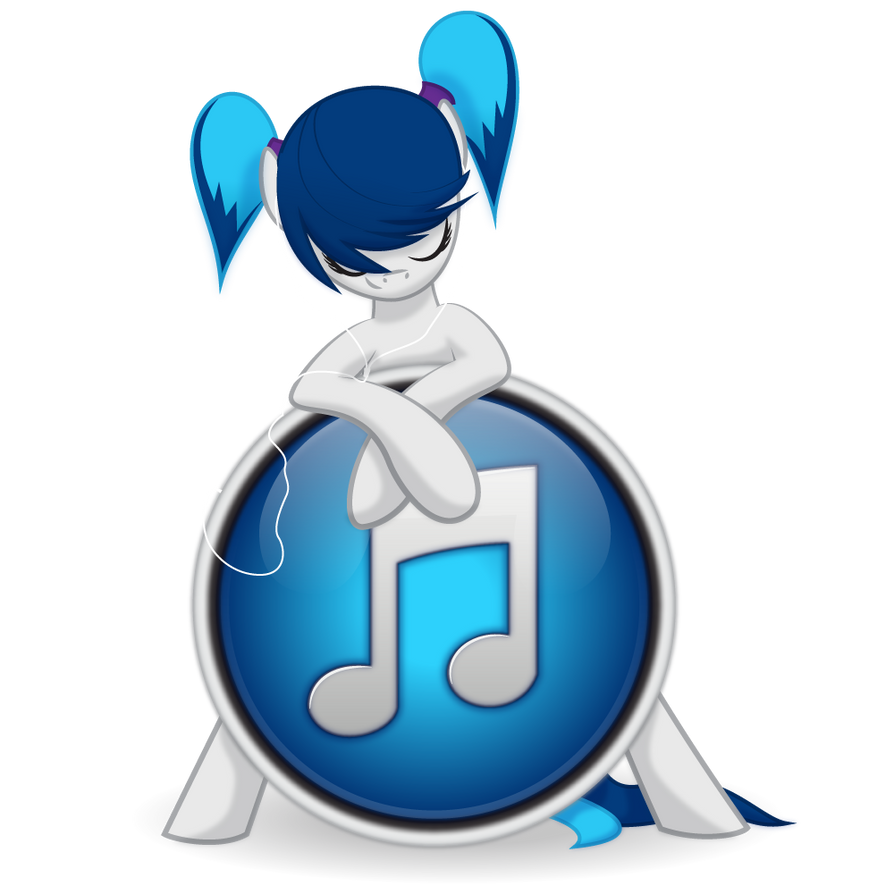 Watch
So, finally... my concept for iTunes.

Windows Icon (clicky)
Mac Icon (clicky)(OS X 7+ optimised, I hope)
Windows Icon WITHOUT HEADPHONES (clicky)
Mac Icon WITHOUT HEADPHONES(clicky)(OS X 7+ optimised, I hope)
Full image WITHOUT HEADPHONES(clicky)
I hope, in light of recent events that
should now be resolved
, there will be no upset over me releasing another app icon

iTunes has often been requested, been sitting on it for a while (sorry... other stuff distracting!) so here we go!
She needs a name. I was thinking "Harmony" but it might be at odds with her character, which I would imagine is rather strong-willed and forceful. Or maybe that disparity would be an appealing aesthetic. There was also "Pulse" or "Lilta" but I'm open to suggestions

Maybe Caesura (see-sure-ah)? This is a musical term which means "a brief, silent pause, during which time is not counted". Which sounds all sorts of deep and meaningful until you remember it's just a squiggle in music notation. Heh.
She would have a strained relationship with other media-loving avatars, seeing as her strong opinions on how things "should be done" are very different to others like Ampera (Winamp) or VLC (who, now I mention it, I don't think I never named!! Actually if you have any suggestions for VLC please drop them in the comments over there, I'd appreciate it):
I wanted the pigtails (bunches? whatever) and jagged, untidy fringe. I anticipate some will feel an iTunes avatar would be quite elegant, like the app... but I kept feeling the concept of enjoying music, the raw thrill of good sound, might be an overriding factor and more central to the character. Less elegance, more excitement, more 'fun'. Or maybe it's just my music library clouding my vision

Besides, I'm sure she could "dress for the occasion" if she were socialising with classy software from elsewhere in OS X.

Colouring this character was a nightmare. The iTunes logo has about four main colours and a million gradients in between. I took cues from the centre and edge of the logo "jewel" but these two colours look a bit odd when segmented, at least in this hairstyle. I didn't want a plain hair colour, it looked boring. So then, when I tried to use one colour, but make variants thereof to spice things up, it just looked too disconnected from the logo. Flippin' gradients. It could be done with other hairstyles, but damnit, I wanted those pigtails! (Bunches? What ARE those things called, anyway?!) So I arrived at this solution, which mixes the two together in a way that doesn't look odd (IMHO), works for how I wanted to express the character, and also ties her to the logo nicely.