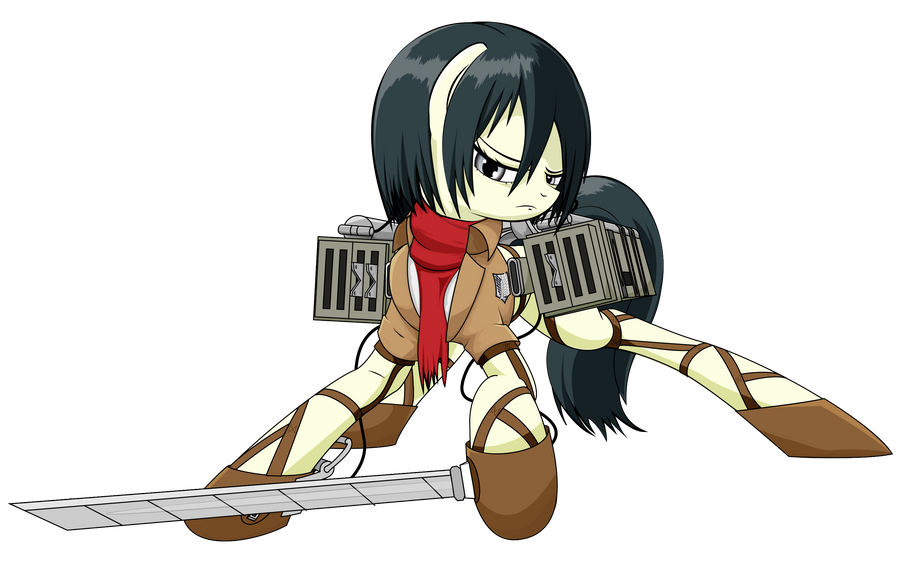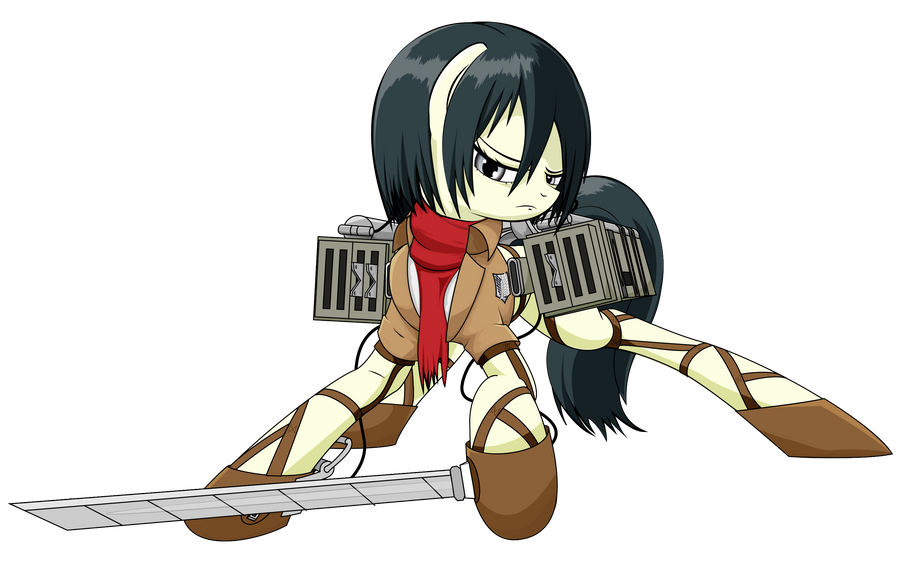 Watch
If you haven't watched/read "Shingeki no Kyojin" (Attack on Titan) yet...
do yourself that favour
. It's brilliant. (obligatory gore and general misery warning... as such things go, it's fairly dark).
Here's Mikasa looking pissed in her full 3DMG setup. This work in progress is part of a larger image which at this stage I'm not sure I want to finish (it was a bit ambitious and would take too much time away from My Little Websurfers). In this frame she is supposed to be standing on a slanted rooftop, overlooking the city and walls behind her. Anyway, here she is, at least.
This isn't quite my usual art style compared to the other things posted here... but I love the way it looks and it was a lot of fun to do. It would look better in the complete image, but again... might have to circle back to that later.
The 3DMG equipment doesn't make a lot of sense on a pony. For one you really need fingers and hands to hold the swords and fire the trigger mechanisms... I've tried to design around this, so the blades clip into her footwear, and she can control her 3DMG with the firing mechanisms built into the back of her front footwear (you can see this on her right foot... it's a hinging mechanism she can activate by bending her foreleg). Fighting in this arrangement would be a bit tricky because the blades would need to be detached each time she needs to run, so transitioning between 3D and ground-based warfare would take practice. Perhaps some sort of hinge mechanism would allow the blades to be remain mounted but sort of swing up and out of the way when running (although, this would impede the manouverability of the front legs due to the weight of the blades). In short we better hope Equestria isn't overrun by Titans because it is going to
suck
trying to fight them, haha.

HASBO, DHX... IF YOU ARE LISTENING, I DEMAND AN MLP VARIANT OF THIS FRANCHISE.