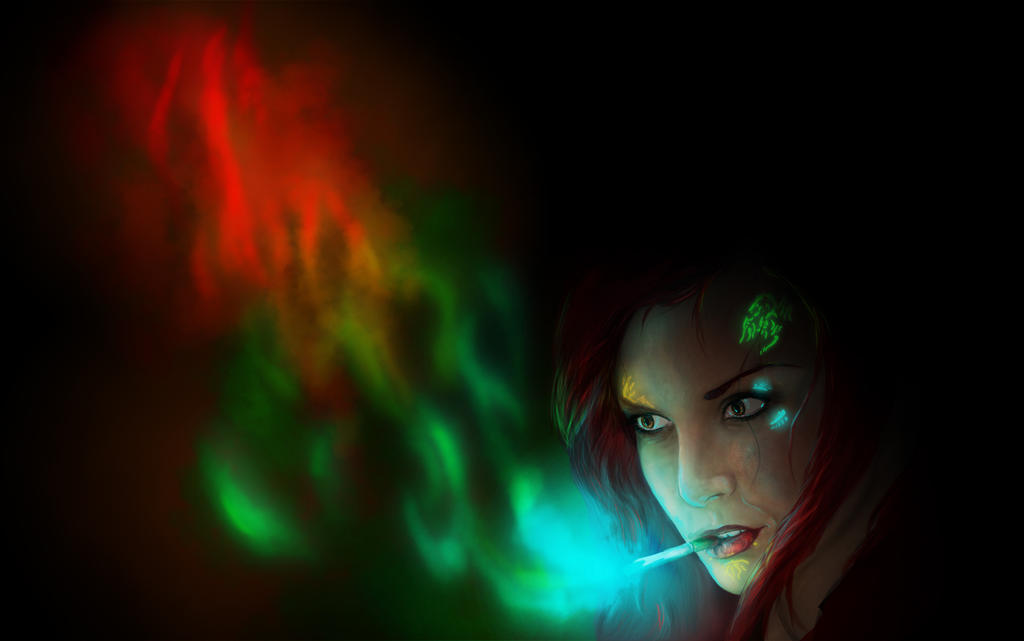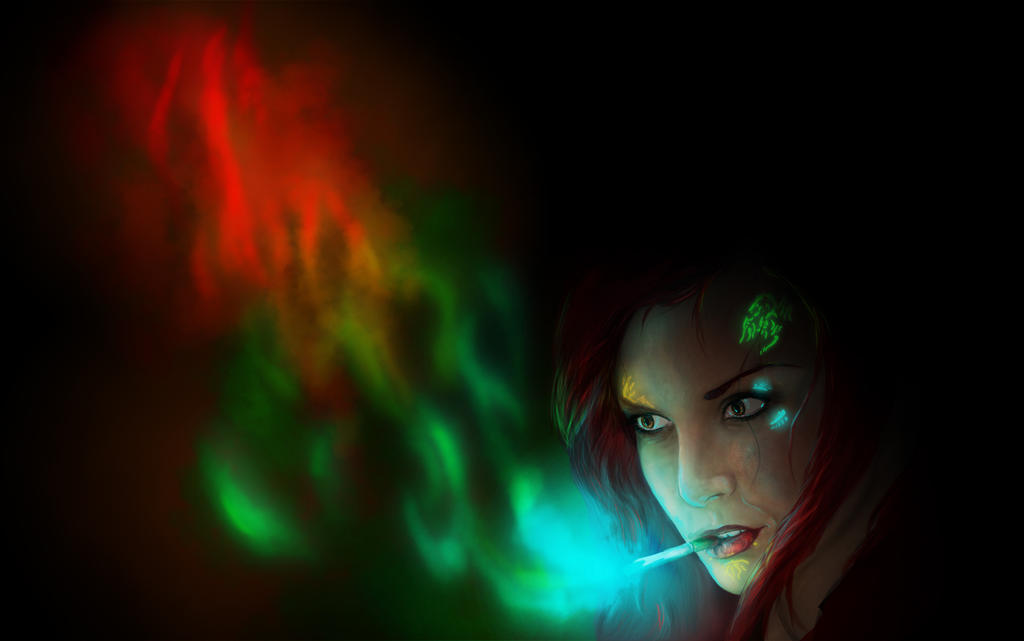 Watch
Overall very pleased with this, my first dynamically lit piece.
To me the hair is a bit messy and the nose looks off some how but not sure why, any thoughts?
Used reference from =
TwiggXstock
for 'Aurora', no reference used for anything else.
Critiques appreciated
Details-
This is a really lovely piece and it has some kind of magic to me that I adore.
The first thing that comes to my eye are of cours the colors that go together pretty well. The I notice how she stares at her smoke and how fascinated she looks. I think you did a really good job on the reflection of the light in her eyes and the hair. Also the glowy tattoos on her skin looks great. The skin has also a really nice texture and I like your painting style, because it makes the eyes look so piercing while her hair and skin look really nice and soft. However I think you could have made the smoke a little more flowing. Right now it looks slightly massive and not like real smoke, especially at the red part. I think it would make your piece much better because it is the eyecatcher.
The Artist thought this was FAIR
8 out of 8 deviants thought this was fair.
Lots of bad chemicals are in cigaretts, I just didn't know one of them was luciferase.

Possibly one of the most color experimental pieces I've critiqued, the artist has clever in usage of elements and lighting, especially with the tattoos, as if this were a pyromancer of a magician who uses the power of the tattoos to control the flame...*steals idea* *steals idea*
The expression of both the flame and the face are somewhat hard to mix, but are too detailed for anyone but the harshest critic to hate, so I suppose I'll give credit to the fact the artist can make better eyes and hair then me.
In conclusion: An impressive and eye catching piece that may encourage smoking, but I'd rather say that's just a medium for the artist to express the fire of the soul given form unto the physical...and remember: "Only
you
can prevent wild fires."

The Artist thought this was FAIR
9 out of 9 deviants thought this was fair.