Studio
Hello again everyone. So, the news I mentioned in my last post is this - I now have my own studio space & and art blog!
Please take a look -
leepearceart.blogspot.co.uk/
In future I will be posting info about where you can buy my work, competitions and giveaways, step by step progressions, featured artists and more.
Traditional
My second piece of news is this - I am taking up traditional art. As those who watch me will know, until now I have been an exclusively digital artist but I'm finally going to be picking up a set of paint brushes

This is my very first piece -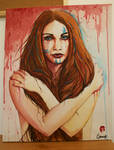 (Those of you who watch me for digital work/not interested in my trad paintings, fear not, I am still creating digitally too!
+Fav Feature