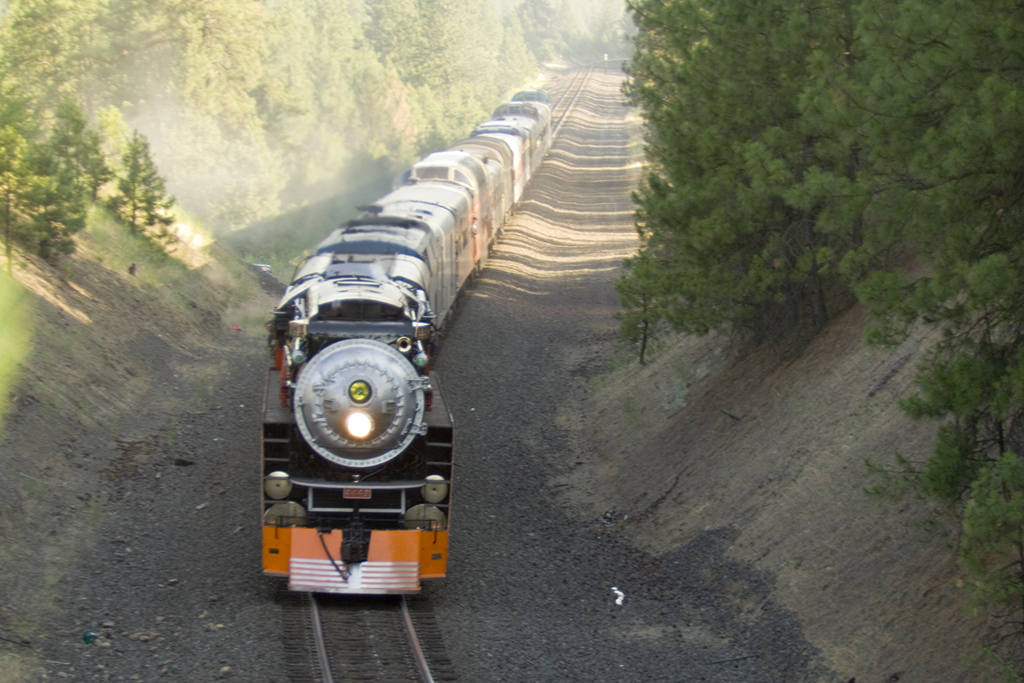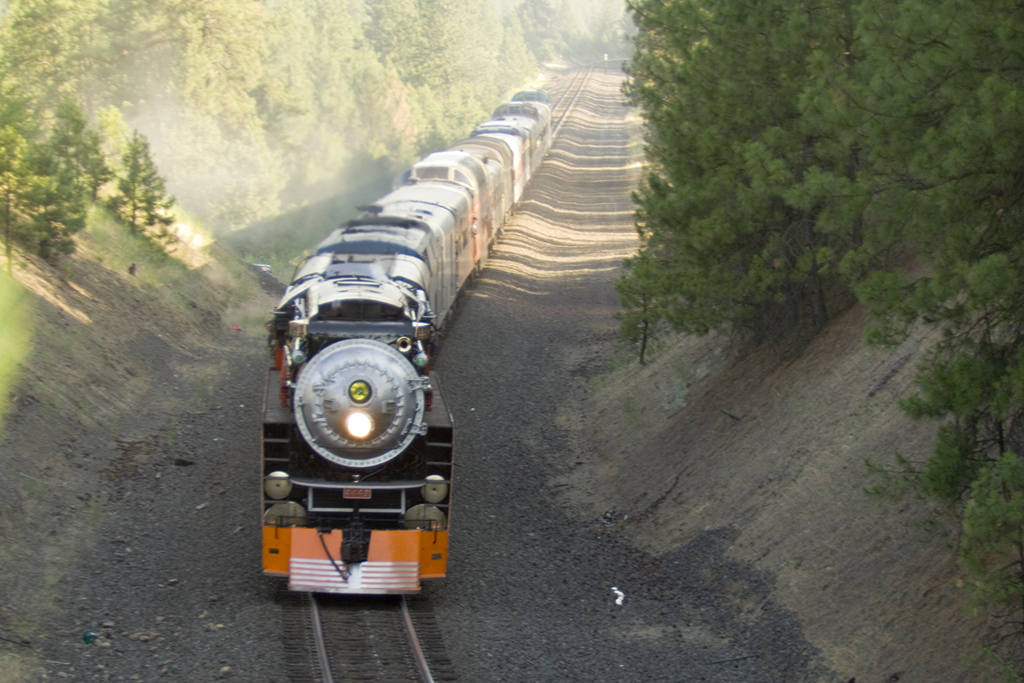 Watch
July 3, 2009, Southern Pacific 4449 launched its first leg of a 7 day journey to the mid west on July 3rd. It's route was from Portland, OR, to my current town of residence, Spokane, WA. Given a long love affair with this locomotive (that started when I was only three years old), I couldn't pass up the opportunity to foam at her.
I did not post this because it is a good photo. Instead, I posted it to tell a story.
Now in familiar territory, we found that Marshall Canyon became very crowded. A large number of people came out of the Spokane area to occupy the popular photo opportunities along this popular railfanning route.
But we knew something everyone else didn't know: 4449 had taken the high side of the canyon.
BNSF has two lines running up the canyon after Cheney, with the "low side" running close to the road and the "high side" running a little higher up the side of the canyon.
Carefully hiding our equipment and driving like a local, we passed by the crowd of people at a road-side crossing on the low side, laughing that they were going to miss it, while we used our "home field advantage" to occupy a bridge at a semi-secret location on the high side.
Once we got there, 4449 was not far behind. It turned out that thanks to the slow local drivers on this winding highway, we had only managed to get about 30 seconds ahead of our subject!
I tossed my tripod mounted point n' shoot camera (used for video) on the ground and hastily ran over to the bridge, snapping pictures as fast as I could.
Unfortunately, I did not have time to set my camera up for the low light, and all my shots came out blurred and poorly framed.

The worst part was, in our rush, I had lost my glasses! With frames costing $340, replacing these would NOT be less than $500--$500 that I don't have.
Thus, we let her run the rest of the way into Spokane without us, as we scoured the ground between where we parked and the bridge.
Fortunately, after about 15 minutes, my glasses were found, and, surprisingly, her stop at the downtown depot took around 45 minutes, allowing us the chance to get some shots of her as she drove through town towards the yard at which she was housed for the night.
(c)2009 - No permissions granted for the use of this image without prior written permission from me!

Wow, that's quite an amazing shot and that's a really interesting story. Thanks for posting it.
Reply

yes... it's the story... thanks!
Reply

Hopefully it wasn't too hastily written... I was running out of time before my obligations for the day.

Reply

Thats kind of gonna happen in the Chicago are when it leaves for Michigan on its final leg because some people are saying its gonna take the CN, but CN hates fan friendly events and passenger trains. NS and Amtrak are gonna take it on their tracks I think which will be better, and be more scenic, and closer to my house.
Reply

I was really surprised that there weren't BNSF cops crawling all over the place. They seemed to leave us all alone, even when we invaded the yard after she came in for the night!
Reply

That's an interesting story, I can almost imagine you driving past the hordes of people, snickering at the fact that they're gonna miss it

Reply