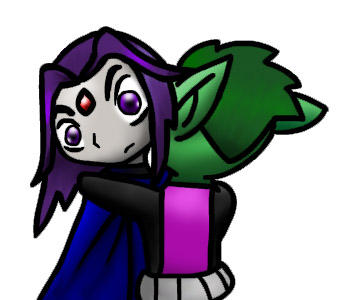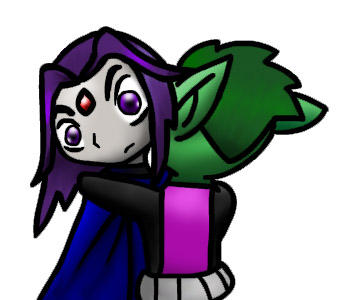 Watch
Just a suprise-like hug from Beast Boy to Raven. AND IT ACTUALLY DOESN'T SUCK, ISSA MIRACLE. Yeah, I drew this before... it was total crud when I did the lineart on my computer. Raven's forehead was too big... heck, it still is... a little. Before, it was drastic.

Kinda a quick-ish picture... several thngs are wrong with it... but then again, several things are wrong with all my pictures, for one reason or another. Far as this one goes, lines are missing as I was to lazy... just wanted to get more TT fanart. Just... cause. I seriously need a Yugi pic or two... just whenever I actually draw one half-decent.

To go more off my own topic, teh featured deviation shall be (sadly) changed as I mourn the (what freaking BETTER be temporary) loss of Time Squad.

Reply

Reply

Woah that's awesome! I think a very small flaw with it is that is outlined to deeply. Overall very good.
Reply

Ah yeah... the outlines are gigantic. Should work on that... *notes* But thanks!

... if this posted twice, then it's cause my computer sucks.
Reply

Reply