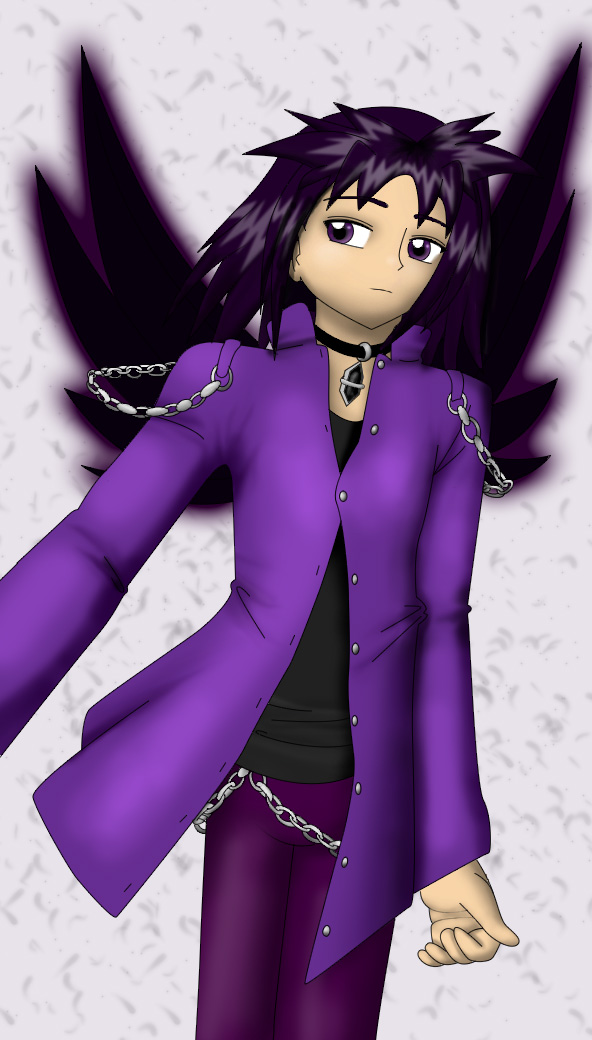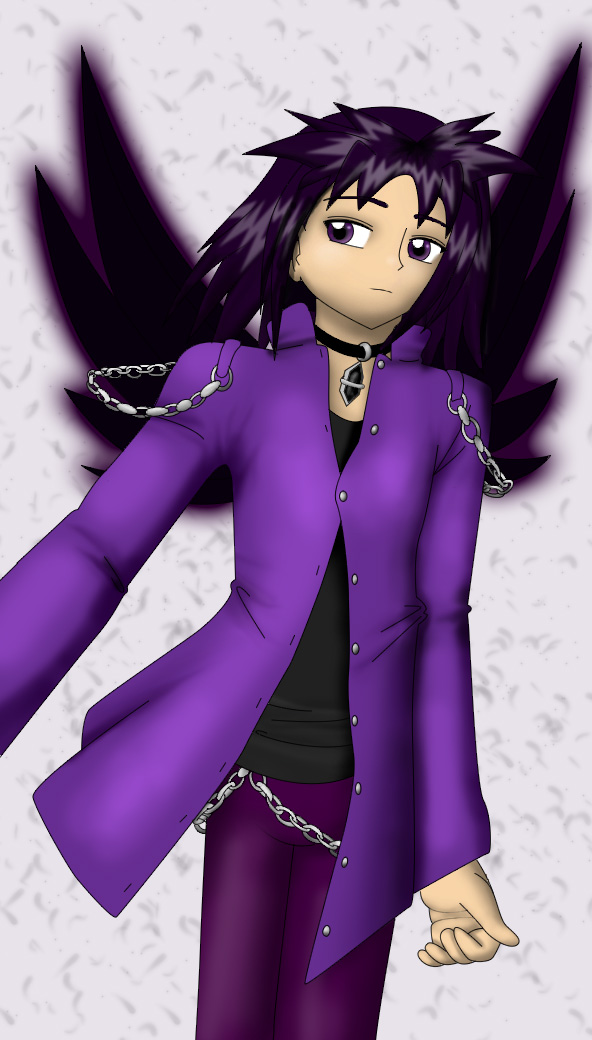 Watch
Hoo boy. So many things were unintentionally ripped off in this picture/character, this could be a lil while...

First off, the brush was downloaded from somewhere, but I forgot the site. >_o Gomen.

Second, he reminds me of Dark from D.N.Angel. Which I havent' read in years. And I was thinking more of Kratos when I designed him. Aaand my sister says his hair reminds her of Bakura from Yugioh... soo... he's a mix of 'em all? o_0;

Yes, if you couldn't tell this in an original chara. Currently named Sanji Yamaoka. Somethin like that...

Faster I shoot out pics, lazier they are. But for some reason he's fun to draw and I wanted to color him...

CHAINS = TEH SUCK. Dx

Also, I know he's freakishly tall. Which would be okay, but he's really meant to be like an average guy height... 'n his eyes are also bigger than what I usually have in mind. But eh. That much is all riiiiiight...

Uh. Yeah, I'd throw in a bio, but screw it. Haven't made it all up anyway... quiet, kinda emo, weird half-fairy/angel creature... and has a happy chick for a "friend", of course. xP

Eh, I'm just hoping there's no MASSIVE mistakes that I actually missed...

I always love seeing this pic when I walk into your room! >W<
But........WHO IS HE?!?! I mean, I know his name but...WHO IS HE?!
Reply

Eh? I guess I could explain... I wanna upload the stupid manga but I'm too uncreative to fill in the empty gaps of plotholes. xD
He and Shiori are something angel/fairy fusions known as "Manasouls." They were chosen at birth and for whatever reason (biggest plothole Dx) are being hunted by monsters. This is supposed to be a secret only known to the two families. They lived in Japan for a while but they were too young to defend themselves so once they were found they had to move a lot.
Ehhh, I don't wanna spoil too much on Sanji... his past is explained early on. Maybe I'll scribble his chapter up and upload it in scraps... but yeah... he's kinda antisocial and the only person he talks to at first is Shiori since he's known her forever and that doesn't even happen often. Atsuko sort of sees this as a challenge and tries to get him to open up to everyone. "Everyone" being like... three people.

Reply

x33333 then just make it jump around! That would be entertaining! x3
Sounds, pretty good so far! :3
I think I like Sanji!

Haha, I always thought him and ah! Crap, I'm not good with names but you know, the ninja girl were cute together! >W> AHAHAH!! That's liek, crack, huh?!
Reply

YAY, I'M PROMOTING CRACK!
... crack... pairings, I mean. *SHOT*

I should just jump around and maybe someone can suggest something. o_o But then when they make suggestions it becomes plagarism. xP
Reply

xDD Yeah, haha I likes them too.SOMETIMES! >W>
x3 Maybe they won't consider it plagarism........just........helping out!

Reply

Awesome!! And his name is Sanji, like from One Piece! x]
Reply

Thanks much fer the fav.

Shhh, yer not supposed to know that's where I pulled his name from even though I still don't watch that show. xD
Reply

I like him

more OCs plz XD
Reply

Reply