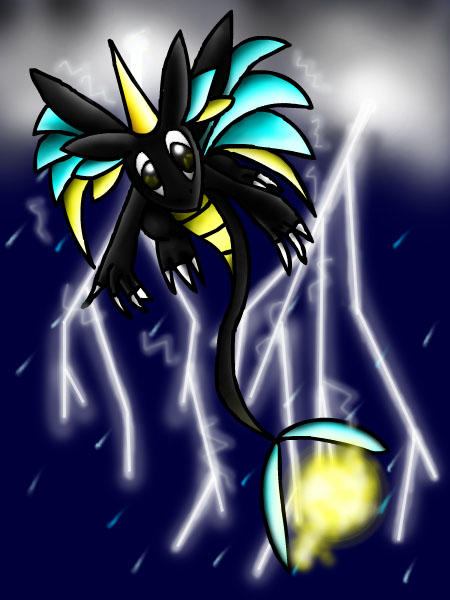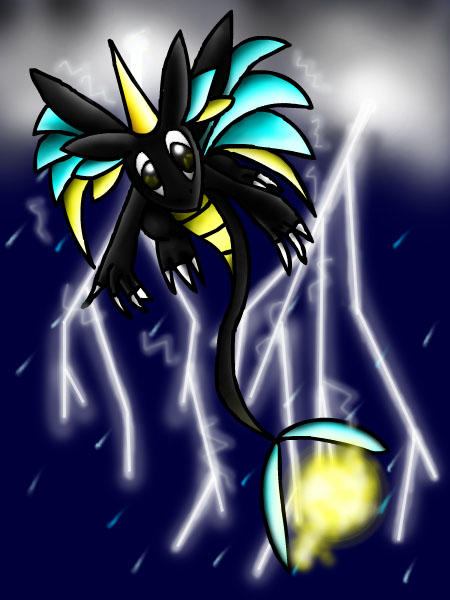 Watch
This is like one of my most recent dragons, who's, yes, a thunder dragon. Or electric. Or static. Or all three. Or something... so, he's got the ability to fly without flapping his wings and stand electricity and stuff. And he's just a-flying around in a storm in this picture. Yay.

If you have shading issues, DO NOT draw lightning storms. It was confusing the freaking heck out of me... the light comes from like everywhere and then wen you shade like everything semi-light on the outside it ll looks flat and then you gotta fix it... issa pain. In the end I just kinda... threw stuff together, I guess. Also, this picture was just rotting away om my computer, soooo... i finished it. And that's the story.

... you wanna know where the crud the name came from? No? Ah, I'll say anyway. See my first dragon, as some may remember, was named "Darnon" so that's kinda like the species of all my dragons so SOMEHOW Darnon + Thunder + Randomly-mixing-words-up = Daruderno. Yeah.

I love it! He's so cute...and lightening/static/whatever else you can think of for an alternative name. Dragons are also one of my favorite, along with...phoenixs, wyverns, chimeras, and okay a couple more but I won't bore you with the details. Lightening does seem like it'd be a bitch to try and do on the computer, though it wouldn't really be easier in real life. I gotsta go and check out more of your drawings
Reply

Eep! Thanks so much!

Yes, dragons are awesome... along with several mythical creatures and such... how can one not love animals with powers and elements and such? They're just so darn cool.

And lightning on paper would prolly be so darn hard I won't be trying for a while...
Reply

At least you did a good job on the one you did do. Yes, animals with elements and powers are so fun, that's why I created an animal for all my own people that get to control an element and then there's Shadow, who mostly just pals along with Fei.
Reply

it's gorgeous !

i love it :3
Reply

...wow. OO; Shweet color-scheme, I never thought of making an electric-element black...
And it's weird, 'cuz I made an electric-element dragon too, and it had a split-tail like this one. Oo Not exactly, but pretty close.
Anyway, this pic is really cool.

Ish well drawn and I like the design of the dragon. *+fav*
Reply

Thanks! I dunno where the black came from... or the split tail-ish-thing, but... yeah. And thanks sooo much for the

!
Reply

so pretty!!

I liked them eyes and the colors that you used

Reply

Very Kool

Reply

Cool dragon design!! The lightning in the background looks mad, as does the ball of light under his tail! ^.^
Reply