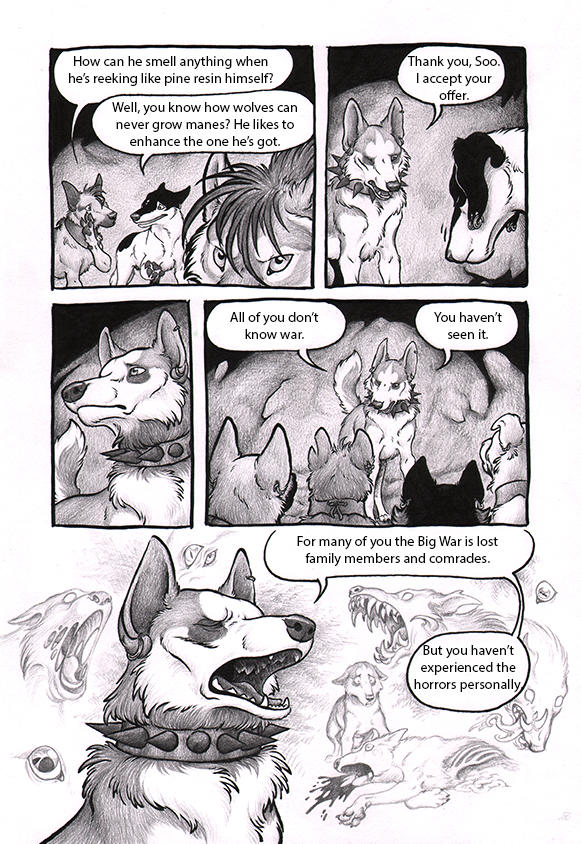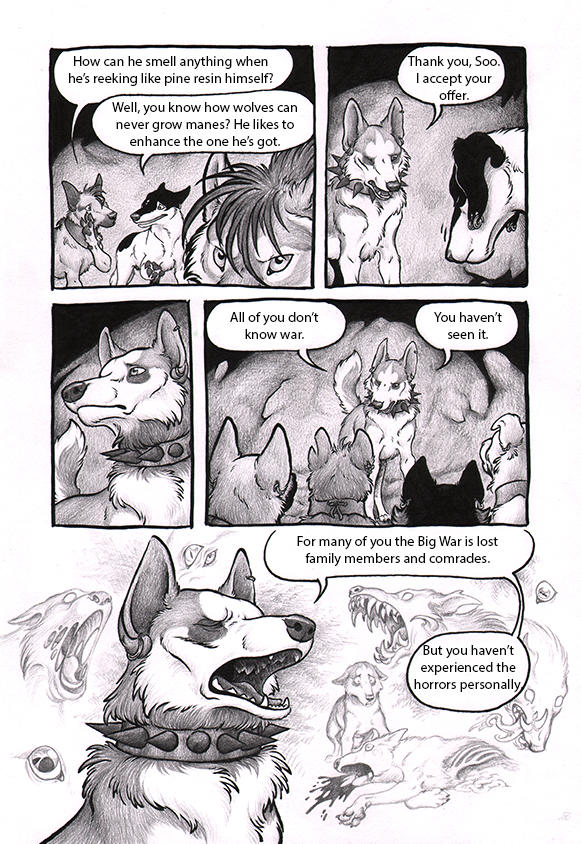 Watch
Wurr page 1
|| First page
Wurr page 216
<< Previous page * Next page >>
Wurr page 218
*************
It's been a while since the last dose of mild body horror, hasn't it? Let's fix that!
Speeeeeeeech!
Also, hey, I noticed I got Grimmon slightly off-model on that previous page (and totally forgot his earrings), but that's fixed now.
Wurr stuff © me stuff.
You are an incredibly talented artist and story teller! The imagery you choose to include in your panels are interesting, engaging, and give your audience a true sense of movement and emotion. You have an uncanny ability to include comic relief in an otherwise serious and rather daunting plot; good on you!

My only recommendation for this page is a simple grammatical suggestion. At the beginning of the speech (in panel 4). I would suggest botching "all of you." You could change it to something like "None of you know war. None of you have seen it" or "You don't know war. You haven't seen it." I think that repeating the first part of the statement would give his introduction a bit more of a punch for the reader.

Other than that GREAT WORK! I love reading the WURR comics and I can't wait for the next page to come out!
The Artist thought this was FAIR
22 out of 22 deviants thought this was fair.
Yet another review of this amazing webcomic from me.

I have to say, the person creating this is not only an amazing artist, but is an equally great storyteller.
This page, which is part of a few pages, introducing a new antagonist character, not only gives a huge insight on his motives, but also helps to flesh out the history of the fictional world that this story takes place.

I find it interesting that the wolves in that world are the equivalent to an ethnic minority in the real world. It's a nice touch, considering that its a world being run by talking dogs.

As for this particular page itself, what I fins most stunning is the final panel, which is most likely a depiction of what the dog with the spiked collar has seen in his youth, during the war with the hellhounds. It is both a horrifying and well-drawn panel. It's a little too graphic for my tastes with the mauled dead dog near the bottom right corner, but the gore and anatomy is depicted well. It is definitely a well thought out panel just to illustrate how terrifying the hellhounds could be to the ordinary dogs, particularly during a war between the two.

They do a very good job of making each dog unique, with accessories, scars, facial features and distinctive markings. I quite like the faint mask markings on the dog with the spiked collar on this page (I apologise for calling him that, as I didn't really catch his name), as they make him look older and weary, which wouldn't be very surprising.

As usual, I would like to talk about the amazing expressiveness of the dogs as well. They're expressions are believable with the anatomy of a canine's face. From serious expressions, to worry, to even laughing or horrified.

For sure, I'll definitely be looking forward to the subsequent pages to see how the story develops.
The Artist thought this was FAIR
5 out of 5 deviants thought this was fair.