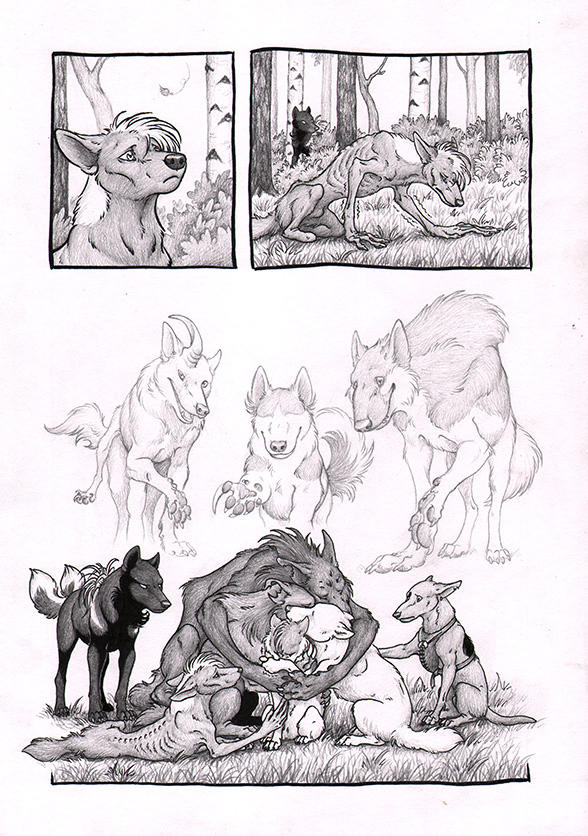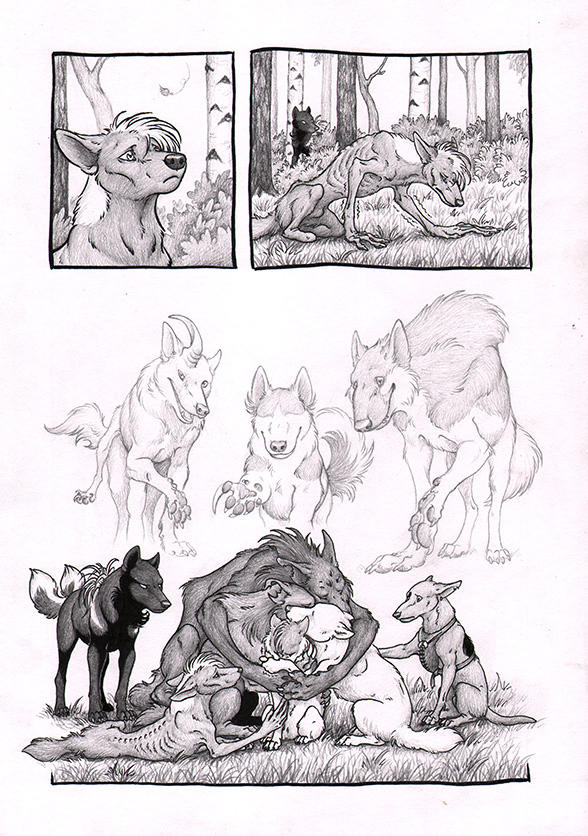 Watch
Wurr page 1
|| First page
Wurr page 212
<< Previous page * Next page >>
Wurr page 214
*************
Oh, hey, look! A new page and there's even three whole days untill the weekly deadline! Yay!
Well, okay, it's only three panels with no dialogue, but hey. And I've now officially run out of pre-thumbnailed pages. Wow, I could run this far just with the post-thesis-presentation adrenaline rush thumbnailing spree. Now, on to script the next scene!
And look, Issan and company pre-meatgrinder! Now I made myself slightly sad.
Also: Hug pile!
Wurr stuff © me stuff.
Outstanding pencil work I must say! It truly portrays the emotion and feeling for both this and the last panel. To be honest, I teared up just looking at it. I admire your work greatly and the way you express the emotion of the hounds and the two dogs in this panel is amazing. I love how you put Issan and the other two hounds in a cloud from "Heaven". Amazing work and beautiful detail, as usual. As far as I can tell, I see no mistakes. I am a big fan of your work and the story line is amazing. Very intriguing and I hope to see more very soon. Keep up the outstanding work.

The Artist thought this was FAIR
24 out of 24 deviants thought this was fair.
Once again your Wurr pages have astounded me!

Your artwork particularly on the design of Crippled is very well-drawn. I often use him as a reference for a wolf character of my own (in the sense that she is skinny as the result of being a loner). This page particularly both excited me and saddens me. The drawings of the hellhounds are very well done, and the backgrounds look quite spectacular.

The last panel is my opinion is the best part of the page. You combined elements of good and bad. Sure Issan and company are gone, but look at how everyone is gathering together and reminiscing. It will only make the characters, and Niavel, stronger. That I guarantee.

Once again you have inspired a great sense of creativity, passion, design, and emotion into one page in of itself. This page is most definitely one of the best I have seen so far, just because it presents so many messages to my eyes.
The Artist thought this was FAIR
17 out of 17 deviants thought this was fair.