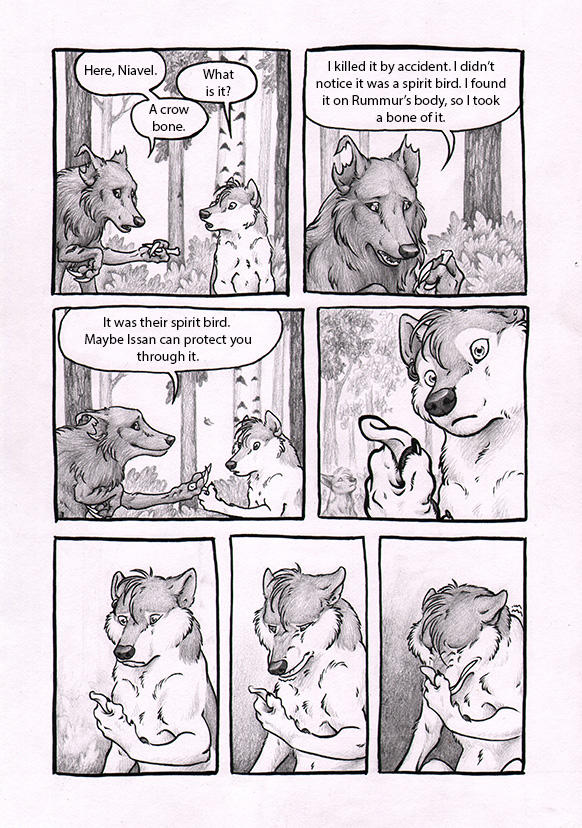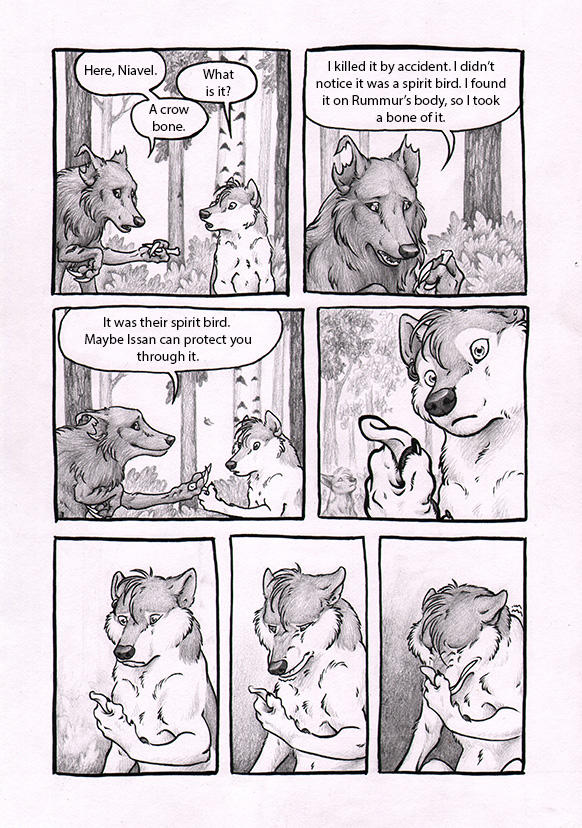 Watch
Wurr page 1
|| First page
Wurr page 211
<< Previous page * Next page >>
Wurr page 213
*************
This page gave me SO MUCH Niavel feels.
It's almost 3 AM, but I haven't slept yet so it still counts as Sunday so I'm still (more or less) on schedule, because I
refused
to go to bed untill this page was done. Totally counts. I was supposed to finish this during my visit to see my family this weekend, but suddenly social life happened including golf with my parents (plus treasure hunting as we scourged the foresty edges of the golf field for lost balls. I found six! Eight if you count the two times I found my mom's ball after it had disappeared into mud/grass) and then I ended up not getting stuff done.
Wurr stuff © me stuff.
This is a very strong, sad and touching setting of emotions in this entire comic script panels. I would like to say while enjoying your marvelous drawing of the characters and their epic adventures is really an extraordinary work. This work of art from the start up to this very page really is outstanding and I'm never tired of it. Only in this page, I so admire the creative pencil style on the background scenery in order to lead other artists to know where the characters are. Mostly, I so adore the characters expressions, like Niavel for example. On how Niavel gazed at the spirit bird's bone really send herself to a heart-break event with the one she love and grief of loss for him. This became a powerful moment for Niavel right now. For the brown beast wolf (sorry, forgot his name), you really set the movement on allowing him to give an unforgotten peace gift to the sorrow Niavel, which became very sweet. I so love the way on how both the characters are drawn in each setting of the panels. Excellent job.
The Artist thought this was FAIR
23 out of 23 deviants thought this was fair.
This page truly shows Niavel's emotional expressions very well. I'm a huge fan of your work and I'm actually coming up with an official story that needs a comic. It's very great work and Niavel's expression makes you want to cry with her to. The way you make their paws look like fingers is amazing and the features on all the characters is outstanding. I love wolves and dogs so to see comics and art like this really touches me. The backgrounds for all of the pages are really amazing. The expressions on Hafmar are also great. Love the entire story. Keep up the great work

The Artist thought this was FAIR
16 out of 16 deviants thought this was fair.