New Years Resolutions 2017: Make them work!
1 Favourite
13 Comments
1K Views
It's never too late for new year's resolutions! Yet, as many have probably experienced, living up to your resolutions is quite hard.
So I've decided to change my approach, and now, for every year, there will be an overlapping theme to guide me! And since a theme can be quite broad, it allows space for many different parts of your life, which in my opinion, makes it feel like you achieved more than if you measured your year by very specific goals.
For example, in 2016, I chose my theme
"Growth"
.
That year, I had my first job as a waitress, something I was really –really- scared of doing. I learned a new language, Swedish, and got my first handstand against the wall! I had darker moments of sadness and unhappiness too, which helped me realize that I needed to go out and meet friends more often, it helps you grow in the sense that it tells you something is missing.
This year, 2017, is going to be about
"Recollection"
.
I always have tons of projects laying about, and instead of being so focused on new ideas, I want to give myself permission to look back and focus on the old instead of the constant influx of the new. To finish the things I say that I want to do. The main focus here is on artworks, but also fits in with all the other goals I have, such as losing my belly fat and being fitter in general. Those old goals and dreams that never got anywhere.
So, after having chosen my theme, that's when I get more specific. Because being specific helps you identify what –exactly- you will do to achieve your goals. It makes them measurable! Now, you get better at the things you actually do, so if you're on Facebook all day, you'll get really good at reading Facebook posts and scrolling. If you eat a lot every day, you'll get better at eating more. If you eat less every day, you'll get better at eating less too.
Alright, let's get more specific!
In 2017, the year of recollection... - I want to finish old art projects
! I've made a list of these on Trello (www.trello.com – great website!). That way I remind myself which projects I want to finish, and I can cross them off when I actually have finished them! I've also set times for this. Weekends, during the afternoons. If I'm not training or doing anything else, I can draw in the evening during weekdays too.
- I want to lose weight!
This requires a food schedule that you stick to over time. To have something amazing to look forward to though, Saturdays are the cheat days! Where I can have one meal of my choice. I cook for seven to eight days once a week. This saves time during the week, and assures you're less likely to overeat, since you've prepared daily portions for yourself! Yes, my breakfast, lunch and dinner are basically the same everyday, and every ingredient weighed by a cooking scale. When I want variety, I can switch things up, as long as each meal contains the same amount of calories as the original one.
- I want to be fitter, stronger!
This ties in with what you eat, so preferably protein and fats over carbohydrates in the food schedule, but this one also requires training. Last year, I realized that endorphins released from training were really important to my happiness levels, as well as friends. In January, I combined the two. I now train Body Pump with friends twice a week after work. Again, building a habit! I hope to sign up for dance courses as well in the near future to increase the time I'm training. My goal here is at least 4 hours a week.

- Learn something new!
I'm interested in a lot of topics, and there's a lot of ways to learn new things. In the evenings after work and training, I'm often really tired. With a nice cup of tea and a blankie, I like to sit on the couch and do a course on Coursera (www.coursera.com). The courses last between 4 to 8 weeks, with weekly lectures and assignments. When finished, they can be added to your cv on LinkedIn! I also want to improve on my Swedish, so I signed up for a local distance course for the next level, so I'll put a halt on Coursera for a while and do that the coming weeks in the evenings instead.
-------------
In summary, it's what you do that matters more than the actual result, just like the journey of life is more important than what you get out of it when you're older. The time is now! So pick an overlapping theme, and the larger goals you have, and make time for them every week! Life is list of habits, and I don't know about you, but I feel pretty great when I've done something that takes me a step closer to my goals. Even if it's just one awful drawing, or a terrible set of 5 wonky push-ups. Every step matters! Good luck in 2017 everyone!


Monthly Features!

<da:thumb id="662033444"/>
Endless JanuaryBeginnings & Endings,
setting the new year on track-
a start to the month of the Roman god
with faces both front & back.
A dichotomy so very appropriate:
misplaced trust in every false friend,
such is cold, miserable January:
this month that never seems to end.
The New Year's hangover,
feeling not-so-bad,
when seen through the glow
of promised change,
but by the tenth of the month,
the illusion has run its course,
& everything's become frigid
& still as the grave.
& even in hotter places,
where cold is only in the mind
it still nevertheless
somehow becomes physical-
the hopes of December
all come crashing down,
& the material has rudely
blown away the mystical.
& by the fifteenth tempers fray,
& the resolutions all lie broken:
those empty promises you made to yourself,
all those pretty lies you'd spoken.
Knife-edged winds from every side,
greet the reluctant dawn of each new day-
instantly tear away platitudes like:
'Well, at least I tried',
& empty your mouth
of anything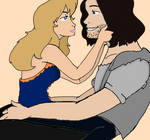 Bound For Boating Ch 1Bound For Boating
New Year's had come and gone, and it was the dead of winter in the year 2017. Perfect time to go shopping for a boat. Especially in the state where winter covers the ground with snow, ice, and subzero temperatures for nearly five months out of the year. That must be why the boat show takes place at the Minneapolis Convention Center in January. We live for our summers, after all, so if an outdoorsman is going to be thinking about being out on the lake, it's certainly when he's inside his house looking out at the empty pool covered by a foot of white, compacted snow.
"Before I moved in with you, Greg, I wouldn't have thought that water could ever freeze," Shelly said as she looked up from the paper. "Guess we could always go for a drive or something."
I had been looking outside at the wintry desolation that is January in Minnesota. The thrill of the holidays had ended, and all the great meals and perks you expect to recieve from putti