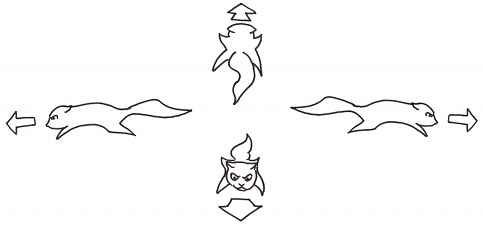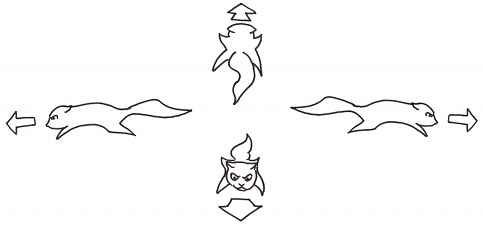 Illustration of jump and run like character movement for
Yo Frankie
.
The arrows display the direction you are pushing the analog stick or the arrow buttons on your keyboard. When pushing left/right/backward he immediately runs in this direction looking this way. The camera rotates around the character with a little delay. The directions are always relative to the view and
not
to the character. No matter in what direction the character looks, when you push left he runs to the left side of the screen. Of course this means when the camera moves the direction changes, but that's how jump and run gamers expect it to be.
And in order to experience a very good camera logic play Super Mario 64. This game has in my opinion the best camera logic. The two modes and the manual intervention possibilities are the biggest reason for that. Super Mario Sunshine has a slightly worse camera logic and Super Mario Galaxy a significantly worse one (it prevents you from manually moving the camera in a lot of situations and sometimes gives you a fixed perspective that is completely nonsense in the certain situation).