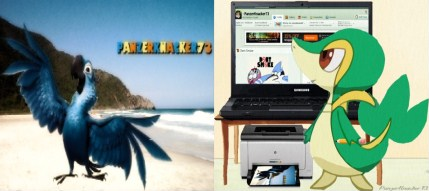 Fan of Sports and Good Music.
I love to write and draw about things that makes me angry, things that brings me nostalgia and sports.
My favorite TV show is Regular Show because it makes no sense, and I love AVGN. I hate pony graffiti too.
I used to have a lot of friends here, but then I realized that pretty much all of them were false friends, and only liked me for some pretty stupid and useless things such as llamas and watches.
Most of the friends I actually cared of, just deactivated their accounts as soonest as they realized this. I made a few "true" friends along the way, yeah but Im a lone wolf for the most part... I mean, Im very glad to meet you, but Im also very glad to block you, so... be carefull and dont bother me much.
And the guy who made the puny pony graffitis is the best example of a false, totally stupid and inmature false friend I ever seen in my life.
MSN:
Currently unused
Twitter:
twitter.com/looneyluna2
Youtube:
www.youtube.com/user/PanzerCre…
My Blog:
chatdelacueva.xtrweb.com/juan/…
Goear:
www.goear.com/Pugly/
Tumblr:
myregulartime.tumblr.com/
Taringa!:
www.taringa.net/The-Regular-Sh…














:thumb300636475::thumb291483046:

:thumb355155223:




:thumb79791803:
Current Residence:
Buenos Aires, Argentina.
Interests:
: 80´s, 90´s, Soccer, Cartoons, Series, Movies, Music, etc.
Favourite movie:
A lot.
Favourite band or musician:
A lot, again.
Favourite genre of music:
Pop.
Favourite artist:
JGQuintel, SillentHilllz, Ognimod, SanchoVago, Spyrotailz, Susanflower, Sugarydownfall15, Darkcat1999, Darkbutterfly11, RayRamador, XoSoGo, NinyChan, MundienaDog, Ivicrazy2012, LuckyFinn, Ukyduky, , Mordekhay88, Mia-Raccoon, argentineprincess, Zz-pamerodri742-Zz, PlanetHannah, Cool-Party and pretty much everybody.
Favourite style of art
: Cartoons/Nature.
Operating System:
Windows 7.
Favourite game:
Super Mario Bros.
Operating System:
PC
MP3 player of choice:
The cheaper one xD
Shell of choice:
Sea Snail
Favourite gaming platform:
: NES.
Favourite cartoon character:
Mordecai, Rigby, and a lot more.
Website:
Juegos