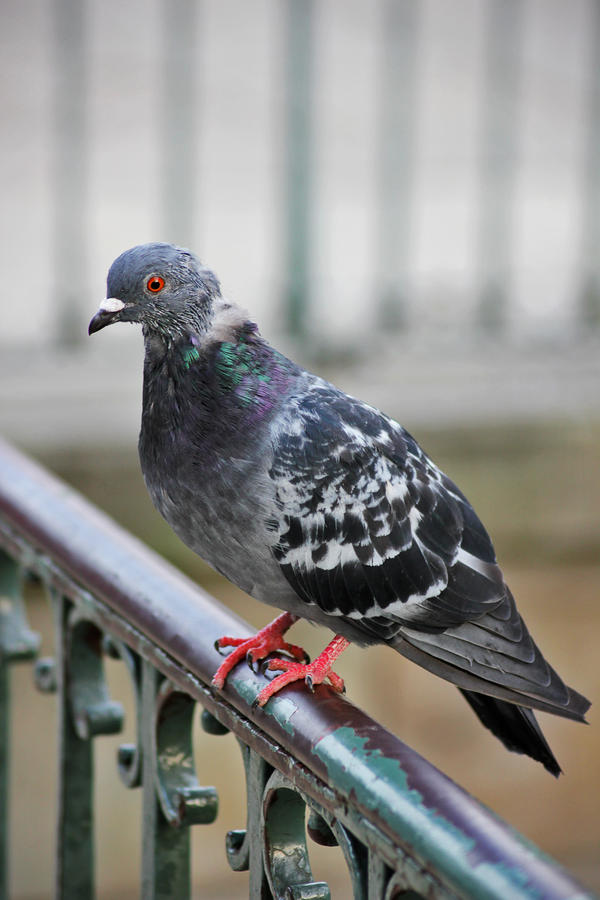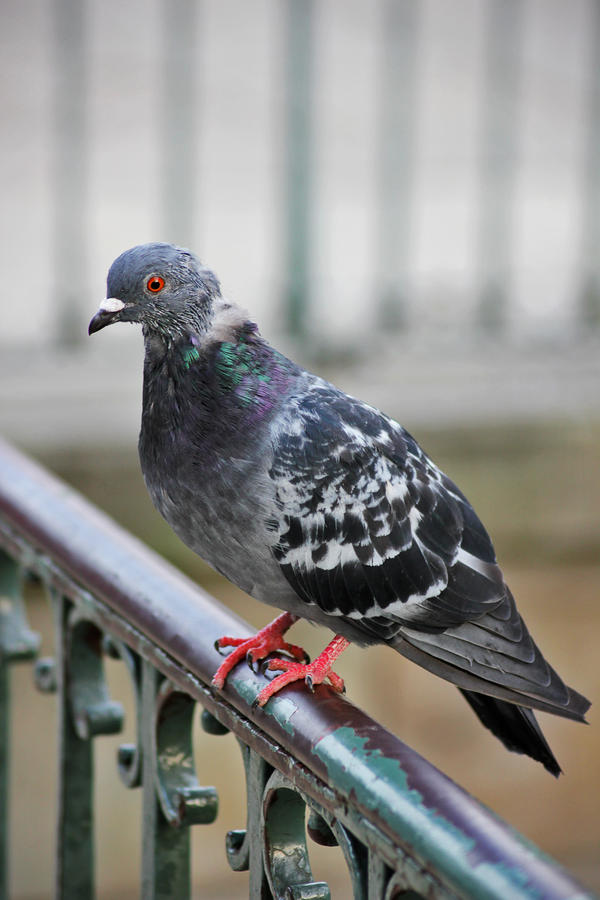 Watch
I took this photo the same day as the one with a squirrel. I didn't expect that I'd be photographing pigeons that day because there were many peacocks, cute ducks, mice, seagulls, squirrels and even one rat running in the bushes and I thought that there would be no need to take a photo of a bird which can be seen everywhere and everyday.
But, not for the first time, I came to a conclusion that they just look great on photos and they are also interesting to watch

I'm very happy with this photo and I find it my second best taken that day.
(2013)
The squirrel one:

Świetne zdjęcie. Gołębie mają w oczach to "coś"
Reply

I enjoy watching (and photographing!) pigeons too! I really like how much variation there is in such a common, overlooked bird. On first glance this particular bird isn't the prettiest, but the black and white checking on its wings is kind of interesting.
Reply

Thank you

I was lucky that this bird was sitting so close to me and not on the ground. I didn't think whether or not the photo will be interesting, I just took it and now I'm glad I did.
Reply

Muszę powiedzieć, że tutaj strasznie podoba mi się kolorystyka. Naprawdę widać, że się poprawiłaś w fotografii, jest takie ostre i z mocnymi kolorami...
Te czerwone nóżki xD
Reply

O tak, mnie to zdjęcie bardzo zachęca do dalszego rozwoju, bo widać po nim progress. Fajnie widzieć efekty swojej pracy

Reply

Reply

Some time ago I started to love them too!

Reply

...Me too, I love to watch them... ...I have my "Giovanni" in my home.... ....he cannot fly fine anymore....


Reply

Oh, poor creature. But I'm sure he is happy with you

Reply

I hope so... ...I have him since less than 3 months; he is a wild pigeon but he is starting to be a bit more friendly, he doesn't want I touch him yet but he wants me close...


Reply

How did you come to have him, then? Was he hurt?
Reply

No, I was in a place for adopting a dog or a cat, (I love dogs and cats) but knowing it would be not so easy (I live alone), I wasn't so sure what would be the best for me, for a dog or for a cat... ...I said the truth: "It is odd but I would like to have a pigeon"....It is odd also the fact that the lady who was talking to me said: "I know a person who should give you a pigeon: he cannot fly and he doesn't accept other pigeons in his cage, he needs a new home..."



Reply

Reply

I like pigeons very much too. I know many people who hate them, because they are noisy and shit on their boats and whatnot. Haha, I don't own a boat, so I wouldn't know how it feels to have it violated.
The focus is super nice right below the pigeon. It's quite a pretty fence, actually. Well, it looks old and stuff, but from this angle, it looks very interesting!
Also, beautiful bird. Beautiful eyes, beautiful shine in the feathers and nice colours. :]
Reply

Thank you very much!
Pigeons may seem to be boring but they are actually very nice and sometimes look very funny on photos. They are noisy when there are too many of them and it's true that they make a mess everywhere but I forgive them. And I don't have a boat either, lucky me

Hm, a couple of years ago they laid eggs on my balcony. That was troublesome

I'm glad you think so. It's actually a fence in the royal park in Warsaw so it sure is pretty but it gets terribly scratched all the time, maybe because of the water nearby? I think it will be renovated soon as the whole park is being redone recently.
Anyway, thanks a lot for such a nice and long comment!
Reply