Hi guys!
Here we go with another round of sketch commissions since it really helps me to get things started after the holidays again. Plus, they're usually really fun to draw.

So, here's how it works ... the sketch commissions are just that - sketches. You can view some examples of my previous sketch commissions here: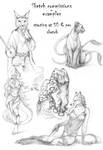 The price starts at 50 Euro for one character.
Backgrounds, complex clothes and/or markings/wings/jewelry/younameit and several characters on one piece can be done but will cost extra.
International shipping (insured) is about 5-10 Euro, depending where you live.

Safe for work art as well as artistic nudity and some erotica is fine. However, I won't draw any adult stuff whatsoever. (If you're not sure if I'm fine with drawing something, feel free to ask.)
The sketches will be done with pencils on 250g/m² DIN A4 Bristol paper and will be fixated after they're done and revised.
Payment can be made via PayPal or SEPA bank transfer within the EU.
To claim a slot just send me a note here, DM on Twitter or contact me on Telegram (pan_H_Shiroi). And then we can do some more talking about your character sheet or character description as well as an idea of what you would like to get. If you don't have any specific ideas, I will try to come up with something that I think might fit your taste.

The process basically works like it does at conventions:
As those are just sketch commissions, you will be shown the finished sketch, however, you can still request some small revisions when you see the final product.
I'd appreciate some artistic freedom while creating these.

All sketches will be finished within next week (until Sunday night), so please make sure to give me your descriptions soon, revisions might take a bit longer should you feel the need to request them. I plan on shipping everything out around the 15th to 20th of January, so if you happen to live in Germany, your commission might arrive in time for Valentine's Day.

I will not publish the names of my commissioners as some of you might not want to spoil the surprise of giving someone a sketch as a gift.

Commission slots are limited, though (as is time).
Thank you so much for reading!
Cheers!
Pan