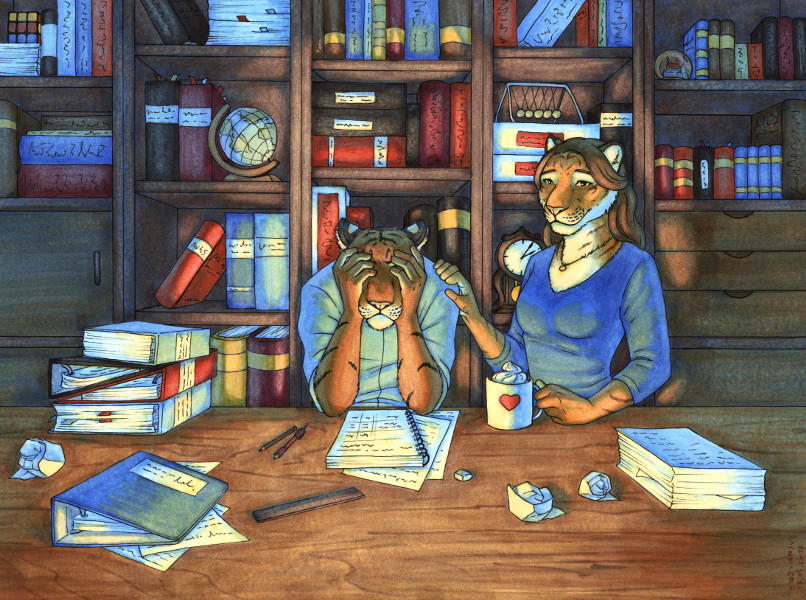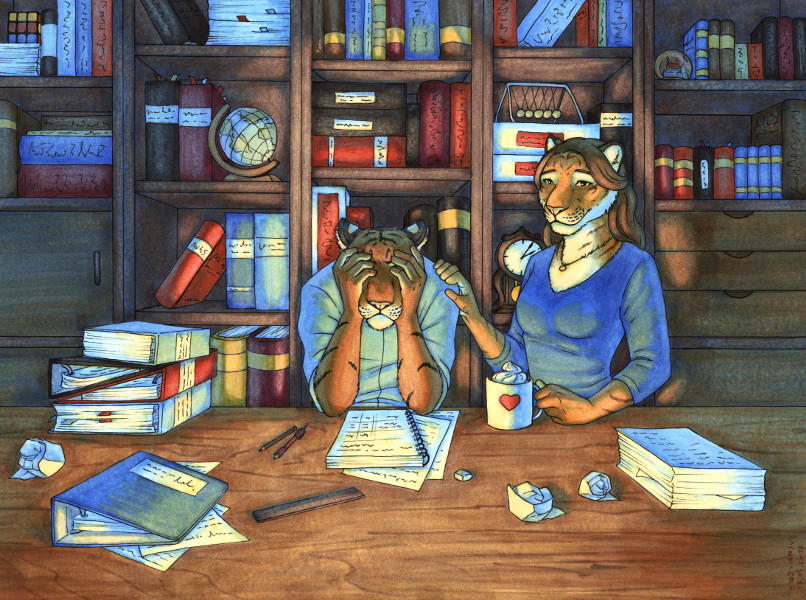 Watch
At times, all we need is someone to tell us that we're doing just fine and that we shouldn't over think things or start getting desperate about them. Sometimes all we need is a cup of hot chocolate or coffee or tea ... and someone who just tells us "Thank you.".

[Sold.]

Sehr schön geworden! Die Posen hast du wirklich wunderbar hinbekommen, gerade bei der Tigerdame finde ich die Proportionen sehr schön gelungen. Dazu ist auch die Beleuchtung wirklich schick und passend. Aber bei dem frustrierten Tiger passt es auch wunderbar.
Ebenso passend finde ich die Umgebung gelungen. Sinnvoll eingeräumte Regalwände, ein mehr oder minder chaotischer Tisch (eigentlich noch zu viel Freiraum, aber die Maserung ist einfach schick. Zum Glück ist der tisch ordentlich groß). Einerseits hätte ich noch gerne die Buchrücken gelesen, andererseits ist so mehr Raum für die eigene Vorstellung, vor welchem Problem er sitzt. (Höchstwahrscheinlich Bürokratie.

Ich finde es interessant, dass das Sahnhäubchen in der Tasse durchaus Ähnlichkeiten mit den Papierkugeln hat.

Reply

Oh, dankeschön für das ganze Lob!

Und ja, eigentlich sollte der Tisch noch ein bisschen chaotischer sein, das stimmt schon. Die Buchrücken zu beschriften ist eine sehr coole Idee um ein paar Eastereggs und Referenzen einzubauen. Aber ich glaube dann kann keiner mehr das Bild ernst nehmen. :')
Und ja, wahrscheinlich Bürokratie oder sowas. Und daß das Sahnehäubchen Ähnlichkeit mit den Papierkugeln hat ist nur Zufall, im Ernst.

Reply

While I know this feeling quite well. The fact that "appreciation" was sold means that one can (or could have) bought appreciation...

It has not escaped me that the "crumpled"paper resembles roses You have a gift for making everything beautiful
Reply

Well, indeed, a nice play on words there.

However, you're giving me too much credit regarding the paper. That was just (roughly) how a crumpled piece of paper I used for reference happened to look like ... :')
Reply

So emotionally well done!

Reply

Reply

I can relate to the description of this drawing. Sometimes, I need those things myself. Too bad I rarely get them.
Reply