Hi there ! I'm opening commissions, 6 slots by 6 (to manage to do things properly). Please read all the info, and if you have question or if I forgot something don't hesitate to ask !
Price sheet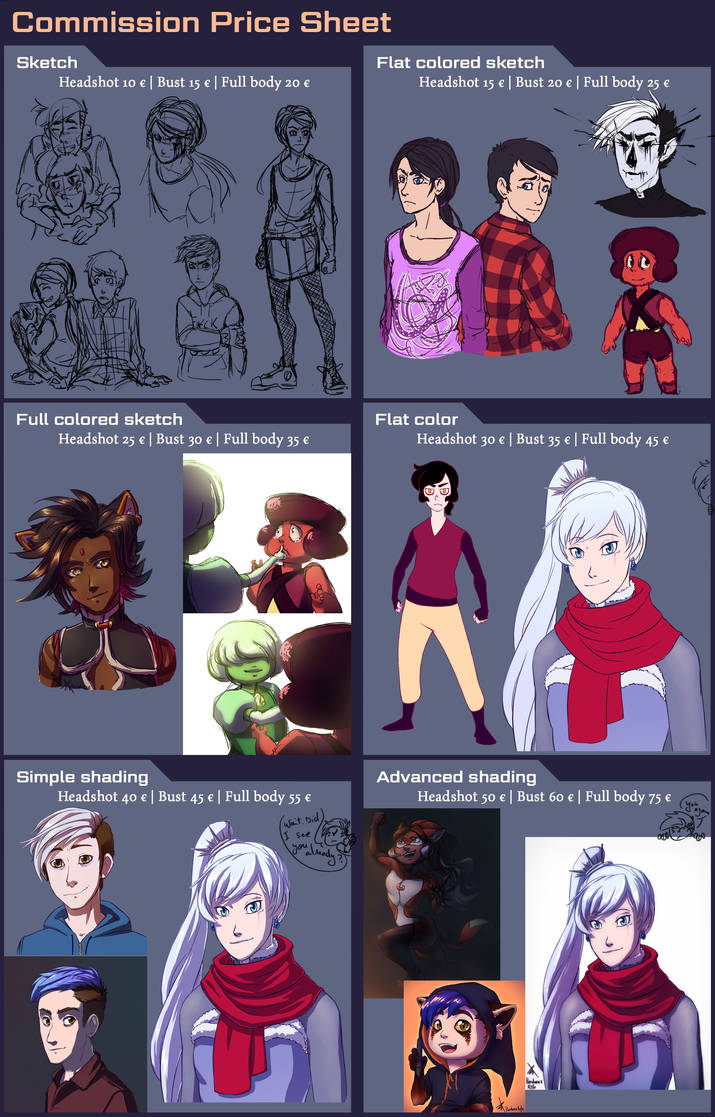 You can click to zoom in !
The prices are an indicator and can rise up of low down according to the thing to do. For example a super detailed character in full advanced shading will obviously be more expensive than a full advanced shading Pikachu. If the thing to draw is pretty simple the price might be even cheaper that written here.
If you want a type of piece/a different style you already saw me drawing in my gallery, you can ask and we'll discuss about it !
About what I can do
The examples are mainly human characters but I also can draw pokemon, other type of human-like character, some creatures and monsters. I don't do full mecha stuff, but robot/mecha limb are allowed to an extent. Queer/LGBTIQ+ themes are more than welcomed. Gore and blood allowed. Sexual stuff are not. Nudity can be discussed. Original characters or fanart of pre-existing characters are okay. You can ask me about special format (Icon, profil picture, twitter or facebook header, etc).
About the working process
Once you contacted me and I accepted to work on your commission, we will fix the final price, depending of the complexity or simplicity of your demand. I'll start working on the sketch as soon as I can and show it to you. If you want heavy modifications the price might rise a bit (because it implies more time on the pic for me).
Once you approved the sketch I'll ask you the first half of the payment. After receiving I'll work on the final piece. I might contact you again with some WIP just to be sure all things are good. When the pic is finished I'll show you a low quality version (so if you want additional effect or minor adjustment I can do it), then I'll wait the second half of the payment and only after that I'll send you the final piece in full size.
If you want to commission me please do the following
Send me a note or a mail (zucconializee@gmail.com) with
• the type of pic you want me to do (For example a full colored sketch headshot)
• The pose, expression, attitude of the character you want me to draw
• The reference of the character (I MIGHT accept description but it will depend)
• Type of background (transparent, white, colored, gradient, etc)
We will then discuss about the price, like I said earlier (if it's more a high or a low price, depending of the details, the pose, etc). I'm really opened to the discussion so if you have question don't hesitate !
About the payment
Payment method is Paypal only, using "pay for goods/services" with "no shipping needed".
Some other info
I'm allowed to refuse a commission
English is not my first language and even if I'm pretty fluent I don't know every words, manner of speaking nor exclusive language expression, so sorry if I ask dumb questions if I don't understand something during our message exchange.
If you don't want you commission to be uploaded on my different social media don't hesitate to say it.
You can re-upload the pic as long as you credit me (with a link of my profile)
If you see I have several commission to do please don't be rude if I don't send you sketches of yours quickly.
Also please check if the list of slots is complete or not before sending me a message. Your demand will not be "stacked". But don't worry I'll upload when there'll be free slots !
I'll never say it too much : if you have question about anything, don't hesitate to ask ! I'm really open to the discussion
You can also find me here
www.instagram.com/pandorazkyle…
www.tumblr.com/blog/pandoraz7 (fanarts and fandom stuff)


[0/6 SLOTS]