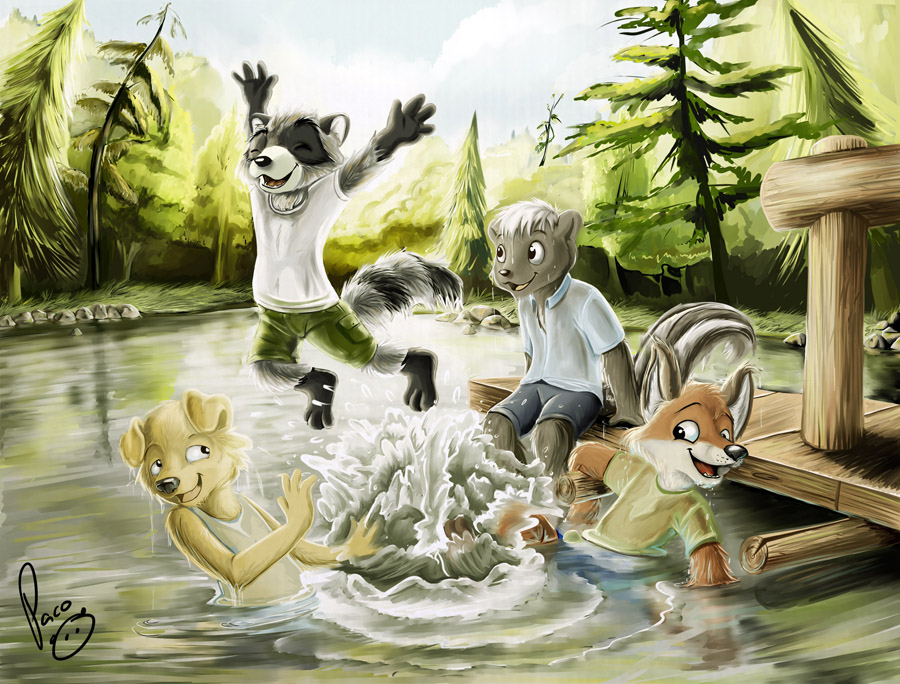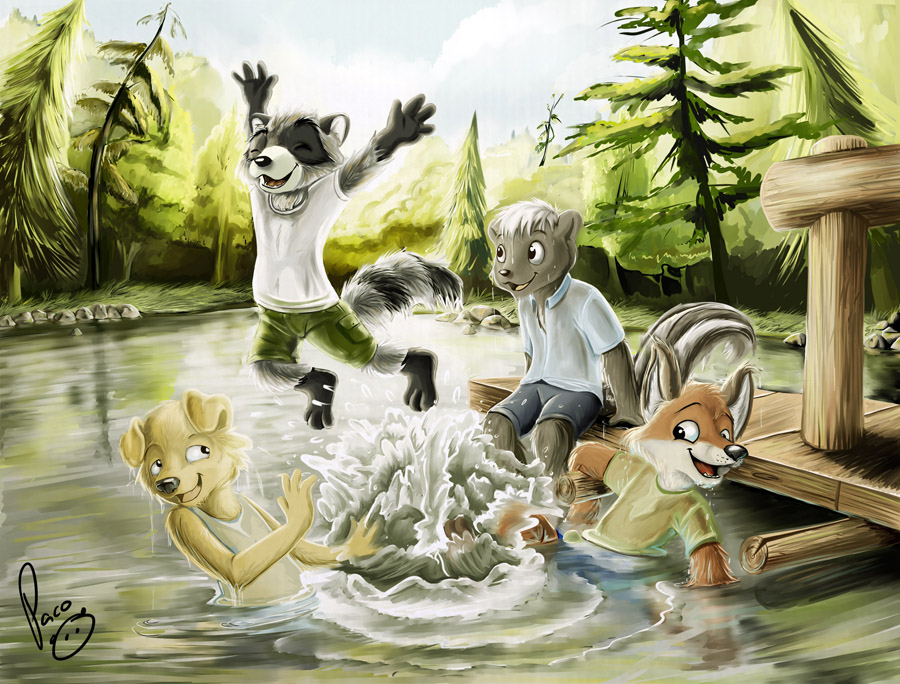 ESPAÑOL
Comisión para Christaphorac, de Furaffinity
La primer comision del tipo ilustración digital de este año.
Esta escena fue demasiado especial para mi.
Se trata de un cuadro donde queda representada la libertad de seguir tus impulsos, de vivir la vida como uno quiere, y no dejar que la vida te lleve y solo observar como pasa
Cuatro amigos casuales que disfrutan de un día en el lago, sin importar meterse con ropa al agua, mojarla y arruinarla, ellos solo estan ahí para divertirse.
Como podrán observar, en la escena se encuentran dos de mis personajes, Arturo y Biro, el mapache y el zorrito, los quize incluír porque algo que Biro le ha enseñado a Art es precisamente eso:
Uno viene a esta vida para ser feliz, siempre habrá obstaculos que te impidan serlo pero es porque todo debe tener un equilibrio, pero nunca hay que perder esa parte alegre de nosotros, respetando a los que nos rodean.
Yo se, es algo cursi! ¿Y qué? XD
-----------------------
ENGLISH
Commission for Christaphorac, from Furaffinity
This is the first digital illustration commission from this year.
This scene was too special to me.
In this pic I represented the freedom to follow your impulses, to live life as you want, and not let life take you and just watching how it happens
Four casual friends enjoying a day in the lake, regardless of water get clothes, wet it and ruin it, they are only there to have fun.
As you can see in the scene are two of my characters, Arturo and Biro, the raccoon and the little fox, I want to include them because is something that Biro has taught to Art:
You come into this life to be happy, there will be obstacles that prevent you from, but that's because everything must be balanced, but you must never lose that happy part of us, respecting those around us.
I know, it's cheesy! And what? XD
Daily Deviation
Given 2012-05-06
Okay, first, this image is very colorful (Which is pretty awesome) so it is very good at catching viewer's attention. It cought mines really well. The second thing I like about it is that the Detail is highly amazing. The Cabin, Backround the Trees, and the Fur :3 xD. The Image is also bright, (Like you know a happy way) Which is another thing I like about it. The Wet Clothes I guess is also very good. : P Thanks so much for posting this! I Really like it, and I'm sure everyone else will too! 5/5 For Sure! Outstanding Job Pandapaco!!
The Artist thought this was FAIR
13 out of 13 deviants thought this was fair.
Since a critique was requested, I'll try to give you a critique. No offence, but I'll try to be fair and honest.

Vision

I must confess that I adore the wholeness of the artwork's position on the way we perceive childhood and friendship, the simple fun of living. And choosing such a moment to show, how little it takes to be happy. Truly brilliant!

Originality

Actually, knowing what are the usual topics that find their place in modern media, I'm pleasantly surprised to see a piece that features such things as friendship and the 'not-funny-but-fun slice of life' moment.

Technique

Two main points here: colours and composition.
I totally adore the way the colour scheme is mostly in yellow-green pastels yet the feeling is more of a happy nostalgic fantasy and less of gloom that such colours usually bring.
As for the composition, the whole 'circle-ish' thing about the pictures only makes it more whole. Actually, I can even see the trees in the background adding to this wholeness.
By the way, how did I manage to forget mentioning I loved the expressions? Well, I totally have to say it now: I love them! Bright and alive faces, full of charm. Beautiful!

Sorry, but I'll add a 'downer' in this critique category, though.
That's anatomy, I guess. Some anatomy mistakes are quite clear (especially on the raccoon fellow there), like the position of the raccoon's legs or the dog's eyes.
Speaking of the raccoon, another 'downer' point would be the way he somehow seems static a bit.
Though, on a more positive note, I adore the dynamic feeling of all the others' motions. Neat!

Impact

Overall, the piece leaves a warm feeling of childhood, innocent friendship and simple trust. Not funny or even 'cute' but just a heart-warming piece that leaves you feeling warm and fuzzy. And in this case 'just' actually means a better thing in the end.


The Artist thought this was FAIR
14 out of 14 deviants thought this was fair.