Description
"Wow! You're good at climbing trees" - Biro told to Art, having not idea at that moment they would begin an important friendship that would last beyond their childhood.
Some fans of the comic know that today is Art's birthday, and also in two days is Biro's birthday!
I wanted to celebrate them especially this year because it is the first time we're celebrating it when their first chapter of the comic is finally complete.
If you want to read the story of these two guys, Art (the raccoon) and Biro (the fox) I recommend you to check it in my comic account:

It starts here: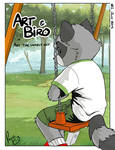 Or directly on the webpage of the comic:
www.artbirocomic.com/
Digital. Photoshop.
Image size
850x1100px 1.29 MB