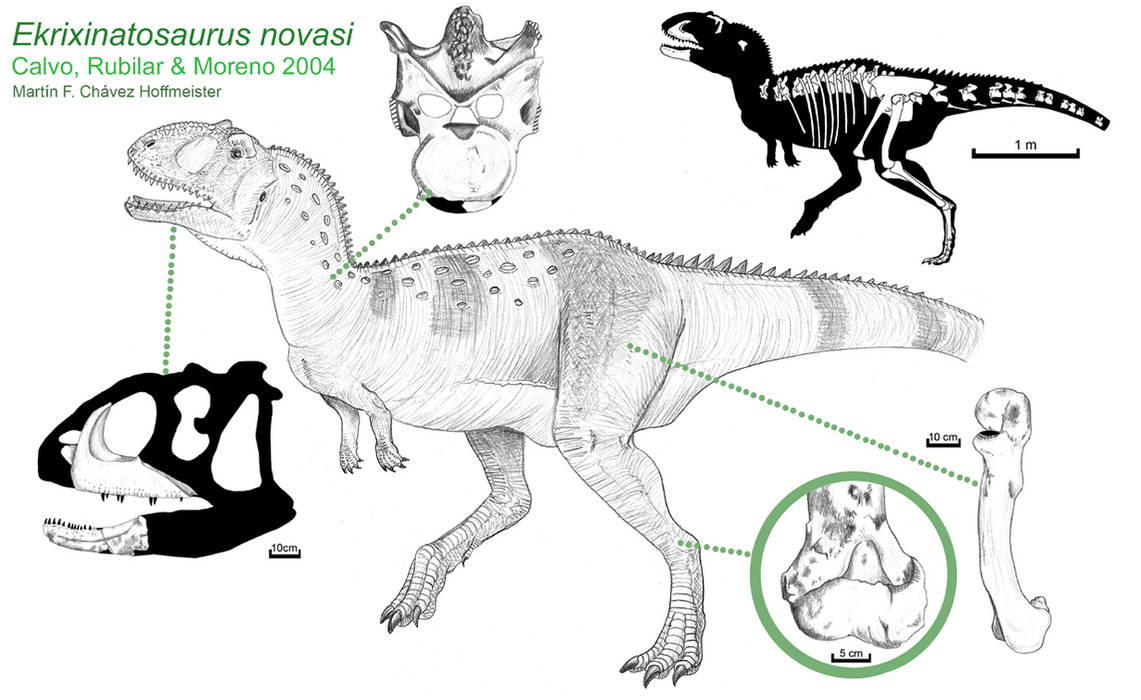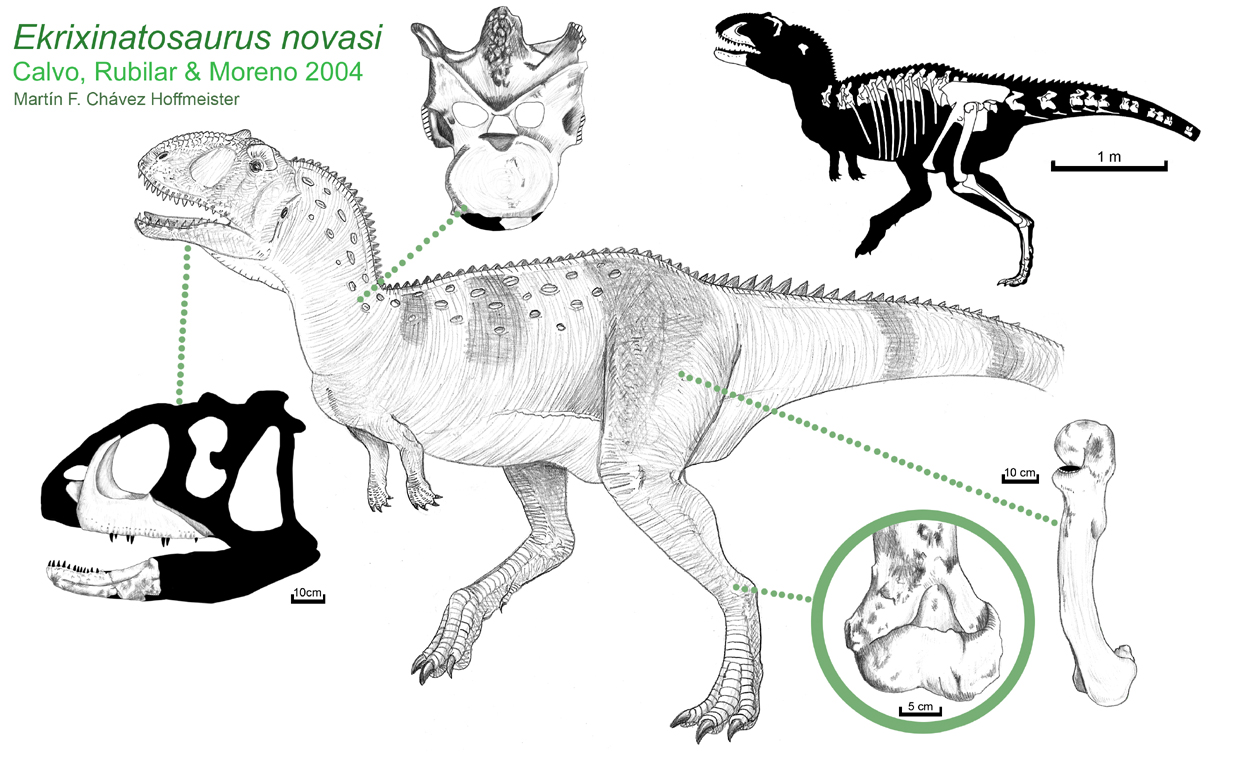 Watch
Ekrixinatosaurus (name means "explosion-born lizard," referring to being discovered during a blasting operation) is based on a fair amount of a skeleton belonging to a single individual, about 6 m long from its skeletal restoration. Both maxillae and dentaries, part of the braincase, a couple of cervicals, many dorsals, the sacrum, anterior-middle caudals, most of the pelvis (except for the distal ischia), ribs, most of one hindlimb, and the knee of the other hindlimb were preserved. It has standard "carnotaur" caudal process wings and pelvic design. It has a relatively bigger head than Carnotaurus (extrapolated skull-femur ratio 1.00 compared to 0.58), but is not particularly unique compared to other abelisaurids.

This draws was make for the II Latinoamerican Congress of Vertebrate Paleontology

Tengo que darte una noticia, Martin... y creo que te pondra contento, ya que uno cuando regala ilustraciones de este tipo, lo hace por aprecio y muchas veces no sabe si finalmente este regalo a logrado su cometido o fue descartado sin mas... asi que, tengo que contarte que acabo de ver el original encuadrado y colgado en la oficina de cierto paleontologo que trabaja en el laboratorio que esta enfrente al mio (o estoy equivocado????).
Tenia que contartelo!!! estaba hablando con alguien alli, de repente desvio la mirada y digo... un momento, ese dibujo lo conozco!!!!
Reply

Jajajajaja...en realidad me alegra mucho oir eso......debe ser alguien que me lo compro o a quien se lo regale en el congreso de Rio, me agrada saber que al menos fue bien cuidado..... gracias por la info

Reply

Reply

Congratulations!
Although that hump on the back, must hurt! I think that was more a slight regular curve.
+fav anyway.
Reply

Thanks...you rigth, on this case the back like a hump....I trate to make more sligth on the future
Reply

muy bueno Martin! veo que lo reconstruiste tambien con craneo semejante al Majunga!
Reply

Si bueno.....al principio me resulto similar a majunga....pero cuando empese a ver los detalles...note que deveria ser mas ņato que majunga....algo intermedio con carnotaurus pero con forma general de majunga. Lamentablemente no he visto fotografias de los elementos parietales asociados...asi que no pude incluirlos aqui
Reply

This came out great!!! How did you make the silhouette so perfect?
Reply

In this case... I carries out the silhouette and the skeleton in Adobbe Photoshop.... what facilitates the task a lot when using different layers.....
Reply