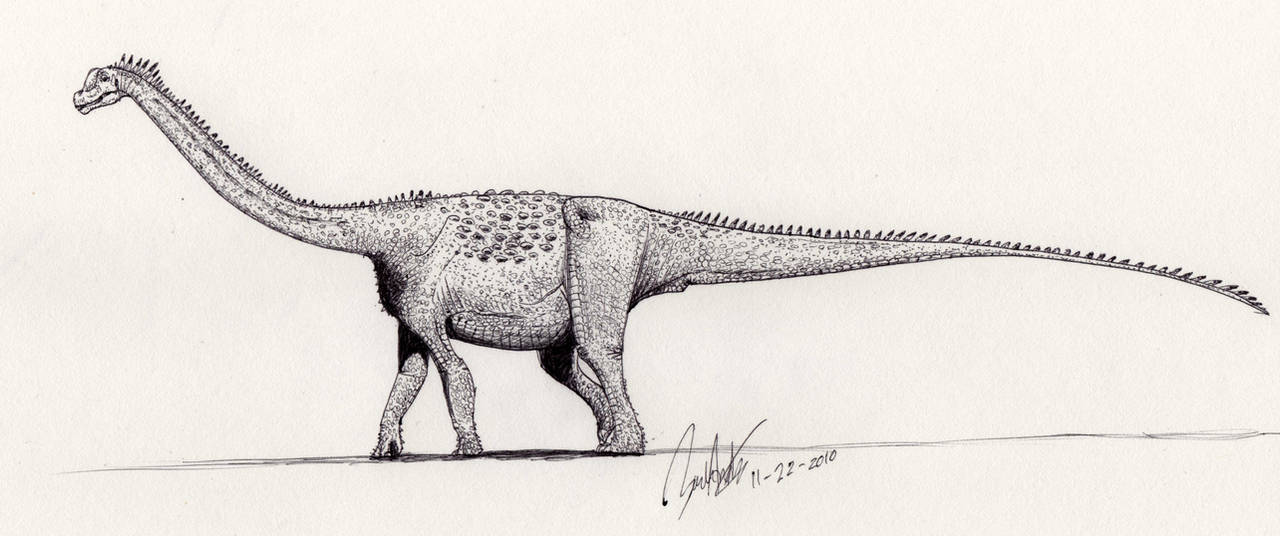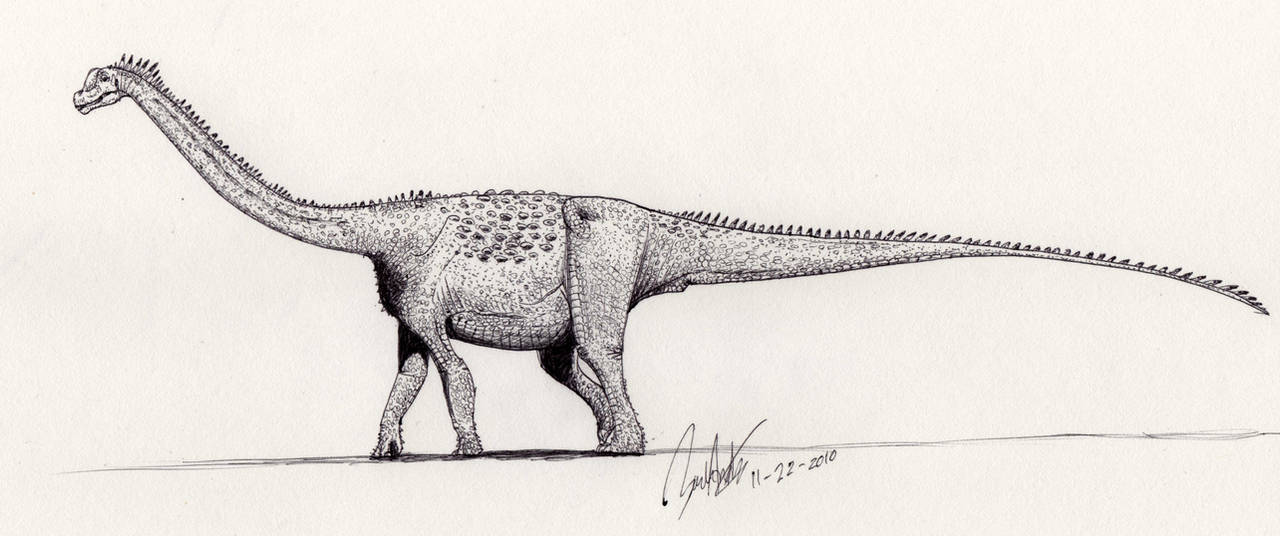 Uberabatitan ribeiroi was a titanosaur sauropod from the Marilia Formation of Minas Gerais, Brazil. It achieved a length of approximately 15-17 meters and a mass of approximately 11-15 tonnes. U. ribeiroi lived in the late Cretaceous of Maastrichtian in age (~70-65 mya).

It was unjustly left out of Greg Paul's Princeton Field Guide to Dinosaurs, and thus felt it was in need of its own restoration here.

It's nice....then it's Brazil's biggest dinosaur?
Reply

I love the ALIVE aura you gave the creature, as well as the textures.

Its right arm is fine. What happened to its left arm? The legs are excellent to my eyes.
Reply

Thanks!
The right arm is, *ahem* *coughs*, suffering from an arterial skeletal muscle infarction.

Reply

Reply
Really nice restoration!

Reply

Nice detailed image! I also had some misgivings about the Princeton Field Guide.... namely Daxiatitan, Phuwiangosaurus, and hopes for a full skeletal of Malawisaurus... in any case, this is pretty legit, really like the spiky look on the hands (but I'm not sure if titanosaurs had this).
Reply

Hey, thanks, that means a lot! Glad you like it.

My misgivings with the Princeton Field Guide are also many. Daxiatitan has a relatively complete skeleton (for a titanosaur) and should have had a skeletal restoration done (and its adult size can be determined with a fair amount of certainty au contraire to what the Field Guide states), as should have Phuwiangosaurus and Malawisaurus. I complained about this on the DML, and got a rather nasty reply from Greg Paul. His main reason was that he was reluctant to do a new skeletal restoration if there were not a pelvis known. Of course, this is hogwash since Phuwiangosaurus is actually known from a pelvis, and I do not see why whether having pelvis material present or not makes or breaks the deal for a new skeletal (furthermore, Trigonosaurus is known from a pelvis, as is Epachthosaurus, Argentinosaurus, Isisaurus and some other titanosaurs of which none get skeletal treatments). Oh well, guess I'll have to do them myself.

The spiky hands are based off of spiky impressions known from some footprints that have been referred to Bothriospondylus. It is not known how wide spread these tubercles were, but I speculatively put them on here.
Reply

Maybe you SHOULD do them. Hmmm? How about it?
Reply

I'm sorry, I don't follow. What do you think I should do?
Reply

All of these skeletals! Maybe you should even write a competition to GSP's book...hmmm...?
Reply

Well, I'm afraid my skeletal library will be no where near as large as GSP's for a long time as I simply don't have the technical papers I need to have a skeletal library as big as his. Scott Hartman is getting there, and is a far superior skeletal artist than I am so I'd refer to him if I were you.
As for a book, it is highly unlikely that I'll ever get there...certainly no time soon.

Reply

No pelvis? LOL I've even got pictures of the pelvis of Phuwiangosaurus (and that's not even including the PDF of the paper!) You can find a partial mount (and I DO mean partial) with the hips included just by googling the beast. There are pelvis elements known for Andesaurus and Argyrosaurus, and neither one of those got the Greg Paul treatment either.

Greg Paul did do an Argentinosaurus skeletal back in the 90s (it's not in the book, shocker!!!!) but it's missing the pelvis, the femur, and most of the dorsals. Which is a shame because not all the material was figured in the description paper, and the only skeletal to show all the elements was Ken Carpenter's, which really fudged the proportions of the silhouette as well as the shapes and positions of most of the bones, and worst of all was TINY and lacked reliable detail. For all the stuff that wasn't figured in the description paper, I had to hunt up images on the internet, fortunately I was able to find a diagram of the sacrum and tibia and some decent pics of the femur and a few dorsal verts, which pretty much filled in all the gaps. But not all of the pics were from good angles, so I had to mess around with frontal widths of my diagrams and update my Argentinosaurus.... AGAIN. I only included anterior views for stuff that I had good frontal references for.

As for Trigonosaurus and Isisaurus, why those two didn't get a skeletal in the book is beyond me. Isisaurus is complete enough to restore with almost no margin of error. And Trigonosaurus has a pretty impressive and totally UNCRUSHED spinal column with all the laminae in perfect condition, no distortion or erosion, just like new! Seriously, when when do we EVER see that sort of thing in sauropods? And yet it isn't even placed firmly in a family, much less given a decent skeletal drawing by anyone, not just Greg Paul. And Epachtosaurus has some pretty good remains... any idea which family it belongs in? It looks similar to Argentinosaurus in some ways.
Reply

Felipe Elias has a Trigonosaurus.
Reply

Yeah, but it's hard to tell how accurate his skeletal of Trigonosaurus is.... Elias's skeletals seem a bit "sketchy" and "comic-ized" like those of Paul Sereno. And Paul Sereno has been very wrong with his skeletals before....
Reply

Yeah...but it's an OK reference point. Sort of. They don't look too bad. I've checked them, but I've gotten lazier and lazier as time goes on.
Reply

I know, I thought it was a ridiculous argument. Here is my
initial thoughts on the book on the DML
. Here is
GSP's response
and here is
my reply
, if you're interested.
Yes I have seen his
Argentinosaurus
skeletal, in fact most of GSP's papers have pdfs now up at his cite in his CV, including one with that skeletal. I'm also somewhat confused by Carpenter's skeletal and I have been meaning to email him to ask him about that. As far as I know, only 7 dorsals are known (not 9 as portrayed) which is one more than described, and a partial ilium , femur and pubis (also not in original description) have been found. I'm not sure where he got refs for the ilium and pubis, though (yes, I know, there are pictures of the mounted skeleton that include that material but I am somewhat wary of the accuracy of the mount).
I concur on your opinion of the lack of skeletals for
Trigonosaurus
and
Isisaurus
. I mean, if he includes a skeletal of
Cetiosaurus
for goodness sakes, those other taxa should have been included.
I'm not sure where
Epachthosaurus
belongs as it has a hyposphene and hypantrum complex, but otherwise appears to have derived characteristics characteristic of saltasaurs. Your guess is as good as mine.
Reply

Sheesh it looks like these titanosaurs just kept on recycling their old basal genetic material with every new family radiation! Even hip shapes got recycled... there's a huge amount of throwbacks in skeletal design.

At least Greg Paul did a Cetiosaurus, that's a genus that hasn't had a skeletal for a century! But yeah, I'd like to see what he does with those others. O well, more skeletals for us to do...

I'll see if I can download those PDFs, I haven't seen them on his site before.
Reply

I'm not really sure exactly what was going on with
Epachthosaurus
, whether it was recycling skeletal material or not. In fact, I am starting to think that maybe hyposphene-hypantrum complexes are not necessarily indicative of how derived is a titanosaur. To quote from
Martinez et al. (2004)
, "Although the extremely large titanosaurian
Argentinosaurus
possesses accessory intervertebral articulations in its dorsal column, they are anatomically distinct from those of
Epachthosaurus
(Salgado and Martıīnez, 1993; Sanz et al.,
1999). Moreover,
Argentinosaurus
possesses reduced, non-bifurcate prespinal laminae, implying that this taxon may be more highly derived than
Epachthosaurus
(Salgado et al., 1997)."
So, they think
Argentinosaurus
might be more derived. In fact, I know of at least one other study that indicates that
Argentinosaurus
may actually be fairly derived. It may be that the taxa that retained these basal features had different lifestyles (since the hyposphene-hypantrum complex is thought to have stiffened the vertebral column).
Reply

Yeah I've always wondered about that.... why did some titanosaurs need a stiffer back? I'm sure supporting armor had nothing to do with it, sauropod armor isn't all that heavy relative to the whole animal. I doubt any titanosaurs were flexing their torso sideways, they weren't all that flexible to begin with. Maybe the stiffness was needed for constant rearing or for sex? But then why don't non-titanosaurs have it?

Argnetinosaurus has SOME kind of hyposphene-hypantrum complex, but mainly in the rear dorsals. It's totally absent in the front dorsals. And it's not as extreme as insome other titanosaurs. But how old it Epachthosaurus? It's from the Bajo Barreal formation, which is either Cenomanian or Campanian (BIG difference there...) right now the popular stance is Cenomanian, but I notice that several species tied to Campanian formations are also found in Bajo Barrel which indicates it WAS Campanian. I don't see how Argentinosaurus could be older AND more derived than Epachthosaurus, unless Epachtosaurus is a descendant of a much older line.

I have a feeling that hyposphenes have nothing to do with how basal or derived you are, but rather your lifestyle. I see so many weird things in titanosaurs that are flat-out making it impossible to classify some species. A lot of experts place Isisaurus as a saltasaur. I'm not convinced. IMO it could just as easily be an anomalous lognkosaur or argyrosaur. And what the heck Barrosasaurus is, nobody seems to know. It's so freaky it doesn't fall into any of the known families of titanosaurs, and looks like an odd mix of all of them. So perhaps traits did get recycled and "remixed" every version odder than the last... caudal vertebrae of many titanosaurs are notorious for this.
Reply

Well the vast majority of titanosaurs didn't have a stiffer back because they lacked hyposphene-hypantrum complexes, which means they had more flexible backs in most cases. This might be because they reared up more (supposedly), but there have not been a lot of biomechanical studies on titanosaurs since they aren't well studied as other sauropods (which, in all honesty, get the short shrift in terms of research papers as a larger group too compared to theropods and hadrosaurs), so why some groups had stiffer backs than others is not readily apparent.
Epachthosaurus
is from the Bajo Barreal Formation, as you correctly noted, which is thought to be middle Cenomanian to the Coniacian. In the 80s, it was apparently thought that the Bajo Barreal Foramtion was from the Campanian-Maastrichtian, but the modern consensus is that it covers the Cenomanian to Coniacian, which is a period of around 10 million years or so. I am not currently aware of any taxa that hail from that formation that are confidently placed at a younger age of Campanian. So,
Argentinosaurus
is not much older than
Epachthosaurus
, and even if it was, that would not preclude it from being more derived than
Epachthosaurus
since there is no reason to think that
Argentinosaurus
was an ancestor of
Epachthosaurus
. I think by "derived" the authors mean that the skeletal features are more derived, not necessarily meaning more derived in a direct ancestral-type way.
I completely agree with you that hyposphene-hypantrum complexes probably have little to do with how basal or derived a titanosaur taxon is or is not, since everything from basal somphospondylians (
Daxiatitan
) to saltasaurs (
Epachthosaurus
) have them.
Isisaurus
is a complex case. In fact, a comparison with the sacrum of
Argentinosaurus
reveals striking similarities as do the ilia. However, their dorsals are not very similar at all (however, this may be somewhat misleading since the hyposphene-hypantrum complex of
Argentinosaurus
appears to be unique to it and are only present in the posterior dorsals apparently and no posterior dorsals have been figured for
Isisaurus
). So again, each taxon needs a re-description badly with hi-res photos and good anatomical drawings along with a new phylogenetic analysis (although I hear Kristina Curry Rogers and Jeffrey A. Wilson are working on a review of the titanosaur phylogeny so that may help clear things up

--or muddy the waters even further).
Isisaurus
does share with saltasaurs a very short neck, but is otherwise reminds me more of
Mendozasaurus
(as do the dorsals) and
Ligabuesaurus
and
Futalognkosaurus
.
Either titanosaurs did mix and match traits often to deal with new environmental conditions (for instance the calmodulin pathway in Darwin's finches appears to control beak characteristics which have been observed to change morphology back and forth in populations in response to their environment; maybe something similar was happening in titanoasaurs) or our understanding of titanosaurs still has a lot of growth to do (actually, it's probably some of both).
And titanosaur caudal vertebrae are annoying, that's all I have to say on that.
Reply
(1 Reply)

Dinosaurs are rad.



Sweet drawinzzz
Reply

Reply