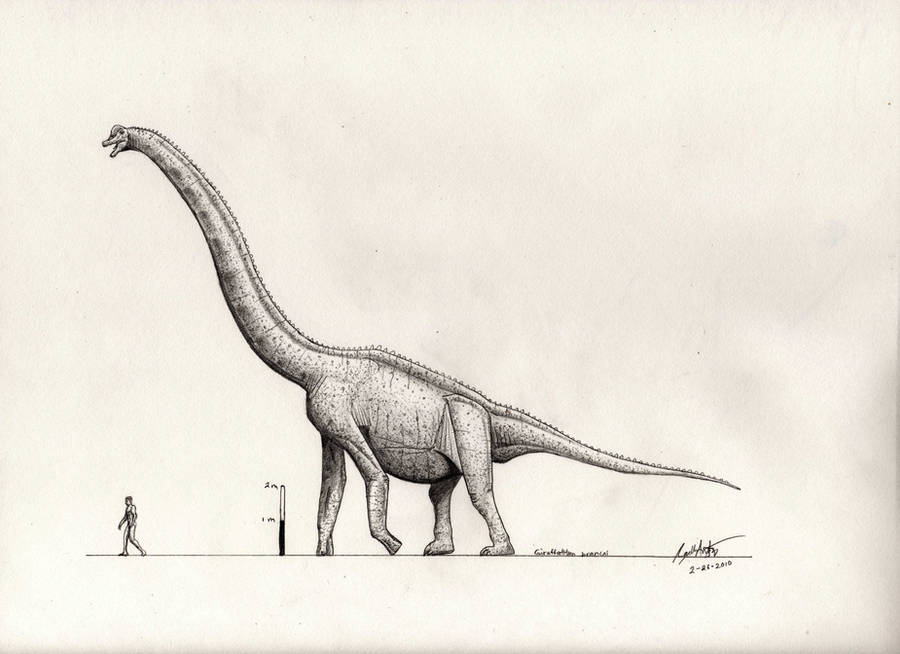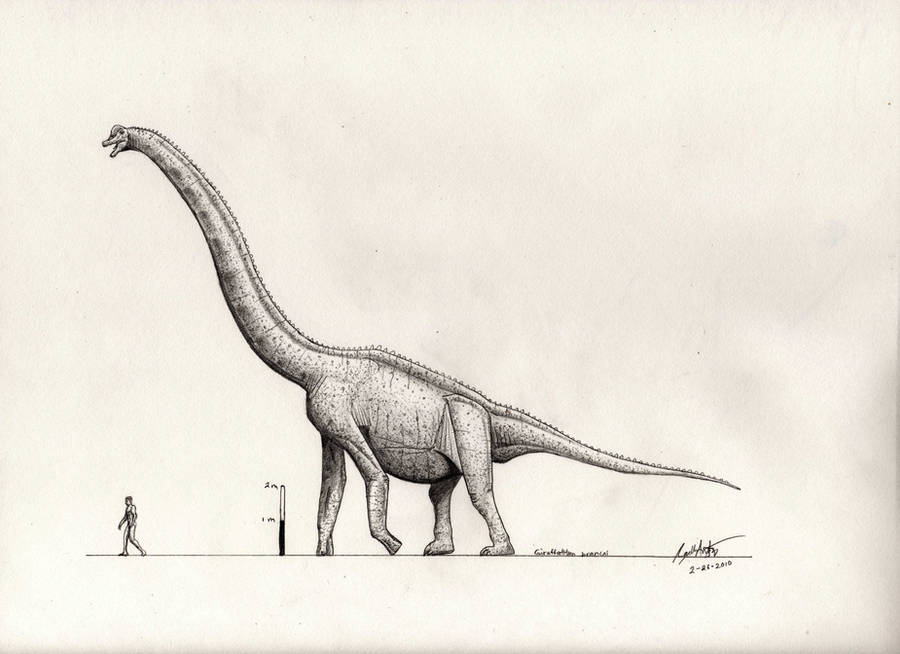 This drawing of Giraffatitan brancai is based off of Greg Paul's 1988 skeletal reconstruction of the HMN SII specimen. It was approximately 22 meters long. A GDI estimate of its volume by myself gives an approximate mass estimate of 31.2 tonnes.

Refs--

Paul, Gregory S. 1988 The Brachiosaur Giants of the Morrison and Tendaguru with a Description of a New Subgenus, Giraffatitan, and a comparison of the World's Largest Dinosaurs. Hunteria, vol. 2, no. 3.

nice! This one's a big like your previous ones but in HD!
Reply

Haha, thanks! Yeah, I got a bit detailed on this one and scanned it in a higher resolution than I did on my old drawings. Probably should've corrected the background coloration before I uploaded it, it's a bit uneven in some places. Don't know why...
Reply

When the paper is not perfectly flat to the glass, you get shading artifacts. Easily taken care of. Nice drawing. Is that guy you use for scale looking for GSP's running woman? If so, tell him to be careful.

Last I saw, she was being chased by a hungry T-rex!
Reply

Hmmm...well I think the paper was flat to the glass (or at least as close as
humanly
possible for me), so I'm still stumped.
If that guy is looking for GSP's running woman, he isn't trying too hard with that lackadaisical pace that he has going on!

Reply

Most kinds of paper have some texture, even a high quality bond paper. That means there will be shadows showing up because of the scanner light. Nothing to fault anyone or anything. Use Equalize to get rid of the shadow "artifact", but be careful not to lose the details in the dino and the guy and his dog.
After all, Paul's Running Chick is kinda pretty and we want him to look his best!

I've done a LOT of scans, so I've run across the problem a lot. No big deal, usually. Leaving it in is an option, because it helps the drawing look more hand made that way.
Reply

Well, I'll try using the Equalize next time I have a drawing to scan, and see if it works. Thanks for the tip!
Reply

Reply

Nope, done in pencil. Why do you ask?
Reply

It looks like some pen drawings I've seen... some of your earlier drawings (such as the one of Australian sauropods) also had this look. Kind of like a Bakker-inspired technique.
Reply

So I take it that you don't like the style I use, then, because if I recall correctly, you have said that only Bakker can pull off this type of drawing-style (for the record, I don't think my style is particularly similar to his, for what it's worth).
Reply

I didn't mean it in a negative way.... just looked like you used some aspects, not all, of Bakker's style, that's all. I don't dislike it at all, it's very good. And Bakker's not the only person that can pull it off (I apologize if i had said something to that effect), he's just the most well-known and probably the most experienced. It's a difficult technique to master but I'm sure another person could be just as good as Bakker as long as they have a huge amount of patience... The stippling is the main thing that looks like Bakker's style, though you're right, these newer works look less like Bakker's style than the previous ones I remember seeing.
Reply

None offense taken (I tend not to get offended *that* easily, surprising as that may be to some; as a side note, I think my statements are often misinterpreted by others here on deviantArt, blogs and on the DML because I tend to be overly sarcastic and dry witted. Oh well, guess I should get that checked...).
I don't really use stippling as a technique in shading, the "stippling" is to show scalation, as I do regular shading also on my drawings (my pen drawings will, however, use a combination of stippling and hatching and cross-hatching to get the desired shading effect when appropriate).
I actually don't even think my pen drawings were that Bakker-ish, as Bakker uses stippling solely as a technique to suggest the variations in musculature and in shading, whereas I use much less stippling (mainly to convey scalation) and use a combination of hatching and cross-hatching to convey shading effects and musculature. (But I guess we all interpret art differently which is a-ok with me

)
Reply

Cool drawing! Nice crest!
Reply