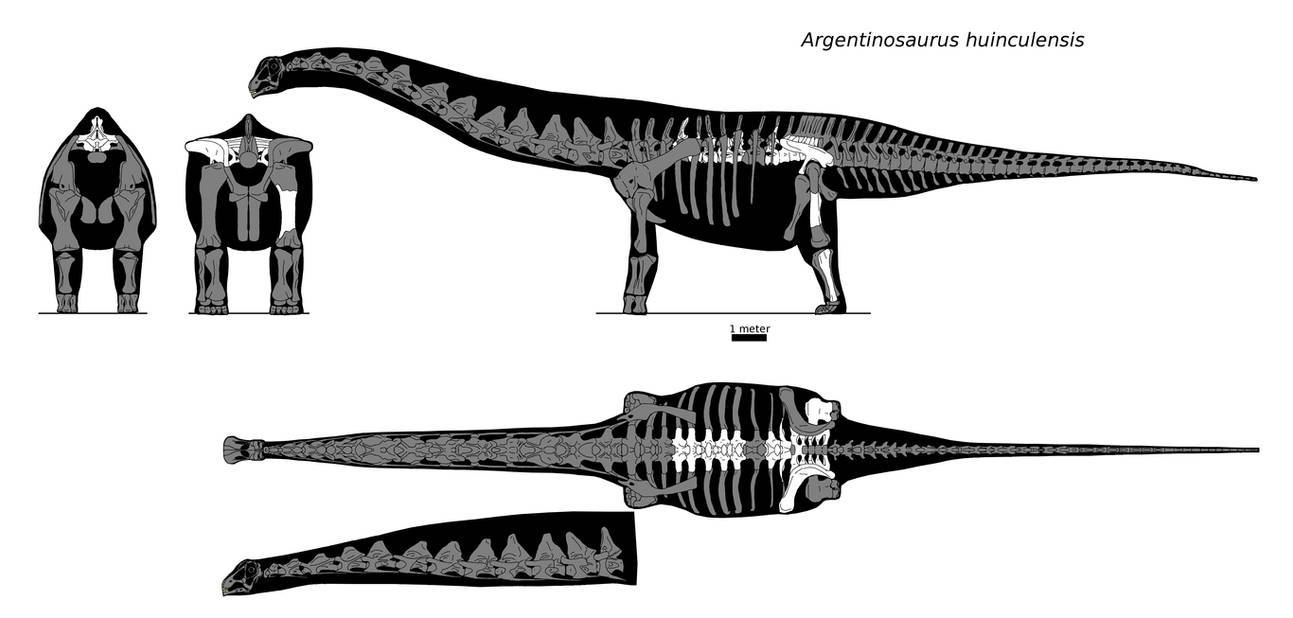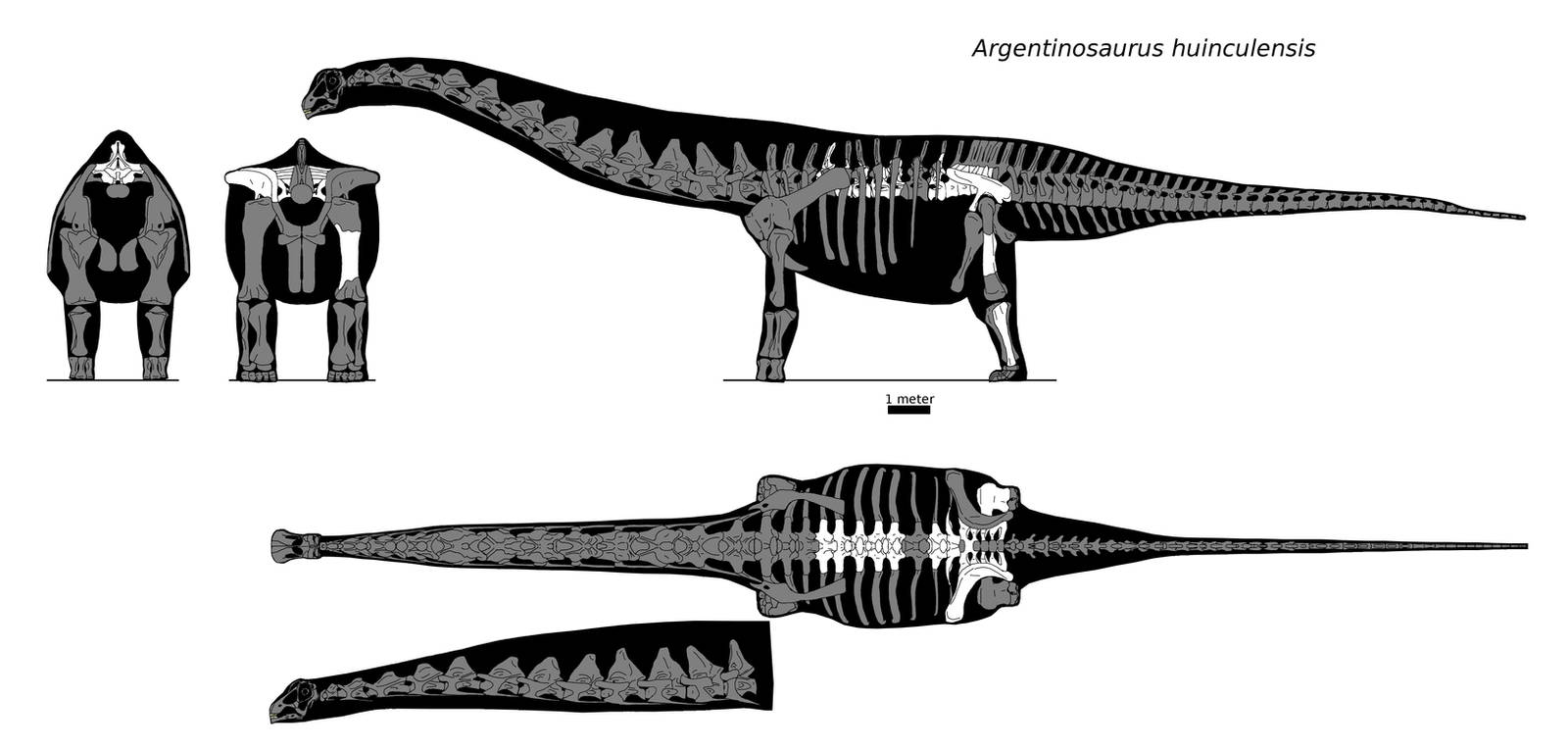 This is a very speculative multiple-view skeletal restoration of
Argentinosaurus
, one of the larger titanosaurs.
Argentinosaurus
is only known from 6 described dorsal vertebrae (with an additional undescribed seventh dorsal vertebrae apparently known - left out from this reconstruction), a partial sacrum, fibula (originally described as a tibia) and referred femurs and partial ilium (neither of which have been properly described or figured) (Bonaparte and Coria, 1993). As such, only about 15% of its postcranial skeleton is known from fossil material (none of the cranial material is known). All described or photographed material is in white, while unknown or non-figured material is left dark gray. Because it was so incomplete, missing material is based off of relatives, this includes
Alamosaurus
for the neck and tail (modified slightly in the case of the tail vertebrae to accommodate taller neural spines in the dorsal vertebrae),
Opisthocoelicaudia
for the limbs and scapula, and (because I could only find oblique views of the ilium)
Neuquensaurus
and
Isisaurus
for the ilium. Also the skull is modified from Adam Yate's reconstruction of the skull of
Antarctosaurus
which can be seen here:
[link]
. All of these species have been found to phylogenetically bracket
Argentinosaurus
more closely than other tianosaur taxa, and this is why I used them to fill in the missing parts (Curry Rogers, 2005).
I would not normally do a multi-view skeletal for such an incomplete taxon, but I did one anyways because I wanted to do a GDI mass estimate, since
Argentinosaurus
is normally listed as one of the larger dinosaurs. More on that technique
here
.
As restored here,
Argentinosaurus
is about 28.89 meters (94.75 ft) long with the neck raised or about 29.65 (97.25 ft) meters long with the neck straightened out. [
Edit:
I should point out that this is the
projection
of the length of the silhouette onto the ground, instead of the length that we usually think of in living animals, where they are measured along the back or belly. See comments by dracontes below] So it turns out to be a bit shorter than I have previously estimated (I thought it would come out at about 35 meters or so). The aforementioned GDI mass estimate gave a total volume of about 87.82 m
3
and a resultant mass of 64.17 tonnes (70.5 US (short) tons). I used specific density estimates of 0.3 (300 kg/m
3
) for the neck, 0.8 (800 kg/m
3
) for the torso and tail and 1.0 (1000 kg/m
3
) for the limbs. This is considerably lighter than many previous mass estimates with often gave mass estimates in the 75-100 tonne range, although it is heavier than Greg Paul's most recent (2010) mass estimate of 55 tonnes.
My reconstruction conservatively restored the length of the torso and the densities I used may be considered on the low-end of the range of plausible densities, so it may be possible to add a few more tonnes. For example, increasing the density of the limbs to between 1.2 and 1.4 (which are equally plausible in my opinion) would lead to a mass estimate of between ~66 and ~69 tonnes. Also, the length of the missing dorsal vertebrae are restored with an average of the known dorsal vertebrae in size. This could lead to an underestimate because in at least some titanosaurs, the anterior dorsal vertebrae get longer as they get closer to the neck.
At any rate, with the available evidence, I think it looks like
Alamosaurus
probably got a bit larger than
Argentinosaurus
, although we have many more specimens of
Alamosaurus
so this could simply be sampling bias. Until recently, the largest available specimens of
Alamosaurus
were in the 15-20 meter range, with new discoveries potentially in the 25 meter range, so it may be that there were 35 meter, 110+ tonne
Argentinosaurus
specimens. We maybe just haven't found them yet. Until such specimens are found, I'm fairly comfortable with calling
Alamosaurus
larger.
Refs--
Bonaparte J, Coria R (1993). "Un nuevo y gigantesco sauropodo titanosaurio de la Formacion Rio Limay (Albiano-Cenomaniano) de la Provincia del Neuquen, Argentina". Ameghiniana 30 (3): 271–282.
Curry Rogers, K. A., 2005, "Titanosauria: A Phylogenetic Overview" in Curry Rogers and Wilson (eds), The Sauropods: Evolution and Paleobiology pp. 50–103
Paul, G.S."MASS ESTIMATE TABLE". 2010.
[link]