Sadly the gif file for this even at half the scale is just too big to load properly on most browsers. So I had to load it up as a video.
Which I'm hoping will loop properly.
Spent about 2 months working on this pic and its far advanced from my Double Werewolf animation. I also found ways to better streamline the process to ensure it animates a lot more smoothly without as much back and forth with the original PSD file.
Story wise this woman was a soldier or town guard who became bitten and cursed with lycanthropy. Fearing that she would become a danger to her comrades and family she threw herself onto her own sword to eliminate herself before she turned completely.
Sadly for her sake the curse is not tossed off so casually as all that.
As her transformation accelerates her human consciousness is locked away in order to protect itself from further self attacks.
Which will make her quite the monster in the end. What more the blade remaining imbedded in her chest will ensure that she wont be able to turn back until such a time that the blade is removed. Which she herself will be incapable of removing by her own will.
In her attempts to destroy the curse she has places her loved one in the direct line of sight of the monster she was was trying to protect them from.
If you love what I'm creating then please consider perhaps becoming a Patron!
As little as 2$ a month will net you early access to my novella pages, as well as HD variants of all of my creations!

It would be a massive boon toward helping me to get by in these shaky times.
--------------------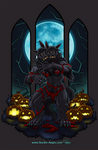 Image details
Image size
1200x1840px 16.84 MB