So YukiAdoptablesPonies is making a contest between anyone who participates to get a free draw of his pony OC, more info in her journal:

Pony Creator Contest!Heya dear bronies and pegasisters??...how about if we do a little contests? OwO
Do you want to win a free custom pony for you?...
This is very simple and funny!


What is it about?
Easy. using the Pony Creator, you must create a pony...use your imagination and create an amazing pony, be creative and do an awesome pony.


IMPORTANT!: please, DON NOT create a super hyper mega complex pony, with a loooot of accessories and incoherent colors, in a nutshell, DO NOT create a "mary sue princess alicorn bat pony rainbow kawaii desu ne" pony.
The best design, with the best colors and composition, will win the same pony that you created, but in my custom style...example->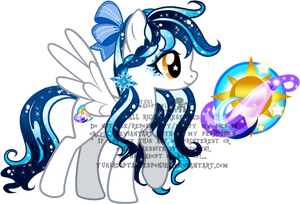 This a good opportunity for you to create a new oc for your collection!


Please, before to compete, read the rules:


RULES:
1- Watch me!...only my watchers can participate!
2- You MUST use the Pony Creator ->
(any version it's fin
That's all. Regards.