well i've noticed that some amount of art is being uploaded here, and i thought we should have some rules.. just a few. not big ones though

..
Rule 1. Upload only 2 deviations per day. All the deviations uploaded are subject to vote. Only the approved deviations will be added to the gallery section.

Rule 2. The contributors of the group can submit 3 deviations without any subject to vote.

Rule 3. The admins and the contributors reserve the right to accept and decline the artwork that is shared in the group.

Rule 4. Upload your work in proper categories. Failure to do so will result in decline of your submission.
Here's the link to know how to upload your work in proper categories:
pak-deviants.deviantart.com/bl…
Rule 3. Please share the BEST of your work.
Donot share that work which you dont think is good enough. even if you're an amateur or a beginner, if you think your picture looks good, just share it here

just dont end up uploading your whole galleries

. wouldnt you want people to visit your pages as well?

Rule 4. Nude/Semi-Nude artwork is NOT allowed.

Rules 5. No Abusive and/or offensive content is allowed.

Rule 6. Abusive and/or offensive behavior will not be tolerated.

Rule 6. The Gallery section is reserved for the artists related to Pakistan ONLY. Non Pakistanis can submit their artwork in the favorites of the group.

Rule 7. Have FUN! comment and fav other people's work and tell them what they could do to be better

.
again.. any suggestions are welcome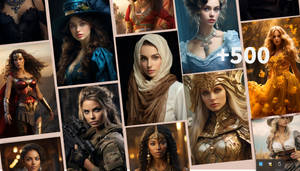 AI Female Photos Collection
This collection are over 1000 illustration to help you get inspired in filed of game/animation/illustration project. This artwork image was created using artificial intelligence and the Stable Diffusion production tool. I am delighted to share this beautiful female with you that I was able to create through this process. AI Art Cosplay and Beauties All images are made of AI . We will update regularly,welcome to subscribers!
---