Greetings !
I am Paintcakes, though my name's Paincakez, and I am here to buy artwork and improve my skills!
-----------
I am a traditional artist, sadly I only know how to draw ponies from My Little Pony FIM, but I hope in the future I'll learn to draw humans and other animals! I edit bases too!
-----------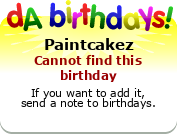 Art Senpais ///w///:




-----------
Art Status:
Art Trades: Closed
Requests: Closed
Collabs: Closed
Commissions: Open, soon will make a post 'bout it.